Nebraska vs. Penn State Football: Can the Huskers Rebound at Beaver Stadium?
November 7, 2011
Rob Carr/Getty Images
This Saturday when the Cornhuskers arrive to play Penn State, will Beaver Stadium remain one of the most festive places in college football? It is well known that the State College and University Park, Pennsylvania areas are nicknamed "Happy Valley."
At home football games, the band constantly plays familiar chords. Meanwhile, the crowd pounds out peppy chants and cheers for almost everything including first downs and cheerleader flips. Surely, Penn State football fans have more cheers than Norm in Boston.
Sadly, while the football program (8-1, 5-0 Big Ten) has enjoyed gridiron happy times, heinous allegations surrounding a former assistant coach has a gray cloud hanging over the vaunted university.
That cloud will still be there in plain sight and may have grown darker by the time Nebraska pulls up to the stadium.
You see, retired longtime defensive coordinator Jerry Sandusky has been charged with allegedly sexually assaulting eight boys over a 15-year time frame. Sandusky was arrested and released on bail last Saturday. He's due in court on Wednesday.
Further, according to multiple sources, after a Board of Trustees emergency meeting late Sunday at Penn State, two top officials stepped down. The Nittany Lions athletics director, Tim Curley, requested an administrative leave to deal with his legal issues.
And, Gary Schultz, vice president of finance and business, also stepped down. He reportedly returned to retirement. ESPN reports that Curley and Schultz have been hit with perjury and failure to report allegations of an assault on campus charges.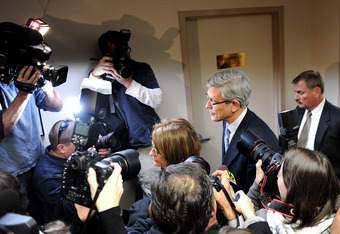 Patrick Smith/Getty Images
At the time of this writing, neither Graham Spanier, PSU's president nor Joe Paterno, the head football coach, had been charged.
Whether Paterno is leading his charges on the field or in the coach's booth, it seems like he's the all-seeing eye in Happy Valley. Multiple reports claim that he'd reported at least one allegation about Sandusky's alleged assaults to Penn State's officials in 2002.
Less importantly to many, the Nittany Lions will now face an officially fuming Nebraska football team (7-2, 3-2)—at least their head coach is fuming—in what will be Paterno's last home game this season and maybe ever. The Lions are the top-ranked BCS team in the Big Ten (No. 12).
Even though 84-year-old "JoePa" is No. 1 in terms of wins, I believe it's not out of the question that he could decide or be demanded to hang it up after this season. In October, he became the Division I (now FBS) college football coach with the most wins (409).
For now, PSU is in first place in the Leaders Division. Nebraska (BCS No. 19) is in third over in the Legends.
While Penn State could again be a strong team next year, the Sandusky scandal could prove to be too much for Paterno and the program. A report by the AP (linked below), courtesy of Yahoo! Sports' college football coverage, provided Penn State's head coach's statement:
"If this is true, then we were all fooled, along with scores of professionals trained in such things," JoePa declared, according to ESPN. Paterno is expected to address the media today. On the other hand, he's said a lot already.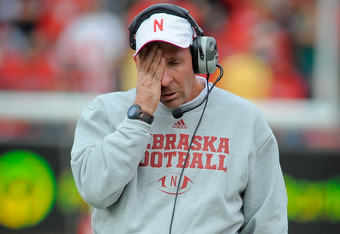 Eric Francis/Getty Images
"I understand people are upset and angry, but let's be fair and let the legal process unfold," Paterno said. "In the meantime, I would ask all Penn Staters to continue to trust in what that name represents," he further stated.
What the Penn State name represents is two stately national championship football teams (1982 and 1986). Sandusky had been Paterno's defensive coordinator since 1977. The former helped guide the units that earned PSU the "Linebacker U" nickname.
On a different note, I'll nickname Nebraska "I-back U." Meanwhile, backing for Sandusky, retired from PSU since 1999, has been absolutely fading if nonexistent.
The confusion in existence surrounding the Nittany Lions could help the Huskers leave Happy Valley smiling for NU's own football reasons. Now, I'll give you my reasons why and reveal how the team who wins will achieve victory.
Prediction
This meeting will be a magnificent matchup between the Penn State defense and the I-backs and quarterbacks Nebraska runs at teams. Meanwhile, Penn State can rush the ball with the Huskers; sophomore Silas Redd has already surpassed 1,000 yards rushing this season.
While Paterno is quite capable of rushing his team past the enormous distraction in front of them, Penn State will inevitably, I believe, suffer a letdown.
To be sure, with his heart heavy in light of the aforementioned allegations, JoePa will rely on his deepest inner strength and faith. While I have faith in Paterno to get his team over the hump, I realize he's not a miracle worker—only God is.
Therefore, the Cornhuskers will rebound from the Northwestern loss and upset the Nittany Lions at Beaver Stadium, 24-20. Happy Valley will not be so happy, at least for the rest of this now very horrific season.
Contact Lake Cruise: Lakecruise@att.net