Virginia Football: Is Michael Rocco Following Matt Schaub's Footsteps?
November 8, 2011
Joel Auerbach/Getty Images
He is the Holy Grail of Virginia quarterbacks.
Matt Schaub, the 2002 ACC Offensive Player of the Year, set nearly every school record while at Virginia. He is the last starting quarterback to defeat Virginia Tech, and is currently one of the best signal callers in the NFL with the Houston Texans.
Schaub brought a sense of consistency to the quarterback position, and since his departure, every Cavalier fan has wondered who would step up and fill those rather large shoes left behind in 2003.
Michael Rocco may not have been the most presumptive candidate. The son of a former assistant coach, Rocco had to split time as a freshman in mop-up duty with Ross Metheny, and has had an intense battle with true freshman David Watford for the starting spot in 2011.
However, it is that battle and journey which makes Rocco perhaps the best candidate in a long time to be able to live up to the lofty expectations created by Schaub.
While Schaub left Virginia as a winner and record-breaker, few would have expected it his sophomore season. Schaub was engulfed in a quarterback controversy of his own with Bryson Spinner.
Spinner, like Watford, was the more mobile and explosive option. What he lacked in arm strength and accuracy he made up for with his ability to run and move outside the pocket.
Schaub, like Rocco, was the safer pick. Neither man was going to break off a big run. In fact, Schaub often resembled a statue under pressure and took a hit.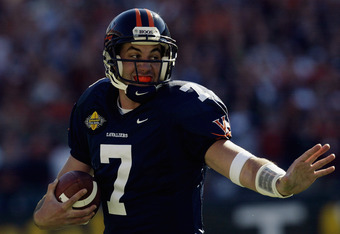 Craig Jones/Getty Images
Both had arms that were questioned for strength, and the offense never featured those long-range passes that fans love and secondaries fear.
No one would have expected Schaub to become the quarterback that he became. In fact, many Cavalier fans, including yours truly, would have picked Spinner.
Instead, Spinner decided to transfer to Richmond, and even then, Schaub was benched in the second half of the season opener in 2002 against Colorado State for a true freshman in Marques Hagans.
It was only when Hagans imploded against Florida State that Schaub was given another chance, and Schaub went on to throw for nearly 3,000 yards, with 28 touchdowns and seven interceptions.
By comparison, in the three years following Virginia's last bowl appearance in 2007, six quarterbacks threw 39 touchdown passes combined. Only four other times in school history has a Cavalier quarterback thrown 20 or more passing touchdowns.
While it may be premature to anoint Michael Rocco as the second coming, it would be equally premature to condemn him as having no chance of achieving greatness.
For example, let us compare Rocco and Schaub's sophomore campaigns.
Schaub was 140-of-240 for 1,524 yards with 10 touchdowns and eight interceptions en route to a 5-7 season.
Rocco is currently 143-of-238 for 1,729 yards with eight touchdowns and nine interceptions, and guaranteed of a better season record with six wins already under his belt.
The numbers are almost eerily similar.
Now, I know that Rocco has a really good target in Kris Burd, but Matt Schaub had Billy McMullen—the wide receiver with practically every school record on the books.
Rocco also has one of the biggest advantages of all—a strong offensive coordinator.
Schaub did not have a chance to grow and develop until he built a relationship with offensive coordinator Bill Musgrave. Musgrave took a Virginia team that was sputtering on offense and jump started them with a bold playbook and a powerful offense.
The Cavaliers scored at least 34 points in six of their games that season, and really looked to be heading in the right direction.
Bill Lazor may not have been a popular selection when he was tapped by Mike London, but he has revitalized a program whose offensive rankings were typically somewhere in the 100s of the 118 FBS programs.
Lazor's charges have already scored 537 points in just under two seasons, compared to the 335 points scored in two seasons prior.
This season, they are third in the conference for total offense—tied with that other ACC school from Virginia for the first time in a long time.
Rocco and Lazor could create an amazing relationship, and they are already talking like smitten lovers. Lazor has been impressed by Rocco's growth the past few weeks, and hopefully Virginia's winning ways will only help that confidence and development.
Rocco has high expectations for himself, but he is not alone.  He knows that the sky is not only the limit, but the secret desire of every single Cavalier fan.