Jose Reyes to Marlins Rumors: Why It Makes Sense for the New Miami Marlins
November 7, 2011
Patrick McDermott/Getty Images
Just in case anyone was beginning to feel a bit of a seasonal chill in the air along comes the baseball hot stove season to heat things up. 
One week ago the New York Yankees headed off the potential free agency of ace pitcher, C.C. Sabathia, by giving him a lucrative contract extension. Now one week later, the other New York baseball team is in the news. 
The New York Mets have one of baseball's highest profile free agents on their current roster. The question is will he be on the roster for opening day 2012? Actually as of now the question is whether he'll be on the roster later on this week? 
According to rumors by http://metsmerizedonline.com/, Jose Reyes is on his way down to Florida to meet with Marlins' front office officials. The Marlins may have already made Reyes an offer and while it would seem a touch early for Reyes to sign with another team, if the offer were good enough, then Florida would seem like a decent fit for Reyes. 
The Marlins, in spite of their somewhat checkered last few seasons, are in a transition period. They are moving to a new stadium and are being renamed the Miami Marlins. The team already features a number of high profile and talented players in pitchers Josh Johnson and Anibal Sanchez. The lineup has perennial MVP contender, Hanley Ramirez, and future MVP contender, Mike Stanton, along with slugging first baseman Gaby Sanchez. 
Ramirez has had two overt weaknesses in his career to this point. One is his attitude—something that the Marlins hope incoming manager Ozzie Guillen can work on. The other is a suspect glove at shortstop. Adding Reyes to the mix would allow the Marlins to move Ramirez to the outfield.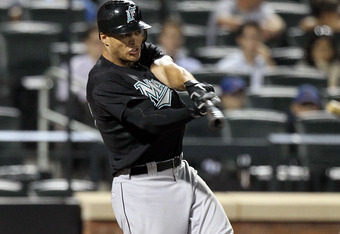 Jim McIsaac/Getty Images
That would give the Marlins an outfield of Ramirez, along with Stanton and Logan Morrison. It would also give the Marlins a real leadoff hitter to get on base and steal bases in advance of the power hitting trio of Ramirez, Stanton and Sanchez. Reyes makes a lot of sense for the Marlins in their current circumstances. 
That's probably why if these rumors are in fact true, the Marlins are acting with a degree of urgency. Rather than wait for the market on Reyes to develop they are hoping to swoop in grab him before other potential suitors have had a chance to present competing offers. 
If Reyes were to sign with the Marlins this week, it would have a dramatic influence on the free agent market as well as the plans of the Mets. Rather than waiting around to see if Reyes returns the Mets would have a chance to go forward into the market knowing already that Reyes is gone and any of the money they had set aside to sign him would now be available to spend on other needs. 
It just seems to make sense for the Marlins and for Reyes, who would be playing in South Fla., which is very close to his birthplace the Dominican Republic. He'd be playing for a manager in Ozzie Guillen, who was brought to Miami to handle it's very young squad, as well as get them into the playoffs. Reyes would be in the National League East, but would not have to endure the cooler days and nights of New York City.
Perhaps that would allow him to stay a little healthier, because that's really the biggest question surrounding Reyes no matter what uniform he eventually wears.