Green Bay Packers: Why Pack Can Go 16-0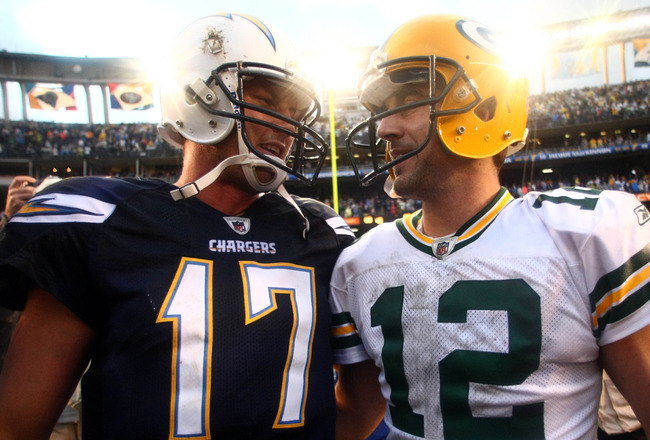 Rivers: What's it like to win a Super Bowl? Rodgers: It's amaaazing! You should try it sometime.
Donald Miralle/Getty Images
The Green Bay Packers— the NFL's best team—are fresh off of a 45-38 win over Philip Rivers and the San Diego Chargers that pushed their record to 8-0 through the first half of the season.
Talk is heating up about whether or not Aaron Rodgers can lead this team to an undefeated 16-0 record.
While it is extremely hard to do (only the 2007 New England Patriots have ever had a perfect 16-0 record), the Packers have pieces in place that will allow them to make a serious run at this.
Let's dive in and examine how this team can reach this goal.
Playmakers on Defense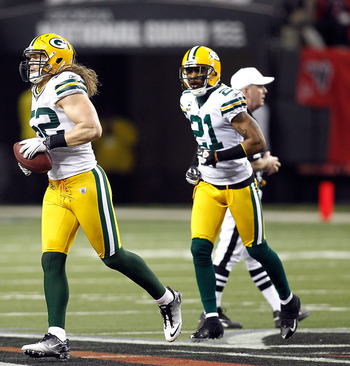 Chris Graythen/Getty Images
The one downfall to the Green Bay Packers this season could be their defense. Let's face it, it's atrocious.
That being said, they still have Clay Matthews terrorizing quarterbacks and Charles Woodson and other ball-hawking playmakers in the secondary.
They rank 31st against the pass and 30th in overall defense, but as long as they continue to force turnovers and score like they did on Sunday, this defense should be just enough to run the table and hoist the Lombardi Trophy for the second straight year.
Wide Receivers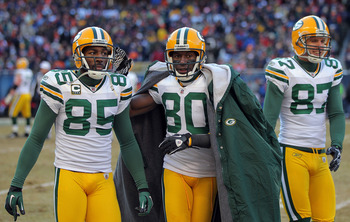 Doug Pensinger/Getty Images
Greg Jennings is a star, Jordy Nelson is a star in the making and James Jones and Donald Driver round out the best foursome of receivers we've seen in a long time.
On top of those four studs, they also have a top-five tight end in Jermichael Finley, making it virtually impossible for any defense to stop them from moving down field.
Mason Crosby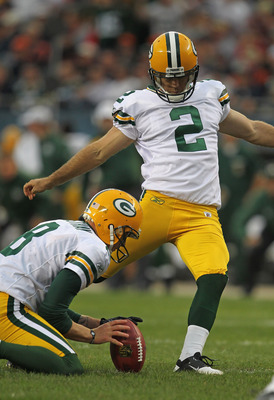 Jonathan Daniel/Getty Images
Lost in the shuffle of such a great offense is Mason Crosby and the kicking game.
Crosby is perfect on the season, hitting all 15 field goals and 32 extra points.
He also has the leg to go deep, having kicked a 58-yarder and a 56-yarder already this year.
A weapon like that can never be taken for granted, especially if the offense is struggling for any period of time.
Aaron Rodgers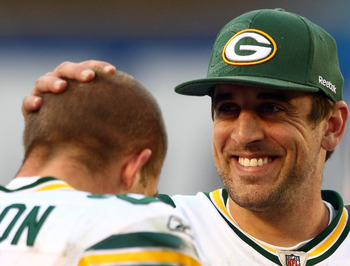 Donald Miralle/Getty Images
There's not much you can say about Aaron Rodgers other than that he's simply amazing.
He's thrown 24 TD's through eight games this season and has led his team to an 8-0 record.
Another mind-blowing stat is that he's posted a quarterback rating over 110.0 every game this season—again proving just how remarkable he is right now.
This team is going to win as many games as Rodgers allows them to. He'd have to beat himself to lose right now.
Remaining Schedule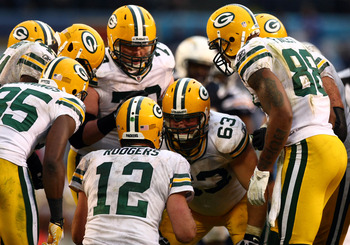 Donald Miralle/Getty Images
The Green Bay Packers remaining schedule is quite favorable with the New York Giants and the Detroit Lions (twice) being the toughest games left.
They do still have to face the Chicago Bears on Christmas Night, but that's a home game so that shouldn't be too big of a hurdle.
The rest of their schedule are against teams that are .500 or worse, making it very possible that we see the Packers join the 2007 New England Patriots (16-0) and 1972 Miami Dolphins (14-0) as the only teams with perfect regular season records.
Check out more of Brian Dezelske's articles.
Brian can also be found at Out of My League, where he compiles fantasy football rankings each week.
Follow Brian on

Keep Reading

Green Bay Packers: Like this team?