Penn State Football Scandal: Joe Paterno Fired by Board of Trustees
November 7, 2011
Justin K. Aller/Getty Images
Joe Paterno is to college football what Tommy Lasorda is to baseball.
He's all-things good about the sport. He's the relish on the stadium hot dog. He's the team rushing out to the marching band's fight song. He's the wave when victory is imminent. 
Paterno's lists of accomplishments span decades.   His role—now in its 46th year—has evolved  into many: counselor, father and mentor for thousands moved by his growl. In short, Paterno—in all of his feistiness—is an icon of sportsmanship.  
Up until now he's managed to keep the happy in a valley where come-from-behinds are transformed into magical wins.  Riding into an 8-1 season (5-0 in the Big 10), Paterno and his Nittany Lions have awakened today to more disturbing headlines.  The news has spread like an aggressive form of cancer, devouring the organs of the Penn State nation.  Sadly, those headlines have cast a sickening tarnish to an otherwise shining work of Paterno art. 
Time out to adjust our readers and say it isn't so.  But it is so.     
First, there were allegations that Paterno's defensive coordinator,  Jerry Sandusky, molested eight young boys over a 13-year period.  All of this is outlined in a shocking and graphic grand jury document.  Then came Part II of the grim story: Athletic director Tim Curley and Gary Shultz, (Penn State's vice president for finance and business) were accused of failing to report the crime and perjured themselves.  
Curley and Shultz turned themselves in on Monday. Ironically, Sandusky—who retired from Penn State in 1999—has had access to the facilities as he worked with Second Mile Foundation, a charity for at-risk boys and has worked out there as late as last week.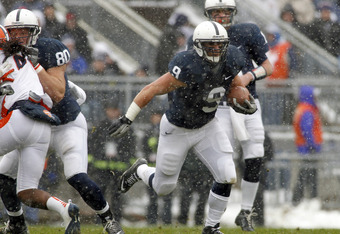 Justin K. Aller/Getty Images
Enter:  the legendary coach of Penn State, Joe Paterno.  In a reportissued by ESPN earlier today, Paterno announced that he would retire at the season's end. (http://espn.go.com/college-football/story/_/id/7211281/penn-state-nittany-lions-joe-paterno-retire-end-season)
He said, "As my grand jury testimony stated, I was informed in 2002 by an assistant coach that he had witnessed an incident in the shower of our locker room facility. It was obvious that the witness was distraught over what he saw, but he at no time related to me the very specific actions contained in the Grand Jury report. Regardless, it was clear that the witness saw something inappropriate involving Mr. Sandusky. As Coach Sandusky was retired from our coaching staff at that time, I referred the matter to university administrators. 
"I understand that people are upset and angry, but let's be fair and let the legal process unfold. In the meantime I would ask all Penn Staters to continue to trust in what that name represents, continue to pursue their lives every day with high ideals and not let these events shake their beliefs nor who they are." 
Paterno's 85th birthday was approaching, as was the end of his contract.  Although he has not been formally accused of any wrongdoing, his supporters have claimed he is fourth and long from redemption. He took his knowledge to administration, rather than to the law.  Canceling his weekly press conference scheduled for yesterday, another victim has come forth.  Last night, he was greeted by a show of support as he arrived home after practice.  He seemed jovial and slightly emotional as he spoke to the crowd.  
On a morning that he thought belonged to him, he made it official:
"I am absolutely devastated by the developments in this case. I grieve for the children and their families, and I pray for their comfort and relief.
"I have come to work every day for the last 61 years with one clear goal in
mind: To serve the best interests of this university and the young men who have
been entrusted to my care. I have the same goal today.
"That's why I have decided to announce my retirement effective at the end of
this season. At this moment the Board of Trustees should not spend a single
minute discussing my status. They have far more important matters to address. I
want to make this as easy for them as I possibly can.
This is a tragedy. It is one of the great sorrows of my life. With the benefit
of hindsight, I wish I had done more." (http://www.twitlonger.com/show/e3btvp)
Fourth quarter. Time out.
Late Wednesday the Board of Trustees at Penn State unanimously fired Paterno.  Along with Paterno, president Graham Spanier is gone too.  With tonight's action, the only thing remaining of Joe Paterno is his statue outside the stadium and the history books filled with football glory.