Doc and Austin Rivers: Like Father, Like Son
March 29, 2017
Jim Rogash/Getty Images
Success, like talent, intelligence, hard work and focus run in families like the other ties that bind. If they are instilled properly they don't skip generations. Right now the second-born son of NBA All-Star and sure Hall Of Fame coach Doc Rivers is coming out of high school to take Duke and college basketball by storm.
The stream of one Rivers to another runs just as rapid as Austin Rivers runs with a basketball, guarding the family name and scoring points years before he'll join the NBA just like his old man.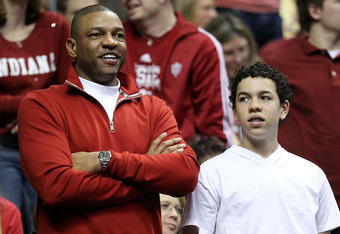 Andy Lyons/Getty Images
Right now Austin Rivers is among the nation's top college prospects, while his father Doc is in the NBA's top flight of coaches, his Boston side up to par with the league's best. Both Rivers men have also put ink to paper on very important deals as of late.
Doc signed on to guide the Celtics for another five years while Austin will make his name known at Duke this fall as UNC and Kansas can only watch in awe and envy. Looks like times are going to be great in the Rivers household for many moons to come.
It seems that Doc hasn't just coached successful men in Celtic green, he's also taught his son everything he needs to know on the basketball court. Glenn "Doc" Rivers the player was an underrated All-Star guard who, like any great point guard, guided his team like a true leader and had a high basketball IQ.
Learning all these traits from the older Rivers, Austin could be the next superstar in the NBA. That's lofty expectations to put on an 18-year-old kid, but Austin has already reached new heights and time flies. Before you know it Austin could be schooling his idols Wade and Brandon Roy, proving he's the next big thing like Derrick Rose. Hey, if we're dreaming he may even get to play under his father one day. How sweet of a NBA story would that be?
This truly is what the Doc ordered: the perfect prescription of young talent and old wisdom passed down from father to son. But Austin has the skills to stunt even harder then his daddy. This baby-faced assassin scores in bunches, whether you like it or not, with deadly shooting from long range and the ability to drive while still dishing like a Point.
Doc really cooked up a superstar in the making. Doc Rivers was internationally known in the FIBA Championships as a tournament MVP while he was still at Marquette University. Then in the NBA he soared to double figures with the Hawks and joined the list of great point guards in New York.
Now we don't know what the basketball future of Doc's son will be but be patient, this All-American has already won the "Naismith Prep Player of the Year" award. Austin has the ability to power through the NCAA to the NBA possessing a better skill set then his father did. As they say, like father like son.