Fantasy Football, Week 9: 3 Quarterbacks You Should Snag off the Waiver Wire
November 6, 2011
Jamie Sabau/Getty Images
So far this season, we've season quarterbacks such as Aaron Rodgers and Cam Newton thrive, while many others have seriously struggled causing various teams to find others starters.  The past few seasons, this has happened.  
For some reason, there are several teams that go most of training camp and preseason already knowing who they want to start and then the quarterbacks end up blowing it less than five games into the season. 
Of course, there are exceptions such as the Oakland Raiders' case with Jason Campbell, causing the organization to pick up Carson Palmer.  Either way, this makes it extremely difficult for fantasy owners to get a feel for there lineup.  
To make it easier, here are three solid quarterbacks that can fill your starting role, if need be.  Or, if you're fed up with your current starter (but don't want to cut them), add one of the following players and test them out.  All three should have a fantastic finish to the season.
Colt McCoy, Cleveland Browns
If you've been having trouble with your starting quarterback this year, Colt McCoy is a great pickup.  He won't overwhelm you with fantasy points, but you can expect a consistent 15 per game.
McCoy has recorded over 10 fantasy points in seven of eight weeks this season.  
Alex Smith, San Francisco 49ers
Alex Smith has finally turned the corner and it looks as if he may pan out to be a decent quarterback in the NFL.  Throwing for a total of seven touchdowns and only one interception in the last four games, Smith has been excellent leading the 49ers to a season record of 6-1.  
Smith is only owned by 14.9 percent of fantasy football teams using ESPN, so he is still very available.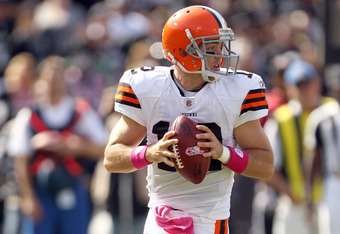 Ezra Shaw/Getty Images
Andy Dalton, Cincinnati Bengals
It's a surprise that Andy Dalton isn't owned by more fantasy football teams.  With a total of 85 fantasy points, Dalton is one of the better quarterbacks on the waiver wire, and in some weeks he has been one of the best quarterbacks in terms of fantasy points.  
Out of the three quarterbacks, Smith is probably the safest pick-up, but Dalton bears the richest rewards.  Take a chance on one of these quarterbacks because all three look like they'll finish the 2011-12 NFL season strong.