Why Jaguars Fans Should Be Worried About Blaine Gabbert's Development
November 5, 2011
Ronald Martinez/Getty Images
Blaine Gabbert passes the eye test. He's tall, has a rocket arm, is highly intelligent, is a great kid and obviously is committed to becoming one of the best.
But, this doesn't mean he's going to actually become one of them.
Gabbert has struggled throughout the first half of his rookie season, and Jaguars fans have reason to be concerned. While the case could be made that he is simply experiencing growing pains, an equal case could be made that Gabbert's development is desperately slow in comparison to other rookies such as Cam Newton, Andy Dalton and even Christian Ponder.
While Gabbert has completed far fewer than 50 percent of his passes and has a quarterback rating of just 62.0, his statistics aren't what concern me.
There are many flaws a rookie quarterback can have that are correctable over time. Certain flawed mechanics are fixable, and playbook knowledge will come with time for Gabbert. However, what frightens me about Gabbert is less a mechanical issue and more of what might be considered a personality trait, something that is much more difficult to correct.
Blaine Gabbert is timid. Really timid.
I am guilty of giving Gabbert a pass in his early starts while blasting his offensive line for poor play, and at the time, I felt I was right in doing so. Most weeks Gabbert trotted out behind an offensive line that was vastly different from the week before, and he often felt pressure up the middle where rookie Will Rackley was regularly beaten.
However, the Jaguars' offensive line has improved the past few weeks, and Will Rackley is starting to turn many people into believers. Rackley routinely dominated Haloti Ngata against the Ravens two weeks ago, and the rest of the line has been solid aside from Guy Whimper.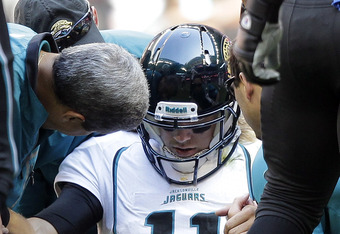 Bob Levey/Getty Images
Why, then, has Gabbert been sacked 19 times?
Gabbert's timidity shows up in his poor pocket presence, which is often very difficult to teach. Bill Walsh often talked about Joe Montana's great ability to "feel colors," describing Montana's uncanny way of sensing the colors of opposing jerseys near him and sliding into a vacated area of the pocket where he could drive into throws.
Instead of stepping into throws, Gabbert completes his drop and then drifts backwards. Offensive tackles are taught to protect their inside shoulder, and instead attempt to drive defensive ends wide around the quarterback's "mark." The "mark" is a landing mark that a quarterback is expected to hit in his drop before stepping up and finding a soft spot in the pocket. 
When Gabbert drifts back, he slides into that lane where offensive tackles are supposed to push defensive ends. The result is often a sack that looks like the fault of the tackle, when it is in fact the fault of the quarterback.
This is not a mechanical issue, in my opinion, but rather a personality trait of timidity. Gabbert drops back, and immediately starts to look at the pressure. Any push on the interior of the line of scrimmage makes Gabbert feel crowded, so he drifts back seeking space. 
This is an absolutely lethal mistake for a quarterback for many reasons. Aside from the protection issue, it indicates that the quarterback is often throwing off his back foot, and is rarely driving into throws with his hips and squaring his shoulders.
This is much of the issue with Gabbert's completion percentage of 45.7. In watching film on Gabbert, his tendency to shy away from contact exhibits itself on even three-step drops, causing him to often throw low or to the outside of the intended receiver.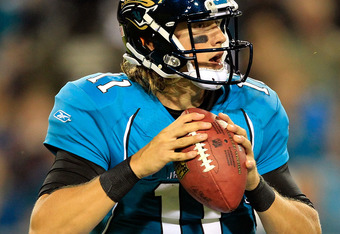 Sam Greenwood/Getty Images
Make no mistake, Gabbert is aware of this issue, also. This isn't news to him. The issue is that he hasn't seemed to improve throughout the first half of his rookie season. Gabbert is still drifting back, still tucking the ball in the face of pressure, and still throwing inaccurately because of unsquared shoulders and unset feet.
This isn't mechanical. All quarterbacks know it is basic, but only easy to do if no pressure is felt. The great quarterbacks such as Manning, Montana and Brady all stepped into the face of pressure, unafraid of the contact. 
This seeming inability of Gabbert to set his feet and drive throws concerns me because it's not indicative of youth; it is indicative of a quarterback that is skiddish. Gabbert turns his body when closed in on by a rusher, and can often be seen closing his eyes in anticipation of contact. 
He is bracing for contact and backing away out of fear, and courage in the pocket is something that cannot be coached.
Gabbert may have all the talent in the world, but until he stops looking afraid of pressure Jaguars fans have much to be concerned about.