Fantasy Baseball 2012: Grading the Top 15 Center Fielders
November 6, 2011
Tom Pennington/Getty Images
We continue the fantasy baseball series with center field. The series has been well received in terms of comments. Many have raised good questions and questioned my sanity along the way. All points of view are fair—this is a reminder that rankings at this point are largely based on 2011 numbers.
We are using three statistics in the rankings. The first is called real offensive value (ROV). It is calculated by combining secondary average and batting average. Secondary average measures everything a batter does that does not include batting average. Runs created (RC) takes all of the offensive contributions a player has and converts it into a number that looks like runs scored or RBI. Finally, we have batting average on balls in play (BABIP).
BABIP isn't incorporated in the rankings necessarily, but it does give us a little clue as to who may have been unlucky and who lucked out. Typically, the league averages between .300 and .310 depending on the position. BABIP levels typically regress to the average one way or another.
No. 15. Angel Pagan, New York Mets
ROV= .259
RC= 63
BABIP= .285
Pagan is not likely to play center field for the Mets next year, but he should see a lot of time in right. He is not a special player by any stretch, but he will contribute solid numbers. With Citi Field moving in its fences, all Mets might be better fantasy plays.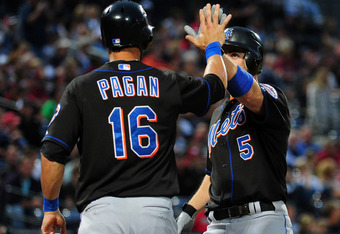 Scott Cunningham/Getty Images
No. 14. Peter Bourjos, Los Angeles Angels
ROV= .264
RC= 72
BABIP= .338
Bourjos came on late for the Angels and should be the regular center fielder again. He was brilliant defensively, so he will play through the struggles. Look for him to produce 15 home runs and maybe as many as 20 steals.
No. 13. Cameron Maybin, San Diego Padres
ROV= .271
RC= 71
BABIP= .331
If Maybin didn't play half of his games in Petco Park he would rank even higher. He still has not quite made good on all of his God-given talent, but he is very close. He needs to get better at reading pitchers. He could steal 50 easily if he improves in that regard.
No. 12. Drew Stubbs, Cincinnati Reds
ROV= .259
RC= 79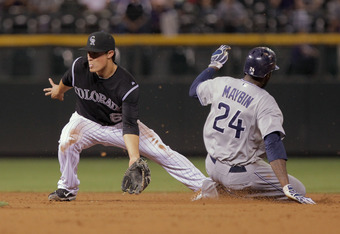 Doug Pensinger/Getty Images
BABIP= .343
Stubbs took a significant step back last season in his second full year. That happens sometimes as pitchers are able to adjust. This year will be the test of whether Stubbs will be a great player or merely a good athlete.
No. 11. Dexter Fowler, Colorado Rockies
ROV= .290
RC= 79
BABIP= .354
Center field is a position full of great athletes and this is another. Look for Fowler to produce this year as he has been settling in. Coors Field is still a great place to hit even you don't see the home runs than you used to.
No. 10. Adam Jones, Baltimore Orioles
ROV= .265
RC= 82
BABIP= .304
Jones had a great season at the plate this past season, but he seemingly didn't get a lot of support. A lot of those home runs were of the solo variety. Jones real offensive value is not great, but he is better in terms of fantasy that what he is sabermetrically.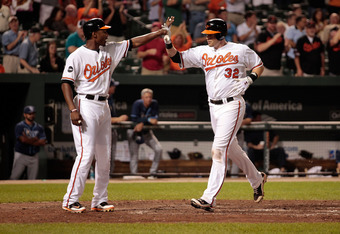 Rob Carr/Getty Images
No. 9. B.J. Upton, Tampa Bay Rays
ROV= .299
RC= 80
BABIP= .298
Keep in mind that many leagues are included OBP these days. Yes, his batting average is bad, but he will give you the other five categories. If he gets traded, pay attention to where he lands. It could end up changing this ranking some.
No. 8. Chris Young, Arizona Diamondbacks
ROV= .292
RC= 86
BABIP= .275
Young still lives in the shadow of Justin Upton, but he is essentially the National League version of Upton's older brother. He doesn't hit for high average, but he will contribute power numbers and some speed numbers.
No. 7. Michael Bourn, Atlanta Braves
ROV= .269
RC= 97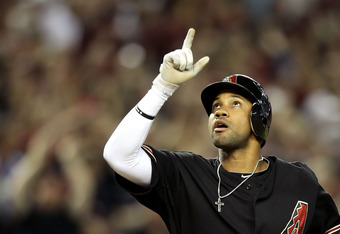 Christian Petersen/Getty Images
BABIP= .369
Bourn has been inconsistent throughout his career. If you could guarantee a .300 average and .350 OBP you would pick him in the top five for center field every season. Unfortunately, he hasn't produced at that level. Yet, you can guarantee at least 50 steals every season.
No. 6. Shane Victorino, Philadelphia Phillies
ROV= .314
RC= 96
BABIP= .292
If I have a bias, it is for players that are able to contribute in as many categories as possible. Some will pick Bourn in front of Victorino simply because of the steals. Victorino will still steal around 20, but he will also hit 15 bombs. Being in a better lineup helps too.
No. 5. Melky Cabrera, Free Agent, Buyer Beware
ROV= .269
RC= 102
BABIP= .332
Cabrera was a great story last year, but great stories don't win fantasy championships. At least they don't win them the following season. 2011 was a career year for him and we hope the Royals and you will be wise to it.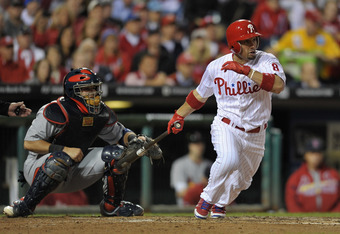 Drew Hallowell/Getty Images
No. 4. Andrew McCutchen, Pittsburgh Pirates
ROV= .318
RC= 102
BABIP= .291
McCutchen is quietly becoming a fantasy star and there is no reason to think he won't be again next season. The Pirates keep getting better every year and he will continue to get better as he gets more support around him.
No. 3. Curtis Granderson, New York Yankees
ROV= .362
RC= 121
BABIP= .295
Yeah, maybe he should be No. 2. However, I just don't see him being quite this good again next year and I think Ellsbury should continue to produce. Yet, he will be very good again and may be a 30/30 guy.
No. 2. Jacoby Ellsbury, Boston Red Sox
ROV= .333
RC= 139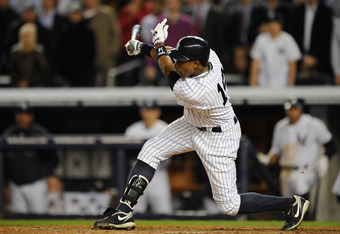 Patrick McDermott/Getty Images
BABIP= .336
Curtis Granderson was the better player in terms of value, but Ellsbury produced more runs. He also brought all of the different categories to the table. If you want to select Granderson before Ellsbury you won't hurt my feelings. You can't go wrong with either of them.
No. 1. Matt Kemp, Las Angeles Dodgers
ROV= .379
RC= 141
BABIP= .380
It was a magical season for Kemp. About the only thing he could have done more was win the batting title and the triple crown. He will not produce these numbers again, but he will be a dominant fantasy performer regardless.