Brooks Reed and the Texans' Biggest Rookie Surprises Ever
November 6, 2011
Thearon W. Henderson/Getty Images
When Mario Williams went down for the 2011 season with a torn pectoral muscle, it was thought that there was no way a Texans defense that was so awful in 2010 would be able to recover from the loss. Mario was on his way to an All-Pro season under Wade Phillips' new defensive scheme and had already accumulated five sacks in as many ballgames. Things didn't look good for the Houston pass rush at all.
But then something occurred that made the Texans coaching staff look like geniuses; they drafted Brooks Reed in the second round of the 2011 NFL Draft and plugged him in immediately. In just four and a half games as a rookie, learning a new position and filling in for a two-time pro bowler, Reed has compiled 25 tackles and four sacks while being terrific against the run.
It's still early, but the early return on Brooks Reed is that he is going to be an excellent outside linebacker in the NFL. The guy was considered by most draft scouts to be a first-round talent that fell to Houston in the early second round, so I'm not so sure I'd go as far to say it's surprising.
It did, however, get me thinking about who some of the biggest surprise rookies in Texans history have been and I thought of a handful. Let's take a look at said players now.
Chester Pitts—In just over seven seasons with the Texans, Pitts never missed a game before having season-ending micro-fracture surgery in 2009 which turned out to be his last game as a Texan. A second rounder out of San Diego State, Pitts was deemed "Mr. Texan" by fans in Houston for being one of the last originals to stay with the team.
Domanick Davis—This one should probably be at the top of any list in this category. As a lesser-known running back out of LSU, Davis would go on to win offensive rookie of the year honors after a stellar rookie season that saw him rush for 1,031 yards and eight touchdowns. He repeated the success his next two seasons before blowing out his knee and ending his career prematurely.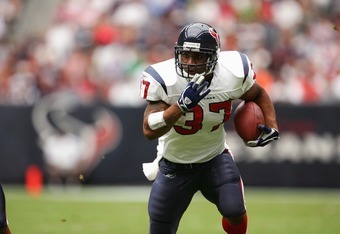 Jeff Gross/Getty Images
Jerome Mathis—No one expected much out of a fourth-round wide receiver from Hampton University. But Mathis had one hell of a rookie season returning kicks for the Texans that saw him named an All-Pro at season's end. He compiled 1,543 yards and two touchdowns on kick returns that season before battling injuries and legal troubles that saw him find his way out of the NFL for good after the 2007 season.
Owen Daniels—A part of the now mythical Texans 2006 draft, Daniels was taken in the fourth round out of Wisconsin to little fan fare. But even with the atrocious David Carr throwing the ball to him as a rookie, Daniels supplanted the starting tight end position en route to having five touchdown catches as a rookie. This one, unlike the others on this list, is still paying dividends today.
Fred Bennett—This one might have a couple of people scratching their heads, but it's hard to deny that Bennett had a stellar rookie season before falling into oblivion the year after that. Taken in the fourth round out of South Carolina, Fred had 14 passes defended, three interceptions and forced two fumbles en route to becoming the starter opposite Dunta Robinson. He was benched early in his sophomore season and was cut during training camp in 2010.
Steve Slaton—When Slaton was drafted in the third round of the 2008 draft, he was thought to be the third down back, at best. However, due to a suffering running attack, Steve got his chance to carry the load early in the year and he took off with the opportunity. His 1,282 rushing yards and nine touchdowns made him the most successful rookie running back in Texans history. However, he was never able to duplicate the success and was eventually released earlier this season.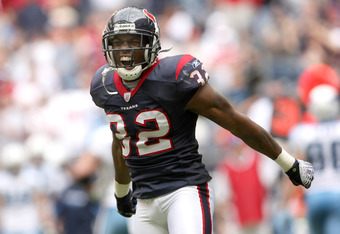 Stephen Dunn/Getty Images
Glover Quin—When the Texans drafted Quin out of New Mexico in the fourth round of the 2009 daft, most Texans fans exclaimed "Who?!" but he quickly won fans over with his solid open-field tackling ability and his knack for not allowing touchdowns. After a couple of solid seasons at corner, Wade Phillips moved him back to his natural position at safety where he is still making plays starting opposite Danieal Manning.
So that's the long skinny of it. Before people start whining for Arian Foster, you have to realize that he spent 90 percent of his rookie season on the practice squad.
In watching the success that Brooks Reed is having, Texans fans would prefer it if he stayed relevant past his rookie season unlike so many others on this list. If he stays healthy, I see no way it can't happen playing in Wade Phillips' scheme.
Mike Kerns is a featured columnist for the Houston Texans at Bleacher Report. Feel free to follow him on Twitter at @Zepp1978 and catch his latest Texans podcast at State of The Texans.