Jack Nicklaus and Arnold Palmer: An Inside-Out Perspective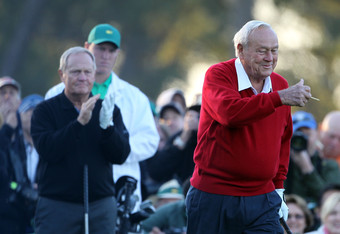 Hall of Famers Jack Nicklaus and Arnold Palmer have been honorary starters together at the Masters since 2010
Jamie Squire/Getty Images
Golf Writer Andy Reistetter continues his exclusive "Play-Write" series with a round of golf on The King & Bear in St. Augustine, Florida. Designed jointly by Arnold Palmer and Jack Nicklaus, the course is and will be their only collaboration. Both were founding members of the World Golf Hall of Fame when it started back in Pinehurst, North Carolina in 1974. Here's Reistetter's inside-out perspective of these two golfing legends—inside the Hall of Fame and outside on the golf course they designed as a team.
We expect it from our golfing idols—to become true legends, they need to do legendary things that matter—even to those outside the game of golf.
Palmer was the king of professional golf as the 1960s began.
With his "Go for Broke!" playing style, he won his second Masters and his first and only U.S. Open in 1960.
Arnie's "Army" and "the charge in golf" were born that day at Cherry Hills when Palmer drove the first green and went on to shoot 65 and win by two strokes.
We loved Arnie; he made us fall more in love with golf and watching golfers on television.
But what did he do next?
The legendary thing—he went across the pond to play in the (British) Open Championship. The pilgrim and golf devotee finished second in 1960, but won the championship the next two years.
All in all, Palmer had 52 PGA Tour victories, including seven majors, in a Hall of Fame career.
Nicklaus, like Palmer, won the U.S. Amateur Championship.
Unlike Palmer, he won the Amateur twice—the years before and after Palmer's heroic 1960 season.
"I am the King; try and unseat me if you can"—this is the childhood game we all played on a hill.
But Nicklaus did it to Palmer on the golf course, beating him in a playoff at Oakmont CC in the 1962 U.S. Open.
The "Golden Bear" was on the loose.
Nicklaus did the legendary thing when, at age 46, he won the 1986 Masters with a back nine 30.
All in all, Nicklaus won 70 times on the PGA Tour, including a record 18 major championships.
Though we tend to compare them, these two legends are truly incomparable and their contributions to the game of golf and beyond are immeasurable.
The names Nicklaus and Palmer are synonymous with charity, humanitarianism and philanthropy.
Along with 11 other golf legends, both entered the Hall of Fame in 1974.
Deane Beman, PGA Tour commissioner at the time, brought the worldwide golf industry together in support of building a more viable World Golf Hall of Fame in St. Augustine, Florida.
By then, 69 other members from Pinehurst, along with Palmer and Nicklaus, were grandfathered into the new Hall as it celebrated its first induction class in 1998—Johnny Miller and Nick Faldo.
Before the time of "Together, Anything's Possible," Palmer and Nicklaus came together and did the impossible—they teamed up to design and build a golf course that would enhance the World Golf Hall of Fame operation.
The King & Bear is another truly legendary act for the good of the game.
Perfectly named, this picturesque golf course opened for play in May 2000 with a Shell's Wonderful World of Golf match between the two golf icons.
Only a few miles from the Tower of the Hall, one feels as though he is "across the pond," as rustic Irish landmark fences lead you to the clubhouse.
The "Walk of Aces" leads you into the clubhouse, where you can see the golfers, dates and holes of past brilliant endeavors.
When you play it—and you must play it—you'll find the King & Bear to be a beautiful blend of holes designed around the "low drawing" and "high power fade" games of the designers.
Holes four and five clearly demonstrate the strategic one-two punch.
Palmer's hole, the fourth, is called the "Gambler's Temptation."
Playing only 309 yards from the white tees, you can gamble, as the name implies, and try to drive the green. The ideal tee shot is a low draw over the right bunker which will catch the down slope and encourage the ball to roll up onto the green.
The three lobes of the green make it feels smaller than its actual size.
With slopes everywhere and bunkers left and right, the green complex itself is the real challenge of this remarkable hole.
Immediately following the gambling hole is Nicklaus' "Fader's Delight," a reachable dog-leg-right par-five playing only 498 yards from the white tees.
A couple high power fades and you will have an eagle putt.
Mere mortals are challenged with water all the way down the right side and the signature Nicklaus bunker in the middle of the fairway, just inside 100 yards.
There is no place on earth quite like the King & Bear golf course.
While located in Florida, this is certainly not your typical Florida course.
The gently rolling topography, the expansive views framed by loblolly pines and old oak trees and, of course, the design itself make it a "must-play" on any golfer's list.
Of course, the other "must-play" is to visit the World Golf Hall of Fame and see some of the Nicklaus and Palmer memorabilia for yourself.
While their own personal exhibits have already come and gone, their presences are still widely felt within the walls of the Hall.
Palmer hosts the opening monologue for the incredible Bob Hope exhibit "Shanks for the Memories."
Nicklaus and his 18 major victories permeate the Hall of Fame, along with unique exhibits featuring his boyhood idol, Bobby Jones.
Nancy Lopez's "Passion, Personality & Pride" exhibit opened earlier this year.
Lopez is the first woman to be honored with her own exhibit at the Hall of Fame, joining Jack, Arnold, Bob Hope, Ben Hogan, Byron Nelson, Bobby Jones and Gary Player.
There are also extensive displays for the newest members of the Hall, who are inducted on the Monday in May before The Players Championship—President George H.W. Bush (No. 41), Frank Chirkinian, Doug Ford, Ernie Els, Jock Hutchison and Masashi "Jumbo" Ozaki.
Look for Phil Mickelson to be inducted next year, now that he has reached the required age of 40.
Who can ever say that these two men, Mr. Palmer and Mr. Nicklaus, haven't given their all to benefit the game of golf and society in general?
The King is now 82 and the Bear is almost 71…
Love live both the King and the Bear—inside the Hall of Fame and outside, on their golf course.
To read more articles in Golf Writer Andy Reistetter's exclusive "Play-Write" series go to the following links:
1. Daniel Island Club (Charleston, SC): Home of the Nationwide Tour Championship and the Charm of Charleston, South Carolina.
http://bleacherreport.com/articles/281587-the-charm-of-charleston-the-daniel-island-golf-club
2. St. Johns Golf & Country Club (St. Augustine, FL): On the Road to the PGA TOUR.
http://bleacherreport.com/articles/301493-st-johns-golf-country-club-on-the-road-to-the-pga-tour
3. TPC Four Seasons (Las Colinas, TX): Home of the HP Byron Nelson Classic.
http://bleacherreport.com/articles/400754-play-tpc-four-seasons-experience-byron-nelsons-legacy
4. Cog Hill Dubsdread (Lemont, IL): Deserving of a Future U.S. Open.
http://bleacherreport.com/articles/406212-pga-tour-jemsek-family-cog-hill-deserving-of-2017-us-open
5. Greenbrier's Old White Course (White Sulphur Springs, W VA): A Charles Blair Macdonald Masterpiece enveloped with the essence of Slammin' Sammy Snead at America's Resort.
http://bleacherreport.com/articles/422692-pga-tour-the-greenbrier-americas-resort-takes-center-stage
6. Scioto Country Club (near Columbus, Ohio): Scioto CC: The Bridge from Jones to Nicklaus and Beyond.
http://bleacherreport.com/articles/423359-scioto-cc-the-bridge-from-jones-to-nicklaus-and-beyond?
7. Orlando's Grand Cypress to Host 2010 LPGA Championship.
http://bleacherreport.com/articles/521768-orlandos-grand-cypress-to-host-2010-lpga-championship
8. Puerto Rico's Royal Isabella Golf Links.
http://bleacherreport.com/articles/650676-play-royal-isabela-in-puerto-rico-be-inspired
9. TPC Sawgrass Stadium Course.
http://bleacherreport.com/articles/694852-2011-players-preview
10. Sawgrass Country Club, Original "Home" of THE PLAYERS.
http://bleacherreport.com/articles/698128-original-home-of-the-players-sawgrass-country-club
11. Bayonet Golf Course, Seaside, CA on Monterey Bay.
http://bleacherreport.com/articles/712165-the-next-tiger-woods-lil-jordan
12. The Golf Club at Quail Lodge, Carmel, California.
http://bleacherreport.com/articles/714633-carmels-quail-lodge-californias-golfing-destination
13. En Joie Golf Club, Endicott, New York- home of the Dick's Sporting Goods Open on the Champions Tour.
http://bleacherreport.com/articles/743237-en-joie-your-hometown-golf-course
14. Erin Hills Golf Course, Site of 2011 U.S. Amateur and 2017 U.S. Open
http://bleacherreport.com/articles/825372-erin-hills-host-to-2011-us-amateur-and-2017-us-open
15. Reynolds Plantation, Greensboro, Georgia
http://bleacherreport.com/articles/826675-golf-vacation-reynolds-plantation-is-your-destination
16. Sea Island Golf Club, St. Simons Island, Georgia
http://bleacherreport.com/articles/897830-sea-island-golf-club-defines-southeast-golf
17. Golden Horseshoe Golf Club, Colonial Williamsburg, Virginia
http://bleacherreport.com/articles/916526-historic-golf-discovery-in-williamsburg-virginia
Andy Reistetter is a freelance golf writer as well as a Spotter, Research and Broadcast Assistant for The Golf Channel, NBC and CBS Sports. He spends time on all four major American golf tours- the PGA TOUR, Champions, Nationwide and LPGA Tours.
Reistetter resides within two miles of the PGA TOUR headquarters and home of The PLAYERS Championship at TPC Sawgrass in Ponte Vedra Beach.
A lifetime golfer, Andy enjoys volunteering at the World Golf Hall of Fame and THE PLAYERS while pursuing his passion for the game of golf and everything associated with it. He can be reached by e-mailing him at AndyReistetter@gmail.com
This article is
What is the duplicate article?
Why is this article offensive?
Where is this article plagiarized from?
Why is this article poorly edited?