United Football League: What the UFL Will Have to Change to Team with the NFL
November 3, 2011
In any relationship, there is compromise.
Well, at least any successful relationship.
If the United Football League and the National Football League were to have a partnership of any sort, both sides will have to give up some things, change or at least tweak what they're doing in order to please the other. Only then will both sides be happy with the situation.
It's no different than your relationship with your significant other or spouse. You know that you hate watching reality television, but they love it. So you compromise with them so that all parties are satisfied. You watch The Amazing Race with them and they'll watch Glee with you. It's a win-win.
Unless you'd rather watch Glee alone so that you can sing along without your spouse laughing at you…I'm not speaking from experience. Just an example…
So what does the UFL have to compromise to attract the NFL?
The first thing is the schedule of the season. If they're going to be a developmental league for the NFL, they have to play in the spring and not the fall. NFL organized team activities begin in May, so ideally you can have the UFL season run for eight or 10 weeks between March and May.
Scheduling it during those times does a few different things for the players. It allows them some recent game tape right in time for NFL camps, and shows scouts that the players are in football shape.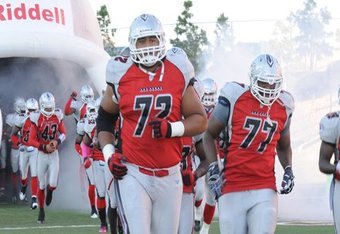 Also, if players are injured during the UFL season, the spring season allows ample time for players to get healthier by the time NFL training camps start in the summer.
Omaha Nighthawk fans may cringe at the thought of a spring league, since that means that TD Ameritrade isn't an option for the their team. But Rick Meuller, the Nighthawks' general manager, has already come out and stated that Caniglia Field is an option, and could be expanded to hold 15,000 fans.
Don't worry Nighthawks fans, it can be done.
On the field, some of the UFL rules and regulations will have to be changed in order to complement what the teams in the NFL are doing.
The blitzing regulations that only allow you to blitz six players on any given pass play are still needed to keep players healthy. However, the UFL will need to start allowing three down linemen formations on defense.
The traditional 3-4 defense is being adopted more and more in the NFL, and if you want to develop players to play in that defense or against that defense, then the UFL will need to adopt it as well.
College players are converted from defensive ends to outside linebackers all the time. But the UFL rules that require four down linemen may prevent scouts from seeing if a defensive end is athletic enough to drop into pass coverage or read an offense.
The same thing happens when evaluating an offensive tackle. If I'm scouting a tackle, I want to see him in situations where a linebacker has a full head of steam before bull-rushing him straight back on his heels.  
I've said it before and I'll say it again: Everyone wins in a UFL-NFL partnership. The fans win, and both leagues win.
Obviously there are more items that the UFL will have to change, but this will definitely give them a start. I'm sure that both parties will have plenty of PowerPoint slides, graphs and charts demonstrating the needs of both businesses.
It's just a matter of them hammering out the details so that everyone wins.