United Football League: Everyone Wins If the NFL and UFL Form a Partnership
September 7, 2011
Sam Greenwood/Getty Images
Picture a scenario where you're working at your dream job. You might be the executive of a major firm, a teacher that touches hundreds of lives or the creator and owner of the most popular restaurant in town.
For argument's sake, let's say your dream job is to be a sports writer for ESPN.com.
Now imagine that you have to leave ESPN.com due to circumstances outside of your control. The economy went down, you are a victim of a numbers game or maybe that recent college graduate will now do your job for less money.
No matter how you cut it, losing your job wouldn't feel too great.
But as you were being canned, your boss told you, "Sorry we have to let you go, however you can take a huge paycut and go to our sister company, ESPNTheOcho.com, and there's a chance that you'll be right back here in two or three years."
Sounds like a no-brainer right?
"Of course I'll do it," you would exclaim. "I'll do anything to get my job back!"
"Good," your boss would reply. "But I must warn you, The Ocho has had its ups and downs, and there's no promise that you will get your job back."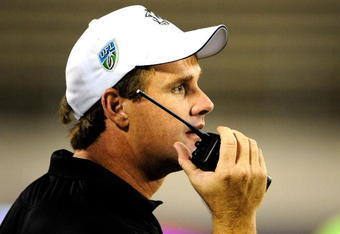 Sam Greenwood/Getty Images
You sit and think about it for a second, wondering if it's even worth your time and effort. You quickly weigh the pros and cons before asking, "Then why send me there in the first place? What is in it for you?"
"Honestly…" your boss begins. "If that guy we replaced you with isn't who we think he is, we'll need someone who can step in immediately. I don't want you sitting at home on your couch in the meantime, who knows how the sports world will change while you're gone. I want your mind fresh in the event that we need to give you a call for a huge assignment."
Now remember, this is your dream job.
There's nothing better than this company, this industry, this position. There's no competitor that you can simply jump to for a mirrored position, you don't have another calling or back-up plan. This is it!
Now let us snap back into reality. It's 2011, and the National Football League is going into its 91st season while the United Football League is going into its third. There is no official partnership between the two leagues, but many believe that one is needed.
It's no secret that the UFL has had financial issues due to the economy being down, amongst other reasons. And the NFL has yet to find a suitable developmental league since ceasing the operations of NFL Europe in 2007.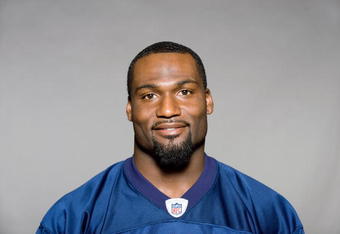 NFL Photos/Getty Images
The marriage almost seems destined to be.
The most important thing is that a partnership between the two has to work for both of them. The UFL would want the NFL's backing, since it would mean a more stable financial structure including more sponsors, investors and media coverage. The NFL would gain the ability to promote someone from the UFL when/if a team is in need of a player who is already in game shape.
Working out in your local Gold's Gym isn't the same as being in football shape.
Just ask Chicago Bears wide receiver Roy Williams. He admittedly wasn't ready for training camp after the NFL lockout was over. He said there was nothing he could do to get in football shape because the only thing that does that is football.
"I'm a firm believer in no matter what you do in the offseason, nothing will get you football-ready except for playing football," Williams said. "That's what I believe. It's tough. You can run all the hills and mountains that you want to, but when you get out here and play for four seconds and jog back to the huddle, that's what gets you in shape."
A partnership between the two allows for the NFL not to worry about that. The last thing it wants is to see a team sign a player off of the street, only for the player not to be ready and end up injured.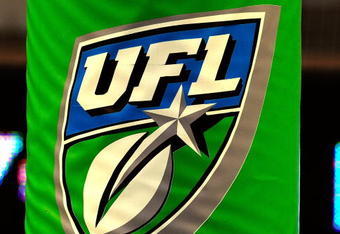 Sam Greenwood/Getty Images
The UFL has 70 of its former players currently on NFL rosters at the time of this writing. From players making their way back into the league like running back Dominic Rhodes to players getting their first opportunity like safety Andrew Sendejo, these players took the long road to get to their dream jobs.
Maybe the most important factor, the group that wins most from this partnership would be the fans.
Fans always want more football. Although baseball is America's pastime, football is America's passion.
The UFL reaches out to the fans that the NFL seemingly has left behind. The fan who doesn't live in the major market and can't spend $200 on a NFL ticket can now afford a seat to an Omaha Nighthawks game or see the Destroyers at the Virginia Beach Sportsplex. The fan who would do anything to see their favorite player in person is now invited to the press conferences and team practices.
In a situation where seemingly everyone wins, it's only a matter of time before it happens. There will always be negotiating and compromise in a partnership, but this one seems like a no-brainer.
The leagues win, the fans win, everyone wins.