Free Agent Analysis: Albert Pujols, Prince Fielder, CJ Wilson and Jose Reyes
November 3, 2011
Jamie Squire/Getty Images
Albert Pujols
2011 Stats: .299/.366/.541, 37 Home Runs, 148 wRC+, .385 wOBA, ISO .242, 9 Stolen Bases, 5.1 WAR 
Even with a "down" year, Pujols was still worth close to $23 million this season, and I can't imagine the St. Louis Cardinals not resigning the slugger.
Pujols dealt with a wrist injury in 2011 and the pressure of free agency through the first months of the season, but his wRC+ of 148 ranked fourteenth in baseball. His 37 home runs were tied four sixth in baseball, and his 5.1 WAR is fourth best among 2012 free agents. His OBP took a hit this season because of a career low walk rate of 9.4 percent (13.7 percent career rate), which was the product of a career high 31.1 percent chase rate. 
In terms of power, Pujols also took a step back even though his 18.3 percent HR/FB ratio was his exact ratio in 2010. A .242 ISO in 2011 was the second lowest of his career and his SLG percentage was a career low. His 44.7 percent ground ball rate has something to do with the slight drop in home runs, but the drop won't deter the Cardinals from spending on the free agent. His .277 BABIP explains the drop in his batting average, and his 8.9 percent strikeout rate from 2011 is below his career rate of 9.5 percent.
He hit .318/.383/.613 after the first two months of the season, and he still should be considered the best hitter in baseball. In terms of defense, he still has an above-average glove at first base. Yes, he is getting old, and it is troubling to sign a 32 year-old to an eight year $200 million plus contract. Pujols is worth the risk, and I think he will be able to be a 6-7 win player for most of the deal.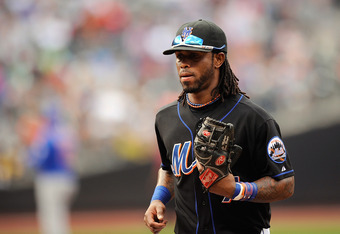 Patrick McDermott/Getty Images
Prediction: Cardinals
2011 Stats: .337/.384/.493, 7 Home Runs. 149 wRC+, .386 wOBA, ISO .156, 39 Stolen Bases, 6.2 WAR
At 28-years-old, Jose Reyes is in the prime of his career and should be a 5.5-6.5-win player during that time.
2011 was a career year for the shortstop as evidenced by the stats above. Reyes was able to post a career high batting average because of a career low strikeout rate (7.0 percent), and the second best line drive rate of his career (21.1 percent) that propelled him to a .353 BABIP.
His strikeout rate was not an aberration either since his 4.1 percent swinging strike rate was the tenth lowest in baseball among qualified hitters. His 7.3 percent walk rate increased over his 2010 rate (5.1 percent), but I don't think he will have rates much higher than 7.5 percent over the next few years. His HR/FB ratio of 3.9 percent shouldn't be held against him because of the expansive Citi Field, but he did only produce a HR/FB ratio of 3.5 percent on the road.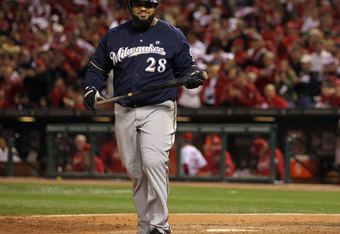 Jamie Squire/Getty Images
Reyes had the highest WAR among 2012 free agents, and that number would have been higher if not for his -3.1 UZR at shortstop this season. According to FanGraphs, Reyes was worth $27.8 million this season. He hasn't had a positive rating since 2008 as his range has decreased over the last two seasons.
There is no doubt that Reyes is the best shortstop available this offseason, but he will never be a 50 plus stolen base player again. There is some room for regression here, and teams will be hesitant to provide $20 million a year to Reyes because of his leg troubles and Carl Crawford's poor performance in 2011.
Plenty of clubs will be looking for a shortstop this offseason, and I think the Mets have a decent shot at resigning the switch hitter. I have a gut feeling that Reyes resigns with the Mets, but little else to go on. The Brewers, Braves, Phillies, Reds and others have been linked. Who knows on this one?
Prediction: Mets
Prince Fielder
2011 Stats: .299/.415/.566, 38 Home Runs, 162 wRC+, wOBA .408, ISO .267, 5.5 WAR
Fielder may have produced his best overall season in 2011 with a career high wRC+, batting average and OBP. While it wasn't one of his best seasons in terms of power numbers, Fielder did improve over his 2010 numbers which included a wRC+ of 137, a .261/.401/.471 slash line, .207 ISO and 32 home runs.
At 27-years-old Fielder has accumulated 15.3 WAR over the last three years (average of 5.1 WAR a year), which ranks third among 2012 free agents. I'd rank him somewhere just below 5 wins a seasons if his UZR stays relatively close to -5.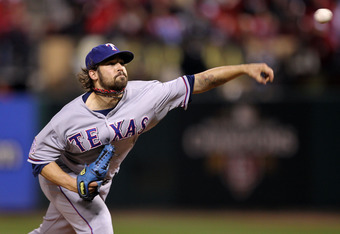 Ezra Shaw/Getty Images
Fielder's rise in batting average during 2011 can be attributed to a higher BABIP (.306 just above the league average) and more importantly to a career low strikeout rate of 15.3 percent. He does not rely on BABIP to fule his batting average, and he was able to produce more contact this year with a career high 80.9 percent rate and a career low 8.0 swinging strike percentage. His walk rate has been impressive over the last few seasons holding steady with 15.3 percent, 16 percent and a 15.5 percent rates.
The Fielder camp will probably be looking for a contract close to the Mark Teixiera signed three years ago (8 years/$180 million), but there is considerable risk to any long-term deal. Fielder's body type and poor defense (average a UZR of -5 over last four seasons) makes him considerably riskier for a NL team to sign him.
My guess is that Mariners, Nationals, Rangers, and Orioles make bids with the Rangers coming out on top because of their need for a left-handed bat and the probable regression of Mike Napoli.
Prediction: Rangers
C.J. Wilson
2011 Stats: 2.91 ERA, 3.24 FIP, 3.41 xFIP, 223.1 IP, 1.19 WHIP, 8.30 K/9, 2.98 BB/9, 5.9 WAR
Wilson is the best starting pitcher who pitched in the Major Leagues in 2011 even though it was only his second full season as a starter since being called up in 2005.
Wilson improved upon his 2010 xFIP of 4.06 by reducing his walk rate from 4.10 BB/9 to 2.98 BB/9, which made up for the expected regression from his 2010 BABIP of .266 to .287. In addition, he was able to improve his strikeout rate from 7.50 K/9 to 8.30 K/9 with correlated with a slight uptick in average velocity from 2010.
Wilson averaged 91 mph with his fastball in 2011 compared to 90.5 mph in 2010. An improvement from a 6.7 to 8.3 percent swinging strike rate shows that the strikeout increase was not an aberration.
Wilson's repertoire also includes a cutter, slider, curveball and change-up (pitch effectiveness in that order). His cutter is a nice compliment to his two-seam fastball against RHH. With a lot of two-seamers, cutters and sliders Wilson has produced a 49.3 percent ground ball rate over the last two seasons (50.7 percent for career), and his 2012 success might depend on what kind of infield defense is behind him.
He will limit home run damage as he has only allowed 26 home runs over the last two seasons despite pitching half of his games in Arlington. I disagree that postseason success or failures predicts future performances, but Wilson's 2011 struggles highlighted the fact he struggles with his fastball command.
On the plus side, his arm does not have the same ware and tare as other 31 year-old starting pitchers because of his work as a reliever from 2005-2009. Wilson says he would like to return to the Rangers, but my guess is that the Nationals sign the lefty.
Prediction: Nationals