Georgia Football: Thoughts on UGA-UF and the Road Ahead in the SEC East
November 3, 2011
I admit it. I am skeptical and cynical to a fault. After suffering through the decline in Georgia's football fortunes that began with the sieve-like defensive performances of 2008 and 2009 and culminated in last year's Fulmer Cup black eye, losing season and abysmal bowl performance, I knew that, for me, healing the mental scars suffered in the face of such abject mediocrity and an apparent absence of discipline would be a process -- a gradual, painful process. I intuited that learning to once again believe that Mark Richt and staff were taking the program in the right direction would be an uphill challenge.
So as the Bulldogs began to win after dropping their first two games to Boise State and South Carolina, I began to look ahead on the schedule to last weekend's game with Florida as a psychical litmus test of sorts for my allowing myself to begin to heal and to believe again. As Great White so aptly sang, "Once bitten, twice shy," I guess.
In August, my wife and I bought tickets to the Zac Brown Band concert that was to take place in Jacksonville on the eve of Georgia-Florida. I had the brainstorm. Why not rent an RV and a space and spend the weekend at the World's Largest Cocktail Party? After all, I had never been (I eschew crowds whenever possible) and thought that I would like to at least once. If we found tickets to the game, fine; if not, we would just watch on television and soak in the experience. The plan was hatched.
To make a long story short, we found tickets, the best kind -- free. We went down on Thursday and set up camp. On Friday, we enjoyed a pre-concert and game block party and an awesome show by Zac and the boys. On game day, we enjoyed food and fellowship with friends and family before and after the game, and sandwiched in between, of course, we sweated through Georgia's exhilarating 24-20 victory over the Gators. 
So, the Dawgs won. All is well in Bulldog Land, and I'm back aboard Mark Richt's Bulldog Bandwagon, right? Well, a double "not so fast", my friends. Don't get me wrong. I love the Dawgs through and through, win or lose. But that doesn't necessarily translate into my completely buying into this head coach's vision and leadership. He lost me, and like I said, I'm a doubter by nature.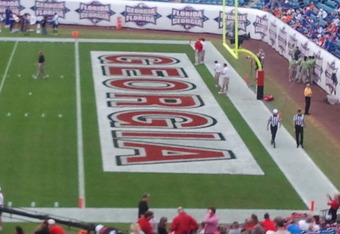 Some random thoughts, observations and ruminations about my first Georgia-Florida game experience, events that have transpired since, and where we go from here.
1) On RVing. We don't own an RV. Compared to the consummate professionals that we found ourselves surrounded by, it was obvious that we were rank amateurs. Massive Allegro buses, smokers, griddles, grills, fryers, multiple tents, golf carts, exclusively rented port-a-potties, and pet bulldogs abounded -- and that was just my little RV neighborhood. I saw a six-person golf cart that was, by all appearances, a limousine. Me? I just loaded up my little beach tailgating rig (that's how I roll on Saturdays in the fall) for watching games and tried not let my greenhorn status be too overly conspicuous.
2) We, and I do mean "we", are an gaudily affluent and spoiled nation. I mean, I felt like I was roughing it because I had to walk to a port-a-potty on the other end of the lot instead of riding a golf cart. I thought to myself, as I tried to digest the four day RV tailgating junket, that people in most nations around the globe simply would not be able to comprehend the small fortunes being spent on such an ephemeral experience.
3) My end of the lot was dominated by professional Gator fans. Believe me, an RVer's allegiance is never a mystery. While it made me a little anxious to begin with, everyone was incredibly hospitable, helpful, and gracious, both before the game when they were dominant and after when they were the vanquished. I met some really, really nice people with whom I would gladly hang out again next year. 
4) Not sure why many people bother to pay to go to games. Hardly a play went by without having to stand because of someone coming up or down the aisle. Some young people on our row had to "excuse me" themselves a dozen or more times during the game. Dude sitting a row down from me missed half the first quarter going to get some nasty looking nachos. Moi? I'd rather explode before I miss any part of a game, and my tickets were free. I just don't understand.
5) Every team has bad fans -- Georgia included. Seated on the row behind me were some of the most immature, obnoxious Bulldog "fans" (nomenclature that I use loosely here) that you could imagine. And they were adults (again, loosely) too. They referred to our own team in derogatory and profane terms and dropped "the bomb" (you know) on a lone, young female Florida fan for being overly exuberant in the first half. Most disappointing and embarrassing.
6) Just a thought -- did the coaching staff not know that Chris Rainey and Jeff Demps were going to be returning kickoffs? Just saying.
7) Question: Did it not occur to the defensive staff that Rainey and Demps might line up in the slot on passing downs? At the outset, we were attempting to cover them with linebackers. I mean, I may as well have been out there trying to lock them down. To Grantham's credit, he finally did adjust and got a corner inside to cover them.
8) On John Brantley. Not sure that he should have played, but I am positive that he wasn't ready to. He was throwing off of one leg and looking for a place to fall down if he had the slightest sensation of being sacked. Between his physical and psychological disability, he missed lot of completable throws and catches.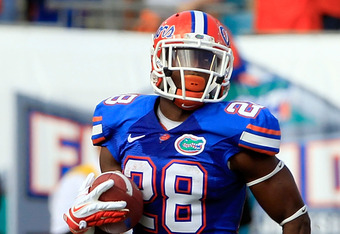 Sam Greenwood/Getty Images
9) On Aaron Murray. I still think he is very talented, but the roller coaster run continues. He is feast or famine within most games. He and his receivers are clearly out of sync much of the time. It was unfortunate to see him so frustrated as to openly chastise some of them after bad throws. I even saw him administering a tongue-lashing to his bud, Orson Charles. During one stretch, fans around me were calling for the staff to insert Hutson Mason in his place. Yes, a couple of great throws by Murray and catches by the receiving corps saved the day, but it seems clear that having a great receiver like AJ Green can greatly enhance even a gifted quarterback's game.
10) On Isaiah Crowell. I am big on reminding folks that young players come into their own at their own pace, not necessarily when we want them to or when it is desirable, convenient or helpful. With that said and acknowledging injury as a potential factor, let me be clear when I say that Crowell and Herschel Walker should never be said in the same sentence. There is simply no comparison to draw between the two.
11) Could our special teams be in any worse? Even the one remaining bastion of excellence, Drew Butler, is beginning to succumb to the mediocrity. Fortunately, the axiom that you win or lose on special teams has not held true for the Bulldogs.
12) If body language speaks volumes, the Bulldogs' were saying that they had one foot in the grave just before Murray's fourth down completion to Michael Bennett before the half.
13) Lots of Bulldog fans have been extremely hard and harsh in their criticism of Richard Samuel. The aforementioned sophomoric zealots that I alluded to earlier berated him early in the game with, "He's a freakin' linebacker!" Of course, when he rammed the deciding touchdown down Florida's throat early in the second half, they cheered. I almost choked. Samuel is a "damn good Dawg" who does what is asked of him to help the team. He will make an outstanding fullback next season if we are able to recruit some depth at tailback.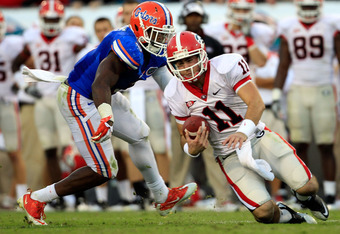 Sam Greenwood/Getty Images
14) I like Chris Conley. He ran a great route to free himself for a reception that kept a drive alive and the clock running late in the fourth quarter.
15) Our defense has come a long way from the turnstile, tissue paper defense that we were two tears ago. If they could tackle, they might be really dangerous. Dang, at the missed tackles.
16) At best, Alec Ogletree was rusty. He whiffed on a couple of dead-to-rights tackles early and was torched in coverage. He seemed to shake it off, however, as the game progressed.
17) Coming out of the stadium on the Georgia side of Everbank Stadium, the din in the concrete ramps was deafening as the sea of exiting, red-clad Dawg fans chanted in unison, "It's great... to be...a Georgia Bulldog!"
18) Once home on Sunday, I had to admonish a sour Florida reader,commenting on my pregame piece  on a popular social network, that the Florida fans that I interacted with after the game were all very gracious in defeat...and if that didn't work for him then perhaps he should wallow in self-pity as I had done so often over the last couple of decades.
19) Watching the post-game celebration and then reading about the players' expressions of happiness for Mark Richt after the game was heartening. It is a good thing that there is such a positive bond between the coach and his players. Nothing to do with Xs and Os, mind you, but reassuring on an interpersonal level. Makes you wonder why some would do things to disappoint him and let him down?
20) Putting aside the euphoria, the news of the suspensions of our running back corps for New Mexico State was disheartening. Say what you will in his defense, but regarding Crowell's involvement, I will simply point out, as I have before, that the vast majority of college athletes are never suspended for any portion of any games during their careers -- much less twice. 'Nuff said.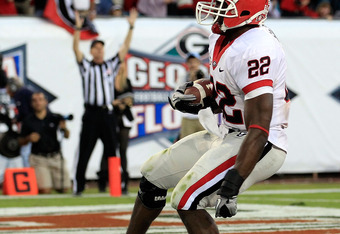 Sam Greenwood/Getty Images
21) Reality? Our five SEC wins have come against opponents that have a collective conference record of 4-22. While winning those games is better than having lost them, they were all relatively competitive games, no blow-outs, so there is no real point in elaborating more.
22) In terms of what lies ahead in the remainder of the season, the Bulldogs will beat the Aggies on Saturday, the Kentucky Wildcats in two weeks, and the North Avenue Bugs the Saturday after Thanksgiving. It all comes down to Auburn on November 12th.
23) Auburn is arguably the best team that Georgia has played since Boise State. They are 6-3 overall, 4-2 in the SEC, and beat South Carolina, whom the Dawgs' lost to in Athens, on the road in Columbia while Garcia and Lattimore were still in tow. Simply put, though Fairley Cam-less, they still know how to win games. More on them next week.
24) Beyond that, Bulldog fans need to put on their Hawg hats and alligator shoes and get to cheering on Arkansas and Florida against the Gamecocks over the next two Saturdays.
So where does all of this leave me and my issues? 
As I said, I'm still twice shy. My benchmark for allowing myself to believe that order has been restored in the Bulldog nation and that Captain Richt's ship has been righted has now been pushed back to the Auburn game. Is it fair for me to raise the bar, to move the target? Of course it, is. After all, it's my psychological baggage.
As for my first experience as a participant in the storied Georgia-Florida rivalry and accompanying festivities, it was an awesome adventure. We had a great and memorable weekend along the banks of the St. John's River. Given that I live slightly more than an hour away, will I do it again? I don't know. It was very expensive. There were lots and lots of people. They don't sell beer at the games. All of these are substantial obstacles for me. 
And besides, there are new scars. The tech at the RV place that I rented from lied about filling the tanks with water. Three days of water bottle baths and visits to cold, dark port-a-potties took their toll. Nope. I believe I'm staying at home next year. Best seat in the house, no need to ever stand, and the beer is close by and cold. Oh yeah, better nachos too.