Jenson Button Has Had Enough of Lewis Hamilton's Headline-Grabbing Ways
November 2, 2011
Mark Thompson/Getty Images
Jenson Button's normally quiet and reserved demeanour is beginning to show signs of wear as the exploits of his more colourful teammates continue to overshadow Button's ascension as McLaren's top driver.
In a season where he has surprised many pundits, Button has been fast and consistent—particularly since the double retirements in Britain and Germany—and has only missed being on the podium once in his last seven races.
Despite that, Button is frequently asked questions about Lewis Hamilton's problems or to analyse his performance and it finally proved too much for the affable Brit.
In a press conference following Button's excellent second place in the inaugural Indian Grand Prix, Button was asked to give his opinion about the ongoing spat between Hamilton and Ferrari's Felipe Massa.
Button's response, "I don't give a f***."
While it probably echoed many people's opinion of the childish and petulant tiff between two professionals, it caught the assembled press by surprise.
Button went on to explain himself, "If you want to do an interview with me, about me, that's fine, but I don't want to be asked about Lewis again. It's doing my head in."
Fair enough.
Button has been dismissed by many followers of F1 as a guy who got lucky with his world title in the Brawn car in 2009 and managed to punch above his weight.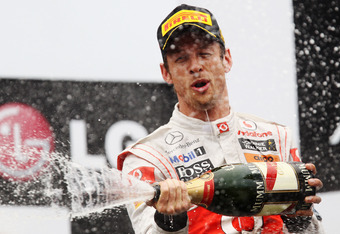 Clive Rose/Getty Images
After moving to McLaren in 2010, he didn't exactly set the world on fire and was the first of the contenders to be eliminated from the championship race.
This year, however, Button has emerged as a serious player. While he lacks the one-lap speed that Hamilton or Sebastian Vettel has, his ability to string together consistent finishes has him sitting comfortably in second place in the 2011 championship.
While a cynic might ask who really cares about who comes second, Button sees things differently.
"To finish second in this championship would mean something," he told Speedtv.com. "Only Vettel in a better car would have beaten me."
Button took the job at McLaren with knowledge that he was moving into Hamilton's territory and that he would be measured against the incumbent.
What no one expected is that it would be Hamilton who would be found wanting. Button's frustration at the Hamilton obsession, therefore, is absolutely understandable.
Sebastian Vettel doesn't get asked about Mark Webber's woes and why he isn't keeping up and there's no one in the press pack dumb enough to ask Fernando Alonso about Massa in an interview.
Lewis Hamilton, however, is more than a Formula One driver; he is a celebrity in every sense of the word. His (former) relationship with Nicole Scherzinger has attracted attention from well beyond the sphere of motorsports.
He's also a larger-than-life character within the sport as well. He sells newspapers and brings traffic to websites and any teammate needs to accept that Lewis is going to get more attention than he sometimes deserves.
Team managers, on the other hand, care only about results and sponsors just want their product put in the best possible light.
On that basis, Button is doing all he needs to do. He just needs to accept that. Although having the odd tantrum himself, can't hurt either.