NASCAR: Matt Kenseth Doesn't Put Much Stock in History During Chase Run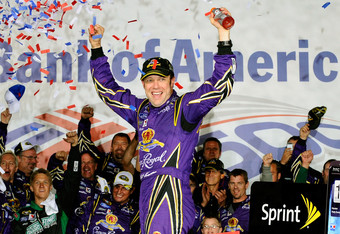 Jason Smith/Getty Images
While covering NASCAR at Martinsville Speedway for Bleacher Report this past weekend, I had the opportunity to speak with 2003 Cup champion Matt Kenseth on Sunday morning before the race.
I rode with him on the back of his golf cart from the motor coach lot to the track and continued interviewing him as we strolled past autograph-seeking fans through the garage area to the tent where the drivers' meeting was to be held.
Heading into the race, Kenseth was just 14 points out of the championship lead. However, the Wisconsin native was wrecked after hard racing with Brian Vickers near the end of the race after running near the front throughout much of the race.
The resulting 31st-place finish dropped him to fifth in the standings, 36 behind teammate and championship leader Carl Edwards. Now, Kenseth is on the verge of championship elimination and it would take at least one bad race by Edwards for the driver of the No. 17 to get back in the race.
The final three races of the Chase line up well for Kenseth—especially Texas and Homestead—but he doesn't put much stock in past results.
As Kenseth explained, "There are some tracks that are better than others for you, but at the same time, everyone has the same 10 at the end of the year and you have to run good at all of them to have a shot."
Running well at all the tracks has been Edwards' strength so far this Chase. He doesn't have a win, but his worst finish is 11th at Talladega—a Johnson-esque model of Chase consistency. Kenseth, on the other hand, has a win but also three finishes of 18th or worse through the first seven Chase races.
Where will Matt Kenseth finish in the 2011 standings?
Not content with such a non-committal answer, I pressed Kenseth and asked if any track in particular presented opportunity for a victory for his team. "If you look at history and your average finishes and you look at the numbers, Texas is historically our best track," Kenseth admitted. "But that doesn't really mean anything necessarily for when you go back. You've got to be able to perform every time."
I then asked whether Kenseth thought there would be a two- or three-driver breakaway from the pack by the time of the season finale. Again, the driver was careful not to give too strong of an opinion.
(While we were waiting for Kenseth to finish a live interview with SPEED, Kenseth's public relations representative Jessica Rohlik had commented on Kenseth's ability to give politically-correct answers. Kenseth is certainly no Tony Stewart or Brad Keselowski, who are always ready with a juicy quote for the media. "Matt is one of the brightest people in the garage, the smartest driver I've ever worked for," said Rohlik. Unfortunately, that makes it difficult to get a controversial quote from Kenseth, and this answer proved no different.)
"It usually ends up separating itself a little bit," Kenseth said. "As you get farther into the championship battle you can start eliminating people from the back. I don't know if we're going to be one of the guys that stays up front. You always hope to be, but you never know."
Of course, there does appear to be a two-car breakaway from the rest of the Chasers after Martinsville—and Kenseth is not one of them. Sunday's winner Tony Stewart trails Edwards by just eight points, with the next closest driver a full 21 points behind.
Following his Martinsville wreck, Kenseth is sitting in a deep hole with three races to go before the championship is decided. He's not about to throw in the towel, but the margin for error is down to zero if he hopes to win the second Sprint Cup title of his career.
This article is
What is the duplicate article?
Why is this article offensive?
Where is this article plagiarized from?
Why is this article poorly edited?