Washington Redskins: I'm Sick and Tired of Being Sick and Tired
November 1, 2011
Tom Szczerbowski/Getty Images
To all young and aspiring journalists out there: Do not write about the teams you grew up loving. A main journalistic rule is to remain objective.
Being lifelong avid Redskins fans has made it impossible to be that in regards to this sad excuse for a football team also known as the Washington Redskins.
The team is underperforming, the coaches are being outcoached, there's no depth and they're being out-executed. In every facet of the contest, the Redskins are the lesser opponent.
I watch the Buffalo Bills, who on paper have very little talent. It's a team full of castoffs and afterthoughts; however, they are a very good football team. Why is that? Why is a team with a similar talent base like the Redskins so much better than us?
It's because they are focused on the task at hand. They understand their offense, they believe in their coach and each other. Yesterday's game was over even before the opening kickoff, and that's what angers me the most.
It appears the team is simply not trying. I have written this before, but football is a violent sport. You can't just go out there and do your job. You have to knock a grown man on the ground while playing with a controlled anger.
Football may be the only sport when you have to combine intelligence, strength and athleticism on every single play simultaneously.
I'm sick and tired of this debacle. Twenty years of crap. Twenty years, one division title, one home playoff game, two playoff wins. Yet I continue to get excited year after year all of which have panned out to nothing.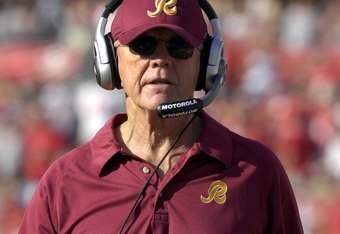 Al Messerschmidt/Getty Images
So here's what I need to do for my own sanity: No longer will I get excited about the hire of a Super Bowl-winning coach. No longer will I get excited with the man behind center (unless your name is Andrew Luck).
No longer will I get excited for an offensive genius to finally correct our scoring disaster. No longer will I get excited over any trade or free agent signing. No longer will I get excited over the spectacular play that I've witnessed in the preseason.
No longer will I get excited about the future of the Washington Redskins. They're an embarrassment from the top down. Every single person underachieves in that organization no matter whom it is.
Marty Schottenheimer, Joe Gibbs part II and Mike Shanahan all have won prior to their arrival in Washington. Al Saunders had one of the most productive offenses in the NFL in Kansas City, Kyle Shanahan appeared to be a coach-in-waiting after his success as a coordinator in Houston. Let's not even get started with the outlandish free-agent signings or trades.
Why is the only commonality found with every Redskin team since 1993 is that they're losers. Does Washington, D.C. have a negative aura around it? Can we start claiming for curses similar to Cubs and Red Sox fans? I really don't know at this moment.
The root of all negative aspects of the Redskins can be directly related to the despicable owner Dan Snyder. If anyone wants to spend some time and bash the owner, I'm the first in line; however, I'm not putting Mike Shanahan's misfortunes on him.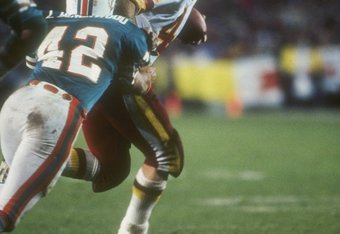 Getty Images/Getty Images
Any franchise with a vacant head coaching position would have jumped at the idea of hiring Shanahan. Any owner without a quarterback would have welcomed a player of Donovan McNabb's credentials. So what is it? Why is this team consistently bad?
The only phase I can determine is the character of the team. It takes 52 men to achieve success in the league. Eleven starters on both sides of the ball isn't going to get it done, and the character of the Washington Redskins has been a total disgrace.
Players like London Fletcher are outliers for the franchise. For some reason, the players can't buy in and the coaches can't coach. To put it bluntly: We suck. The owner sucks, the players have sucked and the coaches have sucked.
I know I'm being dramatic. Frankly, I don't care. I love the Washington Redskins, in fact I love them too much.  Instead of your standard bedtime stories as a child, I got Sonny Jurgensen, John Riggins, Dexter Manley and Charles Mann stories. It's been 20 years and my father still recalls the "Glory Days" of the Redskins and how every Sunday was a "party" for him and his friends.
To me that's incredible. I can't even possibly fathom what it would be like to cheer for a team that is a contender. I want that feeling where before the kickoff even occurs, I know that we're going to destroy the opponent. 
I want to witness an entire city come together at the expense of the Burgundy and Gold. All I want is one season where I can finally belt out at the top of my lungs "Hail to the Redskins" knowing that my team is special.
As for now, I'll continue to impatiently wait and then wait some more, because this team is going nowhere yet again. I'm emotionally drained, but I can't get away from the television on Sunday. My pathetic fandom will carry on, but, as Redskins fans, we have been waiting long enough.