Ohio State Buckeyes Can Win Division and Recruits with Victory over Badgers
October 31, 2011
Kirk Irwin/Getty Images
In one word, HUGE.
What once looked like a rebuilding year has now turned into limitless possibilities for the 2011 Ohio State football team.
One week ago, Braxton Miller completed one pass.  Two weeks ago, "The Nation" was ready to write off the Buckeyes (guilty).  Ohio State fans were not even sure if this team was going to be bowl eligible. 
Actually, they still don't know because of possible NCAA sanctions.
The $2,000 addition to scholarship funds added by the NCAA for costs of students-athletes was needed, but it may also have been an indication that the NCAA may be done with Ohio State. 
They should be. 
Tattoo-gate and over-payment-gate yielded 33 suspended games, one player's exodus, 1 coach's firing (let's call it what it was), $400,000 of revenue loss and one vacated season (which included a bowl win—I mean loss—I mean it didn't happen). After Saturday's game, I realized that it probably contributed to Ohio State's three losses this season.
Ohio State is a different football team with Boom Herron and Mike Adams on offense.  The two provide a platform of experience and talent that takes a huge load off of young quarterback Braxton Miller's shoulders.
The Buckeyes may have lost to Nebraska and Michigan State, but they are still undefeated in the Leaders Division.  They will be favorites in their next two games against Indiana and Purdue.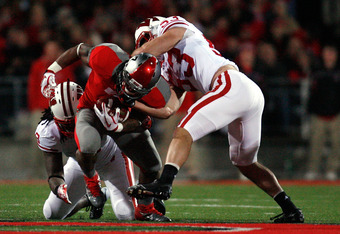 Kirk Irwin/Getty Images
Then Ohio State will face Penn State in Columbus for a chance to play in the first Big Ten Title game at Lucas Oil Stadium in Indianapolis on December 3rd.
Saturday's game was back-and-forth.  Wisconsin struck first when Montee Ball embarrassed a marooned Andrew Sweat for a 22-yard score to take a 7-0 lead. Ohio State then scored 17 unanswered points to take a 17-7 lead midway through the third quarter. 
The game appeared all but over when Braxton Miller scampered left for a 44-yard touchdown run to give Ohio State a 26-14 lead with just over four minutes left in the game.  Russell Wilson was not done, however, and he hit Jared Abbrederis for two touchdown strikes within two and a half minutes to retake the lead, 29-26.
This was about the time that I remembered something that Chris Spielman had said earlier in the day on ESPN.  He said,"They stand a good chance to win if they keep it close—cause the game's at home". 
He was right.  There was no panic.  If anything, the crowd and players were excited: excited to be in the game, excited to be in "The Shoe" and excited to watch their football team compete.
Braxton Miller dropped back with 30 seconds left in the game.  He was pressured and took a step forward before being flushed to the outside where his speed saved the game. 
Braxton sprinted towards the sideline, the line-of-scrimmage (the 40-yard line) and hurled the ball across his body and off his back foot.  Majestically, the spiral stood in the air as if time had stopped.  At that moment Buckeye fans had nothing to lose—especially the fans watching on TV. They had no idea what was happening downfield as the camera focused on the high-arching pass. 
Nothing had gone the Buckeyes way over the last 11 months.  Perhaps this is why the fans and players had no fear.  Perhaps this is why the ball bounced (or should I say flew) the way it did.
True freshman Braxton Miller completed that game-winning pass to true freshman Devin Smith.  The crowd erupted.  The fans and the players unleashed nearly a year's worth of frustration.
In the stands was Michael Thomas, a 4-star WR recruit from Taft High School in California.  He wasn't the only recruit in the stands, but he was the only one that would commit to Ohio State at that moment.
It is hard to say that one pass saved a season, a recruiting class and the elite status of a program, but that might be exactly what happened Saturday night.  One more step over the line of scrimmage and Ohio State would probably have lost.  Michael Thomas probably doesn't commit.  The rest of the recruits in the stands watch as Ohio State drops to 4-4, and re-evaluate their 'schools-of-interest'.
Those weren't the only things on the line Saturday night, either. How about Luke Fickell's job?  Jim Bollman's?  Nick Siciliano's?  What about the fans?
Heck, just go back and read my, "Two games left of being a fan" article.  We were at the breaking point too.  The team reached into their bag of trick-or-treats and pulled these fans back from the pit of despair. 
The players deserve all the credit.
Storm Klein and Ryan Shazier made huge plays Saturday night.  Wisconsin, with their vaunted line and running backs, mustered just 10 yards on 12 carries in the first half. John Simon played like a man possessed (he always does).
The defense won this football game with their physical, determined play.
Braxton Miller came into his own and proved that he and Ohio State do indeed have a very bright future.
Ohio State dominated the time of possession.  Wisconsin didn't turn the ball over, and had only nine yards in penalties.  Ohio State beat this team straight-up, a team that many were calling a National Title contender two weeks ago.
Things seem a little brighter this morning. 
I would have worn my Ohio State football uniform to work for Halloween, but the advertising director said not to wear anything in poor taste, and I live in SEC country where everything Buckeye is poor taste. 
That's all right.  All the customers still wonder who has the vehicle outside with the big Ohio State magnet.