4 Ways John Wall and JaVale McGee Can Improve as a Tandem for Washington Wizards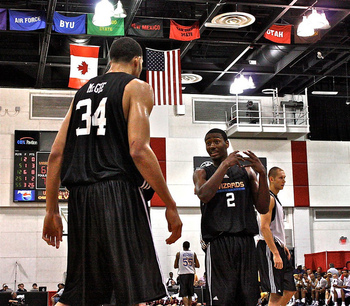 The minute John Wall faced off against NBA talent for the first time everyone saw the chemistry he shared with the Wizards' starting center JaVale McGee. It's almost like a match made in heaven.

Both are tall for their positions and are one of the league's fastest among their positions. But this match also has it's flaws, which is very understandable considering how young the team is. They are far away from their comparison of being like Chris Paul and Tyson Chandler back when they were together on the Hornets. But if they fix their flaws, Washington basketball will definitely be right back on the map.


Improve the Pick-and-Roll Game
The pick-and-roll is one of the most simplistic and deadly plays in basketball when done correctly. Most of McGee's and Wall's points come from fast breaks, because their playing styles are suited more for constant speed.

They use the pick-and-roll sometimes in half-court sets, but that also comes with McGee's weak screens and defenders sagging off of Wall to help defend the pass.

As you can see in the NBA Summer League footage, Flip Saunders wanted them to obviously use the pick-and-roll for almost EVERY play. They did well, but they weren't playing against top-tier defenders who are good at defending the pick-and-roll.


Wall Needs to Improve Jump Shot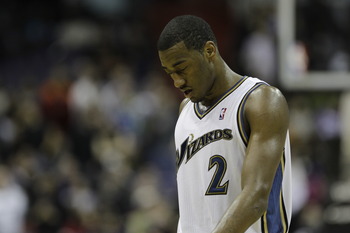 Rob Carr/Getty Images
Wall knows this, and so does the rest of the NBA, which is why he really worked on his jump shot in the offseason.

Wall getting a better jump shot means that it will be a real challenge for defenders when trying to defend the pick-and-roll. This has been explained in so many other articles that this probably doesn't need anymore explanation.

Just look at what developing a jump shot did to Derrick Rose's game in one year.


McGee Needs to Get Stronger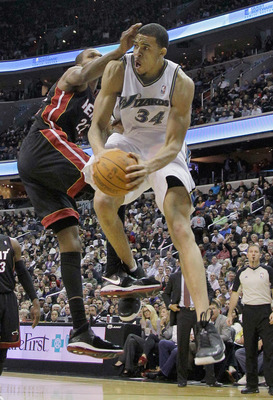 Rob Carr/Getty Images
Don't get me wrong, McGee has gotten A LOT stronger since his rookie year and has definitely shown it on the court, but he still gets pushed around by a vast majority of the NBA. Until he becomes a more stable screen-setter, the pick-and-roll game will be much more ineffective.
As he gets better it will force teams that are playing them to focus on more than just Wall when facing the Wizards. Tall and lanky centers don't make it far in the NBA anymore like they did in the old-school days.
Wall Needs to Learn to Control His Speed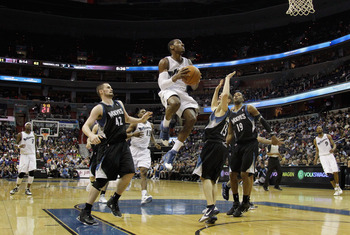 Rob Carr/Getty Images
Right now the only speed Wall knows is FAST.
He was similar to Derrick Rose, which was the main reason why they both created so many turnovers their rookie year. Rose learned how to change his pace, which now helps him get past his opponents easier and see the floor better.
Wall could see a great improvement in assists and diminish costly turnovers that could add up to the Wizards ultimately having another losing season.
Keep Reading

Washington Wizards: Like this team?