Ndamukong Suh: Meeting with League Won't Keep Officials from Punishing Suh
October 30, 2011
Leon Halip/Getty Images
Ndamukong Suh is actively pursuing a way to maintain his punishing and violent play on the field while staying within the rules. The problem is, Suh's ferocity doesn't mesh with the league's stress on player safety, and the only way to stop receiving fines in the mail is for him to be less of a beast on the football field.
He's pursuing a meeting with the league office, according to Pro Football Talk. Suh has earned a dirty reputation, and flags and fines continue to mount for one of the league's most unforgiving defenders. He's trying to play hard and play within the rules, but his enforcer role doesn't adhere to the safe environment the league wants to create on the football field.
Suh is raw. He's a force in the middle of the field who strikes fear into the hearts of his opponents. He's not afraid to throw a forearm shiver into the back of a quarterback's head or nearly rip the head off his opponent, and he shouldn't be.
Dick Butkus, Ray Nitschke, Deacon Jones, Lawrence Taylor and Jack Lambert didn't care about the safety of their opponents either. If they had played in today's league, they would have a mailbox full of fines.
It's a different era, and Suh is a couple decades late. Even so, he's exactly what the Lions need. James Harrison didn't let up when he realized he couldn't play at his highest level within the bogus rules the league imposes. Neither should Suh.
We need to keep seeing more tweets like this one.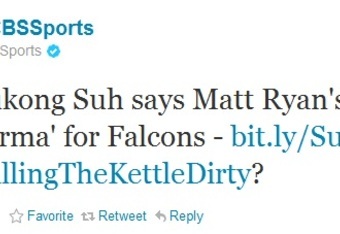 Not tweets like this one.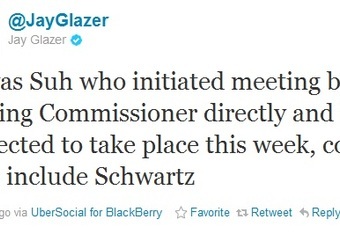 Suh is the face of the Lions defense. They aren't elite, but they have an edge and nobody wants to face them. They can't afford to lose that, regardless of what the league is doing. All Suh can do is play his game full tilt.
Frustration lies ahead of Suh. The personal fouls and the ridiculous fines are going to come with the territory. He's an animal, and thinking about how he wants to go about wrecking his opponents will only take away from his game.