5 Things Doc Rivers Can Learn from Red Auerbach to Get Celtics Back to Finals
No one ever said it would be easy following in the footsteps of Red Auerbach
Doc Rivers has won a ring, made two trips to the finals and owns a career postseason record of 51-44. Not bad, not as good as the man who's shadow he plays in. Not as good as Red Auerbach who coached the Boston Celtics from the beginning of the 1950-1951 season and stayed until the conclusion of the 1965-1966 season.
Auerbach was a bit better. He won nine titles, including eight in a row to close out his storied career in Boston as a head coach. His postseason record was 91-60 and he's still considered by most to be the greatest head coach in NBA history.
What can Doc Rivers learn from looking back on the path followed by Red Auerbach ?
Make Sure You Have Low Post Defenders That Are in Their Prime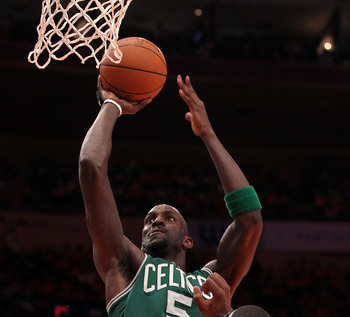 An aging Kevin Garnett is a big concern to the Celtics
Nick Laham/Getty Images
Red had Bill Russell. That sure makes things a lot easier. It's one thing to be a great coach as Auerbach was. It's a whole other ball of wax to be able to start the league's best defensive player ever for 13 seasons. Even Russell who's work ethic is still universally admired only played until he was 34 years old.
Kevin Garnett is 35 as the 2011-2012 season hopefully starts in the not-so-distant future. He's just not the same player he was when he was younger. Actually he's not the same player he was when the Celtics acquired him four seasons ago.
A little less spring in his hops, he's not the same ferocious finisher under the basket on offense and not the same type of shot blocking presence on defense. Limiting his minutes can make him more effective when he is out there, but the less he's out there, the more need there is for another big defender.
That's much easier said than done when the other members of the Celtics who can play power forward or center include names like Troy Murphy, Nenad Krstic, Jermaine O'Neal and Glen Davis.
When the new CBA is ratified there will be free agents, some of those guys listed above won't be back. Defensively speaking all have liabilities and none are top or even second tier defenders.
The acquisition of new players who can fill those two key positions down the road must focus first on defense.
Hit Your Free Throws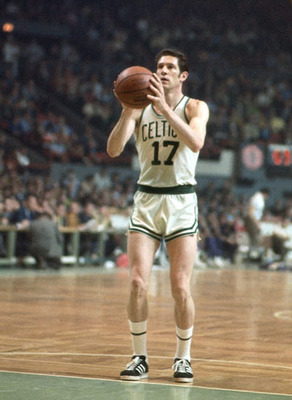 Their not called "free" for nothing. The great teams tend to make most of them.
No one in Celtic history hit them like Larry Bird—actually that's not entirely true. Current Celtic Ray Allen actually has a higher career free throw percentage than Larry Bird. Allen has only been a Celtic for four seasons. Bird played in green for 13.
Allen, like Garnett is nearing the end of a Hall of Fame career. The issue with free throws is twofold on the current Celtic team. On the one hand, their best free throw shooters are on the back end of great careers. Even more of a concern is that the player who already spends more time than any other Celtic with the ball in his hands is not only not a great free throw shooter—he's flat-out bad.
There's lots to like about dynamic young point guard Rajon Rondo. He's an explosive athlete, he grabs steals, dishes assists, that place him at or near the top of the crowded point guard stat listings. Rondo is also an above average rebounder for his position.
He's a bad free throw shooter though. Last season he finished with an abysmal .568 percentage. That was a career low but his other seasons with the Celtics haven't been that much better. For his career he's a 62 percent free throw shooter, and that coupled with the fact that the offense flows through his oversized hands is not comforting.
It means that in any close game the opposition can do one of two things. They can foul Rondo and feel pretty confident that he'll at best hit one of the two free shots awarded to him. Or they can use the threat of fouling him to force other Celtics to handle the ball. Both clearly place the Celtics at a disadvantage.
This is especially troubling because the only real solution is to either change point guards ( not happening ) or somehow get Rondo to hit more free throws. He doesn't have to become Larry Bird or Ray Allen, but even a 70 percent success rate would somewhat deter the opposition from trying to beat the Celtics by way of fouling Rondo.
Don't Rebuild- Reload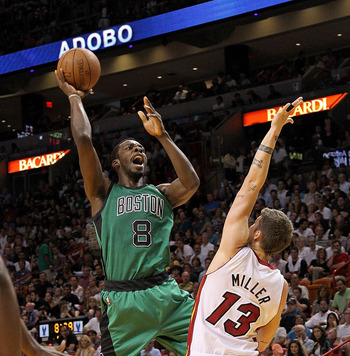 Jeff Green struggled to find his comfort zone in Boston following his arrival in February but they need him to develop into a steady threat
Mike Ehrmann/Getty Images
There were some constants in the Red Auerbach era. There were also some departures and some arrivals. Through it all the Celtics didn't experience a lot of dramatic downturns.
Following Bob Cousy's retirement the Celtics simply increased the minutes of KC Jones. They would go on to win multiple titles in the aftermath of Cousy's departure.
Last season general manager Danny Ainge made a most unpopular move in Boston. He shipped impending free agent center Kendrick Perkins to Oklahoma City in exchange for former No. 5 overall pick Jeff Green.
Green proceeded to validate every Celtics' fans rage by performing in a maddeningly inconsistent manner down the stretch of the regular season and then into the playoffs as well. Perkins meanwhile added a degree of toughness to the Oklahoma City Thunder but his added presence was not enough to get the Thunder past the the eventual NBA Champion Dallas Mavericks.
The intention of the Green trade was made in the reloading spirit. It may or may not work. Doc and Danny are hoping it does.
You Need to Build Through the Draft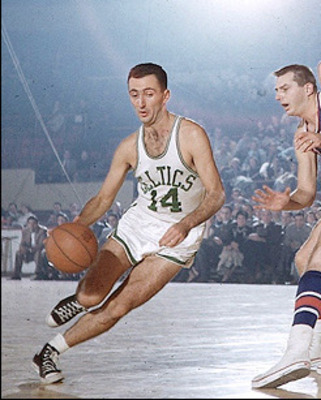 Bob Cousy was one of Auerbach's first of many draft pick coups
Tough to totally pin this on Doc Rivers although Doc surely has some input on who gets picked by the Celtics.
When Red Auerbach was first made Celtics head coach he had plenty of say regarding who the Celtics selected. It's noteworthy then that Red's first draft netted point guard Bob Cousy in 1950.
As the years progressed, the Celtics would make numerous other key selections. Names such as Bill Russell, Sam Jones, John Havlicek and eventually Larry Bird were all selections made by Red at various points in his career as coach, general manager or president.
The Celtics of recent years haven't really taken advantage of the draft. Yes, they've had some low picks due to some recent winning seasons. Even before that the Celtics of the past decade were not exactly a story of draft day success.
In the 2004 draft, the Celtics selected Al Jefferson, Delonte West and Tony Allen. All three players currently are regular NBA players of varying effectiveness. None are Hall of Famers, but all would be considered decent selections. Since then? That's a different story.
2005: Gerald Green, Ryan Gomes, Orien Greene,
2006: Randy Foye ( yes he played a fair amount in Los Angeles last season but it was mainly because of injuries)
2007: Jeff Green, Gabe Pruitt—Green was a key part of the trade that brought Ray Allen to Boston and now he's back in Boston as hopefully a key component of next season's team.
2008: J.R. Giddens, Semih Erden
2009: Lester Hudson
2010: Avery Bradley, Luke Harangody
2011: MarShon Brooks, E'Twaun Moore
Not exactly a great track record. There are other ways to improve and build teams, but good draft picks sure make things a lot easier.
No "I" in Team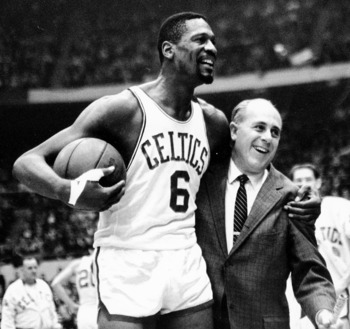 Russell and Red were just two key parts of the Celtic Dynasty
Yes, Bill Russell and Red Auerbach were key components of the Celtics dynasty in the 1960's but they weren't the only keys.
The 1960-1961 Celtics had six players average between 16 and 21 points per game, but not one player ranked in the top 10 in the league in scoring. In order to pull that off, the entire team needs to be able to operate as one cohesive unit.
Without having too much firsthand knowledge of those Celtic teams, I'd say it's a fairly safe bet that not too many of those players were concerned with "getting their shots."
One could make a solid argument that it's a different time and a different league these days. It is for sure. That being said if any team in the NBA was able to secure eight titles in a row in this day and age their methods and tactics would be scrutinized to an extent not seen in modern sports.
The New England Patriots won three Super Bowls in four seasons. The New York Yankees won four World Series in five years. The Los Angeles Lakers won three NBA Finals in a row from 2000-2002. Those are all mini-runs compared to the Celtics of the 1960's. Maybe it's time players and coaches started to pay more attention to how things were done in that era?
The standard excuse is that "it's a different era." That's fine but only if you're of the opinion that it's also a better era. If not, then reflecting and emulating the past isn't the worst idea in the world.
Keep Reading

Boston Celtics: Like this team?