MLB Offseason 2012: Seattle Mariners Fielding Breakdown
October 27, 2011
Stephen Brashear/Getty Images
The Seattle Mariners are a perfect example of the failed plans of mice and men. They were built around pitching, speed and defense. Two out of three aren't bad I guess. They have good speed in the lineup with Ichiro and Chone Figgins (when he actually gets on base). Felix Hernandez and Michael Pineda form a formidable one-two punch in the rotation. Somewhere along the way the fielding went astray.
Chone Figgins is at the center of the mess. He was supposed to be the defensive marvel and speed demon on top of the order. He's done those things, but not nearly efficiently enough. Sometimes smart moves don't work. Sometimes questionable moves come back to bite you. It's debatable as to where Figgins should be categorized. Either way, that is just one of many moves that haven't panned out.
DER: .698 (12th)
RA: 675 (12th)
FLD%: .982 (22nd)
Baseball Reference: -8 runs (22nd)
Fangraphs: -13.8 runs (21st)
Fielding Bible: +16 runs (13th)
Baseball Prospectus: +1.2 runs (14th)
Composite Runs: -1.2 runs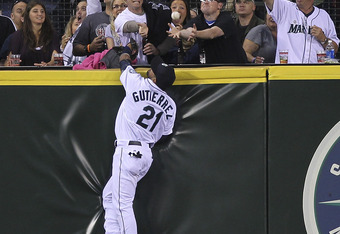 Otto Greule Jr/Getty Images
At first glance it would seem that the Mariners aren't in bad shape and generally speaking that would be true. However, there is nothing quite as disconcerting as committing most of your resources to being good at something and not being good at it. If you commit to be a strong fielding team you really need to be a good fielding team. 
Ultimately, this is the difference between having a solid plan and executing that plan. In a spacious ballpark like Safeco Field, building around pitching, defense and speed makes a great of sense. If you fail to execute that plan, it doesn't mean it's a bad plan. Hopefully, the Mariners can refocus and get better on the defensive end.
Best Fielder
In most seasons this would be Franklin Guiterrez, but he battled stomach problems this past season and it landed him in the Mayo Clinic for a short spell. In his stead, Brendan Ryan took over as the team's best defender. It wasn't difficult as Ryan is the best fielding shortstop in the American League. His acquisition ranks as the only one that led to the result they wanted. 
Ryan is not much of a hitter, but as long as he continues to save as many runs as he does that won't matter as much. If Guiterrez returns to form in 2012 it will be an entertaining battle between those two for the top spot next year.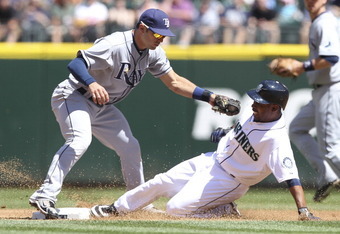 Otto Greule Jr/Getty Images
Worst Fielder
The Mariners don't have anyone we would consider as awful, but they had several average performers. Out of the list, Miguel Olivo had the most disappointing season. The club allowed Jose Lopez to walk and signed Olivo to fill the gap at catcher. The exchange was okay given the fact that Lopez flamed out in Denver. Still, Olivo was supposed to provide some pop and stability behind the plate. Not all of the defensive metrics agreed that he was below average, but enough did for him to register here.
Possible Changes
The Mariners don't have any significant free agents, but they may shift their thinking to offense. They have possible holes in left field and designated hitter. If they want to, they may try to upgrade at third base as well. Franklin Guiterrez could also be in some trouble in center field, but here is hoping they keep him in there.
2012 Overview
I'm bullish on the Mariners defensively. I can't see Chone Figgins struggling three years in a row as much as he has and Guitterez should be 100 percent. A lot will ride on how they reshape the offensive attack. Really, they are pretty limited in what they can do unless they completely overhaul the everyday lineup.