Chicago Bears: Jerry Angelo Arrogant in Not Pursuing Randy Moss, Terrell Owens
October 27, 2011
Jim Prisching/Getty Images
The Chicago Bears' receiving corps is pathetic by NFL standards, but that didn't stop general manager Jerry Angelo from passing on Randy Moss, Terrell Owens and other superior receivers.
Moss, 34, has expressed interest in playing again, and other teams are pursuing him. Moss could be signed to a minimum contract.
He still has the ability to stretch defenses and make the big catch, and can mentor Chicago's young receivers.
Meanwhile, Owens held a private workout that no team attended. While Owens, 37, is constantly questioned about his age and healing knees, he has 2,826 receiving yards and 24 touchdowns the last three seasons.
Despite these two game-changing receivers being available for cheap, Angelo still did not pick them up.
One would think Angelo would want to help quarterback Jay Cutler be successful and have all the proper players at his disposal. However, Angelo is extremely stubborn when it comes to improving offensive personnel.
Before the season began, Angelo said he didn't want to overrate the receiver position. "We're looking at the position," Bears general manager Jerry Angelo said to Chicago Tribune reporter Brad Biggs. "Yeah, we'd like to get the big receiver like everybody. So much has been made about the No. 1 receiver. Hard to find a No. 1 receiver. We've looked at the position hard this year."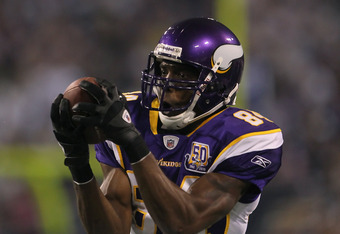 Jeff Gross/Getty Images
Well, Mr. Angelo must have a different definition of hard, because there were some available this offseason.
Angelo did not go after top receivers Plaxico Burress, Santonio Holmes, Santana Moss, T.J. Houshmandzadeh or Braylon Edwards after the NFL strike. All he got was broken-down Williams for a one-year deal.
He also got rid of Olsen and did not attempt to trade for Miami Dolphins Brandon Marshall.
Cutler is currently working with a cobbled receiving corps where no one stands out as a legit No. 1 or even No. 2 option.
In 2011, the Bears' passing offense is led by running back Matt Forte (38 catches, 419 yards, one touchdown). That's not a good sign, especially with Johnny Knox (19 catches, 348 yards) second in yards and rookie slot receiver Dane Sanzenbacher leading all receivers with three touchdowns.
Williams has been a major disappointment, having 13 catches for 190 yards and a touchdown. He has been hampered by a hamstring injury, but he also has dropped open passes.
Devin Hester continues to be hit or miss (21 catches, 308 yards, one touchdown) by making impressive catches while still dropping easy balls in his hands. 
Earl Bennett is the team's most consistent wideout, yet the fourth-year player has missed the last six games with a chest injury.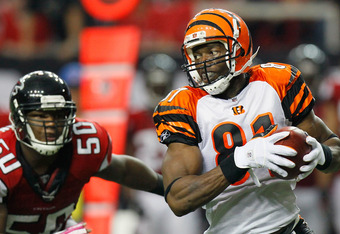 Kevin C. Cox/Getty Images
Angelo got rid of offensive tight end Greg Olsen to the Carolina Panthers before the season began, and replaced him with the offensively inept Matt Spaeth. Spaeth and tight end Kellen Davis (a combined 11 catches for 123 yards and three touchdowns) haven't been much help and don't give a vertical dimension like Olsen consistently gave.
Other teams are trying to improve their receivers. The St. Louis Rams traded for Brandon Lloyd and the New England Patriots are looking at Owens.
Offensively-superior teams like the Green Bay Packers, New Orleans Saints and Patriots all have top receivers who would put Chicago's receivers to shame.
Angelo excepts Cutler to elevate average and below-average receivers to high production levels.
That school of thought, though, is very flawed as Cutler can help them progress only so much.
Without top receivers, the Bears will struggle to make the playoffs and will definitely lose to a superior defense if they even make the postseason.
Bob Bajek is a writing intern at Bleacher Report. He is also a freelance reporter and can be followed at Patch.com and Twitter.