Cleveland Cavaliers: What Can the Cavaliers Expect from Kyrie Irving?
October 27, 2011
Mike Stobe/Getty Images
Unless if you have been under a rock the past year, you would know that Kyrie Irving was picked No. 1 overall in the 2011 NBA Draft.
Irving missed most of his rookie year for the Duke Blue Devils, but what NBA scouts saw of him was obviously enough. Players do not get picked first overall for nothing.
Once again if you're still under that rock after all of this time, you would not know that LeBron James is no longer a Cavalier. As a result, the Cavaliers have achieved the second worst record in the NBA. What is their prize you ask? The answer is the No. 1 pick overall in Kyrie Irving.
Irving has some big shoes to fill, being on a team that was once one the best in the NBA. Cleveland fans do not want to stay as one of the the worst teams in the NBA for long, so they are hoping Irving will bring them back to stardom.
However, if Irving can't fix his toe problems, he won't be doing much playing for the Cavaliers at all, or at least that was the case when there was actually the 2011-2012 NBA season in mind. Now Irving has all the time in the world to heal his toe because that is how long it is looking like the NBA lockout will last.
With that aside, the Cavaliers are getting the best point guard in the draft. Kyrie has everything that a team looks for in a point guard. He has great court vision, a high basketball IQ, great ball-handling skills, he's quick and he can shoot from anywhere on the court.
If I missed anything, Irving can probably do it.
Irving can be whatever the Cavs want him to be. If they want him to be a pure point guard and make Steve Nash passes left and right, he can do that. If they want him to take over the game in a Derrick Rose type fashion, he can do that too.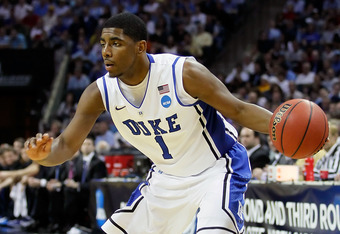 Kevin C. Cox/Getty Images
However, he is known as a score first, pass second type of player.
Irving has just as much talent as anyone in the NBA. That is saying a lot since he cannot even legally drink, being only 19 years old.
How will all of this talent translate into the NBA?
The fact of the matter is Irving will have an instant impact for Cleveland. That does not mean the Cavs are going to win a championship their first year with Irving. Those kinds of things take time. The second worst team in the NBA cannot turn that around overnight.
Kyrie Irving will be a great player for the Cleveland Cavaliers and he will be the face of their franchise, but Cleveland still has many positions to fill.
Overall, the Cavaliers can expect Kyrie Irving to be everything they imagine he can be. That is of course if the NBA lockout is ever resolved.