Fantasy Football Week 8 Quarterback Rankings: Risers and Fallers
October 26, 2011
Christian Petersen/Getty Images
The top QB performers remain on top, but the distance between the top five quarterbacks and some up-and-comers is getting growing smaller.
Tim Tebow led the Broncos to a last-minute victory and posted more-than-adequate fantasy numbers. Do his numbers indicate how he will perform the rest of the season?
Drew Brees has been just outside of the top five, but could his latest five-touchdown performance get him into the very top?
We're almost at the halfway mark of the NFL season, and there are some players whose stars are fading, and other players that are starting to peak. It's crunch time in the fantasy season and you need to keep the best players on your roster if you want to make the playoffs.
Look no further than our updated Fantasy Football Player Rankings.
 How it works: Each week we analyze a player's production on the football field and rank him accordingly—then we go one step further and analyze their competition. Just because someone torched the Broncos doesn't mean he was that week's best performer. You want a quarterback that continually puts up big numbers, even when he takes on one of the NFL's toughest defenses.
Rising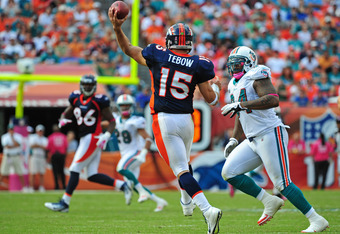 Scott Cunningham/Getty Images
9(17)      Tim Tebow, Denver Broncos
Tebow had a subpar opening 55 minutes against the Panthers this past week, but was able to finish with two passing touchdowns and 65-rushing yards. Though Tebow struggled in his first start of the season, there are reasons for optimism. The Broncos did not play to Tebow's strengths in the game, yet he was still able to get a win and a strong fantasy performance.
Some conspiracy theorists will say the Denver coaching staff may attempt to sabotage Tebow, but we don't buy it, so expect Tebow to improve as the season progresses.
10(16)   Ben Roethlisberger, Pittsburgh Steelers
It looks like the Steel City QB has finally found his rhythm on offense. Seven different Steelers had catches in a Week 7 win at Arizona, and it appears that Ben is as confident as ever in his younger receivers. Look for the incredible maturation of Antonio Brown and Emmanuel Sanders to increase Roethlisberger's value. Of course, Ben can always just throw a deep bomb to Mike Wallace, since that seems to be working well enough.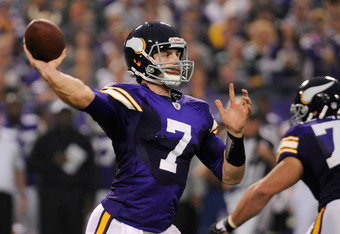 Hannah Foslien/Getty Images
19(NR)  Christian Ponder, Minnesota Vikings
Ponder could still be available on your waiver wire, and if that's the case, you need to scoop him up now.
Ponder was tossed in to the lion's den when he had to take on the reigning Super Bowl champs in his first career start. He ended the game with a low average, a terrible completion percentage and two picks—but he still managed a fairly strong showing as a fantasy starter. Ponder had two touchdowns passing and picked up an additional 31 yards rushing. His wheels are a very underrated part of his game and will add multiple points on to his fantasy value each week.
Falling
12(8)      Matt Hasselbeck, Tennessee Titans
Hasselbeck had his worst outing of the year in a 41-7 drubbing by the Texans this past week. There are some real issues on the Titans offense right now, so it isn't fair to blame Hasselbeck for the loss. That being said, his fantasy value as a reliable QB2 is starting to come into question. His points value isn't great, and as he continues to face the "wear and tear" of an NFL season, he could become more turnover-prone—and more likely to hold a clipboard on the sideline.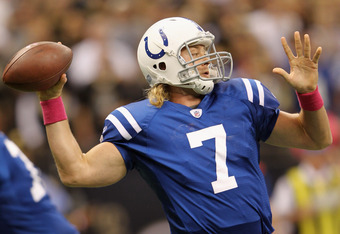 Jamie Squire/Getty Images
26(20)   Curtis Painter, Indianapolis Colts
"Curtis Cobain", as some call him, hasn't looked good when under duress this season. He looked downright awful while facing nonstop pressure from the Saints. Painter may finally have been "figured out" by opposing defenses. This week's matchup against Tennessee will determine if Painter is worthy of a roster spot for the rest of the year.
Keep an Eye On
34(NR)  Jake Locker, Tennessee Titans
Locker came in for his first pro action when the Titans benched Matt Hasselbeck this past Sunday. There is no quarterback controversy, as Locker only dropped back to pass twice in the game, completing one pass and taking a sack. It will take another loss, or two, before the Titans put Locker in for good—but those losses probably aren't too far away.
Every week TheSportsCannon.com updates its Fantasy Football Positional Rankings to keep up with the changing landscape of the football season.
The Sports Cannon is a fantasy football news website that offers free advice, rankings, waiver wire pickups and matchup rankings. You can follow TSC on Facebook or Twitter and can even email your questions to: advice@thesportscannon.com.