2012 MLB Offseason: Oakland Athletics Fielding Breakdown
October 26, 2011
Stephen Dunn/Getty Images
In sabermetrics, there always seems to be an "it" guy among the general managers. These days it is Alex Anthopolous of the Toronto Blue Jays. Before that it was Andrew Friedman of the Tampa Bay Rays. A generation before it was Theo Epstein (now with the Chicago Cubs). The first of those guys was Billy Beane of the Oakland Athletics.
The Moneyball movie may have increased Beane's Q rating, but his rating among the intelligencia of baseball analysts has been down for some time. The game is all about winning and that is true whether you are a hardline traditionalist or a new wave analyst. Beane hasn't been to the playoffs in several years and really hasn't been a factor in the AL West. While fielding isn't the biggest concern, there has been a decline in the quality we are accustomed to seeing from his teams in recent seasons.
DER: .692 (19th)
RA: 679 (14th)
FLD%: .979 (29th)
Baseball Reference: -30 runs (26th)
Fangraphs: -22.1 runs (25th)
Fielding Bible: -8 runs (19th)
Baseball Prospectus: -1.1 (17th)
Composite Runs: -15.3 runs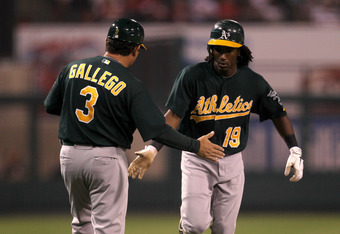 Stephen Dunn/Getty Images
Normally, fielding percentage carries very little relevance. In fact, I included it in the stories mainly as a point of reference for fans that are not used to the more advanced metrics. However, the stark reality is that the Athletics booted a lot of balls this year and generally looked sloppy in the field. This was unusual for them as Beane has built his team around defense in recent seasons. This is where strategy and execution need to separated.
Oakland Coliseum is a cavernous ballpark that pitchers tend to thrive in. So, building a team around speed, pitching and defense makes good sense. In other words, it is good strategy. Yet, when the players you acquire to play good defense don't play good defense, you have not executed that strategy. Sadly, it appears that Beane has abandoned the strategy of late after a few of his moves backfired. Now, they are struggling to find any direction.
Best Fielder
David DeJesus was signed from the Kansas City Royals this season, and he toiled in right field in relative obscurity. DeJesus is not a special player in any respect, but he is a solid defensive outfielder and one of Beane's better moves in that department. It remains to be seen whether he will remain as it seems that Beane is trying to introduce more offense into the lineup.
Worst Fielder
In a decision that still baffles many, Beane traded defensive wizard Mark Ellis to the Rockies to make room for Jemile Weeks, who is not quite the player that his older brother Ricky is. His game is built more around speed and he showed flashes of it this year. Still, he doesn't draw enough walks to be valuable offensively and his speed doesn't translate defensively.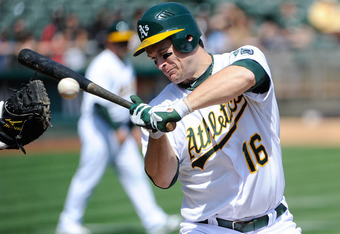 Thearon W. Henderson/Getty Images
Possible Changes
The revolving door at third base stopped with Scott Sizemore getting most of the playing time. Sizemore was acquired from Detroit and was a second baseman by trade. He is average defensively and offensively. That qualifies as an improvement for the time being. First base is also a mess with Daric Barton, Brandon Allen and Kila Ka'aihue all vying for the spot in spring training.
Meanwhile, Josh Willingham, Coco Crisp and David DeJesus are all free agents. Beane desperately wants to keep Willingham, so we can expect him back, but the other two are up in the air. Ryan Sweeney can man one of those spots, but Beane might have to go to the scrap heap to find a third outfielder.
2012 Outlook
Change is always a constant in a market like Oakland's. So, we will have to wait and see how the dust settles before we make any bold predictions about next year. Billy Beane seems to find himself scrambling more and more as the gap between the halves and have nots continues to widen.