Joe Buck, Tim McCarver, Tony La Russa and the St. Louis Cardinals: A Love Story
October 26, 2011
Ronald Martinez/Getty Images
Dramatis Personae 
Tim McCarver: (Big Daddy MacC) Stoical Fox Sports baseball broadcast analyst extraordinaire; former player and understated orator of the obvious: a fine baseball mind.
Joe Buck: (Buck) Pre-eminent play-by-play man at Fox Sports. A minimalist with a certain known affinity for the St. Louis Cardinals, the long-time broadcast home of his legendary father, Jack Buck. 
Tony La Russa: (Tactician) Manager of the St. Louis Cardinals. Known variously as the Thinking Man's Manager, the manager with a Law Degree, and the Brooding Tactician. Considered the archetype of baseball manager as cold-blooded blend of Sun-Tzu, Machiavelli and Napoleon by baseball myth-makers like George Will, amongst others.
Mike Napoli: Texas Rangers' catcher and sometimes hero of the World Series for the Lone Star State faithful.
Edwin Jackson: St. Louis Cardinals' right-handed starting pitcher.
Mitchell Boggs: St. Louis Cardinals' right-handed relief pitcher brought in by the Brooding Tactician to pitch to Mike Napoli.      
Act I, scene I:
Rangers Ball Park at Arlington, in Arlington, Texas. It is Game 4 of the World Series, which St. Louis leads 2 games to 1; though Texas leads the current game 1-0 in the bottom of the sixth inning. A beautiful mid-fall night in central Texas. The ballpark, big and multi-decked, imposing and colorful, dressed in the red, white and blue patriotic bunting of American Playoff Sport. In short: a fine, buzzing, dramatic setting of large scope and obvious moment.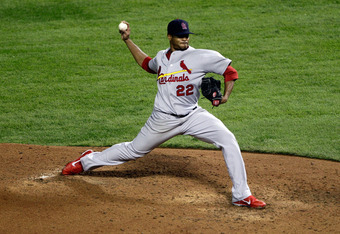 Rob Carr/Getty Images
Rangers' runners stand on first and second, put on board by back-to-back Edwin Jackson walks. Rangers catcher Mike Napoli is standing poised in the right handed batter's box.
FIELD LEVEL: 
Voices of broadcasters Big Daddy Mac C and Buck talk over the action. Television cameras cut between the playing field and the Cardinals' dugout, where La Russa paces darkly, nervously. (All voices and dialogue are approximated, though very much accurate in context, tone, and substance)
                 Big Daddy Mac C
(earnestly and with obvious pleasure)
Oh, look there, Tony's taking his glasses off in the dugout, Joe. My bet is that we're about to see a pitching change.
                  Buck
(wanting to make the right interpretation, mulling over the visual cues)
Mmmm.
                  Big Daddy Mac C
No, wait a second, I stand corrected, the glasses have gone back on. Of course, just as I say it he puts them back on. I guess there won't be a pitching change just now.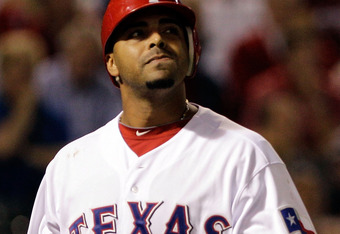 Rob Carr/Getty Images
                  Buck
Hold on a moment, you can see there he's signaling (referring to Tony). I'm guessing the pitcher is going to step off the mound and we're going to see things slow down for a minute.
FIELD LEVEL:
First, pitcher Jackson fakes a pickoff throw to second base. The signal had come in from LaRussa. Jackson had no intention of making the throw and risking an error. A moment later, the second baseman and shortstop approach the mound as Jackson steps off, just as Buck predicted. 
Big Daddy Mac C
Joe, you're absolutely right, Tony's clearly stalling for time as the bullpen man isn't ready to come in yet. 
                 Buck
(absorbed in his observation of La Russa)
Yes, there it is, now we'll definitely see the pitching change. Tony is coming out of the dugout.
IN THE BOOTH:
The microphones have gone quiet, but the prevailing mood is clearly one of proud self-satisfaction at having correctly interpreted the body language and signaling of the Brooding Tactician.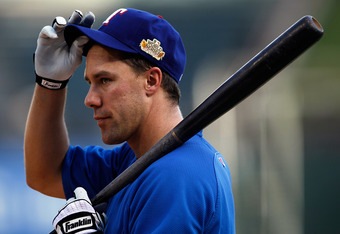 Tom Pennington/Getty Images
FIELD LEVEL:
La Russa comes out of the dugout and jogs toward the pitching mound, signaling for right-handed reliever Mitchell Boggs, who enters from the outfield bullpen to warm his arm.
With two men on base, and warm-ups complete, Boggs rears back and fires his first pitch ro Mike Napoli, who is poised waiting for it. A THUNDERING CRACK ripples into the night and a white, red laced ball is sent on a trajectory toward the orbiting gas giants in the outer solar system. 
The end result of the Boggs' pitch may be seen here: http://www.huffingtonpost.com/2011/10/24/world-series-game-4-napoli-rangers-holland_n_1027809.html
DUGOUT SHOT:
La Russa is followed by the cameras in a bewildered, sulking, animal pace, perhaps wondering if there's any way he can litigate...either against his own pitcher, against Napoli, or even the Gods, if that's possible.
BROADCASTER'S BOOTH:
Buck and Big Daddy Mac C, hurting for Tony and the Cardinals, hold one another in silence as the bases clear and Texas goes up 4-0. 
FIELD LEVEL, GAME'S END: 
The Texas Rangers have tied the World Series at two games each, with Game 5 to be played the following night in Arlington.
THE MORAL:
Micromanaging a game as fickle as baseball can make you look the mighty genius, or, in this case, the holy fool.