2012 MLB Offseason: New York Mets Fielding Breakdown
October 25, 2011
Paul Bereswill/Getty Images
Sandy Alderson inherited a mess when he took over as general manager of the Mets prior to the season. I'm sure he didn't know how much of a mess until he got well into the season.
Omar Minaya was legitimately one of the worst general managers in baseball and the ownership group got into deep trouble with Bernie Madoff. The end result was a ton of bad contracts and a payroll that had to be reduced.
Still, there is no way to predict what would eventually happen on the defensive end. Look around the diamond and you saw enough good fielders that you thought they would at least be mediocre.
Yet, you rarely see the kind of agreement we see from the four fielding systems we have used. You can question it if you want, but the results are overwhelming.
DER: .683 (26th)
RA: 742 (22nd)
FLD%: .981 (26th)
Baseball Reference: -79 runs (30th)
Fangraphs: -59.7 runs (30th)
Fielding Bible: -37 runs (30th)
Baseball Prospectus: -18.8 runs (30th)
Composite Runs: -48.6 runs
The 22nd rank in runs allowed doesn't look bad until you realize that Citi Field is a pitcher's park. If it were neutral, this would look far worse.
For the life of me, I can't fathom how it got this bad in New York. It almost makes you believe it is aberration, but you know Alderson isn't going to take this lying down. He's already planning a ton of changes anyway, so this will be a renewed focus.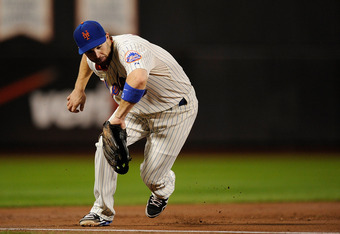 Patrick McDermott/Getty Images
Best Fielder
Just like the Twins, the problem for the Mets is that their best defender went down early in the season and was not heard from again.
Ike Davis will be a legitimate Gold Glove candidate at first base in the future, but he was lost for the season. The crime of it all is that the Mets don't really have any legitimate candidates for this category outside of Davis.
Worst Defender
My college geology professor described the weathering process in great detail. Essentially, wind and drips of water over time work to break down rock.
In similar fashion, outside of David Wright, the Mets didn't have any spectacularly bad defenders. They just didn't have any good ones.
So, drip, drip, drip and drip they go into last place. Wright had a horrific September that made his numbers look a lot worse, but he definitely is below average at best.
Possible Changes
There isn't a position on the diamond that is immune from possible change. Wright has been involved in some trade rumors, Reyes is a free agent, and all three outfield slots could be up for grabs if Alderson finds a home for Jason Bay.
This team will be an interesting one to watch throughout the offseason.
2012 Overview
The funny thing about last season is that the only direction you can go is up. Alderson is one of the more capable executives in the game, so look for him to make some changes that will benefit the defense. They may even get better offensively as the same time.