Derek Holland Video: Does Rangers Pitcher Do the Best Harry Caray Impression?
October 25, 2011
Kevork Djansezian/Getty Images
Texas Rangers starting pitcher Derek Holland just gave us another reason to watch what has been a thrilling World Series so far: He has a great Harry Caray impression.
That's right, the 25-year-old, who just threw eight-and-a-third shutout innings in the Rangers' 4-0 win over the St. Louis Cardinals in Game 4, treated viewers to a Harry Caray and Arnold Schwarzenegger impression in the third inning of Game 5.
Hey, when you have a standout game in the World Series, you can have a little fun in the dugout.
Of course, Twitter blew up after Holland's performance to wide acclaim: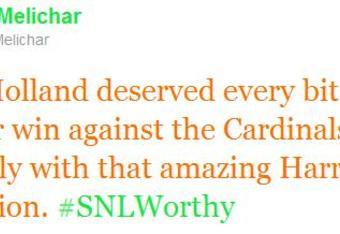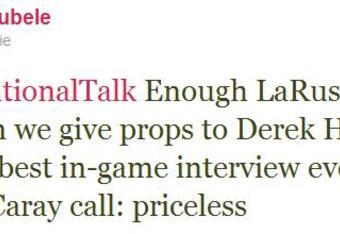 Of course, the next logical step is to compare his impression to the impressions of Chicago Cubs right-hander Ryan Dempster and comedian Will Ferrell.
One fan actually thought Holland had a better impression than Ferrell: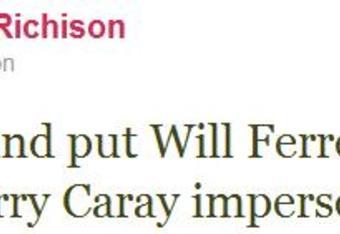 So, after a clip of one of Caray's trademark off-the-wall calls, here is a breakdown of the impressions of Holland, Dempster and Ferrell.
Voice

Derek Holland: Holland's voice impersonation of Harry Caray is dead on. What makes it so great is he doesn't even appear to be giving it much effort, but he simply can flow into Caray's well-known pitch and tone. Grade: A
Ryan Dempster: Dempster was the first modern-day baseball player to really go all-out with the Harry Caray impression. He also mimicked Caray's voice perfectly at times. But there were also times you can tell he fluctuates a bit in his pitch and tone. Grade: B+
Will Ferrell: Ferrell has the general pitch and tone, but let's be serious, Ferrell's voice impersonation is way over the top and exaggerated. It's what makes his impression so utterly hilarious, but it doesn't reflect Caray's true voice. Grade: B
Presentation

Derek Holland: It's not really fair to grade Holland's general presentation, given he had to be in a baseball cap and uniform during the World Series, but I'll give him props for his head shake, which was subtle yet effective. Grade: B
Ryan Dempster: You've got to love Dempster's presentation. He has the Cubs hat and the giant glasses, and even gets Caray's basic ear shape by pulling his hat over them. He also has the required head shake. Everything is nearly perfect. But Caray didn't have a goatee. Should have thought about that one, Dempster. Grade: A-
Will Ferrell: Will Ferrell's presentation during his Caray impression is, well, perfect. He has the glasses, he has the wild white hair, his head shake is hilarious, he even tucks back his shin the way Caray used to. He knows all of Caray's mannerisms and all the intricacies needed to produce the reincarnation of Harry Caray. Grade: A+
Commercial Appeal

Derek Holland: The fact that Holland did his impersonation in a pivotal game of the World Series already gave him a good deal of commercial appeal. The fact that he did the impression so well will have people who don't even care about the World Series buying that limited edition World Series video just for his impression. I know I will. Grade: A-
Ryan Dempster: Dempster became a YouTube phenomenon when he came out with his Caray impersonation. That alone gives him major props. But he's also on the Cubs, and not many people care about the Cubs right now until they start winning. That limits his commercial appeal a bit. Grade: B
Will Ferrell: What can you say? Ferrell is one of the most popular comedians of this generation and he's appeared on ESPN, late night shows and Saturday Night Live with his Caray impersonation. You can't get much bigger than that. Virtually the entire country has rolled over laughing after watching his impression.
WINNER
Holland has the best voice impression of the bunch and Dempster comes very close to matching Ferrell's presentation, but in the end you have to give it to Ferrell based on his presentation and commercial appeal.
But, let's be honest, there really is no loser between these three guys.