Houston Texans: Does Gary Kubiak Need Andre Johnson Back to Save His Job?
October 25, 2011
Bob Levey/Getty Images
There is no one in the NFL, whether it's a player, a fan, a coach or even a play-by-play guy who will discredit what Andre Johnson brings to a team on the field.
This is why you saw players from the opposition taking a knee and showing legitimate concern for him when he went down with a scary-looking injury over three weeks ago.
Not just because of his play, too. The showmanship he brings to the NFL is quite a big deal.
I don't listen to all of the idiots whining about his injury because it hurt their fantasy team. Those people have become obsessive maniacs without regard to the human condition, so I don't let them bother me and I hope the players don't either.
But what has me curious is that with Houston sitting at 4-3 and atop the AFC South division, does Gary Kubiak need Andre Johnson back to save his job?
The Texans are currently 1-2 in the three games for which Andre has been sidelined, and before this past Sunday against the Titans, the Texans' offense has struggled. 
Without a legitimate No. 1 receiver on the field, Matt Schaub has struggled mightily at times and defenses are focusing on keeping Arian Foster in check. With no Andre Johnson out there to stretch the field, that method that worked extremely well for the Raiders and Ravens in consecutive Texans losses.
4-3 is hardly guaranteeing anything as far as Gary Kubiak's job security goes. But looking ahead at the schedule, it looks much lighter the rest of the way than it was for the last four weeks.
Houston is clearly the class of the division after rolling the Titans this past weekend and devouring the Colts in Week 1. Jacksonville had a huge win against Baltimore Monday night, but they still aren't scaring anyone with their abysmal offense.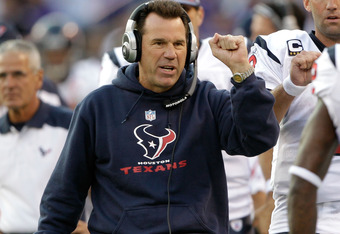 Rob Carr/Getty Images
The next three games are two home contests with Jacksonville and Cleveland followed by a one-game road trip to Tampa Bay before the bye week. Most fans are feeling pretty confident in Houston's ability to take care of business at home against the Browns and Jags, even without Andre Johnson.
There are rumblings of Andre Johnson returning to practice at full speed this week and it is currently looking as if he will play this weekend. But we've heard all of this before so I will believe it when I see him on the field.
Even if he is eased into the game slowly, if he is back to full strength after the bye, then Gary Kubiak has nothing left to worry about.
The toughest game left on the schedule is at home against the Falcons, who are currently sitting at 4-3 themselves.
If Andre was out for the rest of the season, I'd say it would be safe to panic. But even without him, this team is going to win the AFC South this year by default, regardless of whether Johnson straps on the pads or not.
With him, they're hunting for a top seed in the 2011 playoffs.
Gary Kubiak isn't sweating.
Mike Kerns is a featured columnist for the Houston Texans at Bleacher Report. Feel free to follow him on Twitter at @Zepp1978 and catch his latest Texans podcast at State of The Texans.