NFL News: Tim Tebow, Polarizing Amongst NFL Fans, but Worthy?
October 25, 2011
Marc Serota/Getty Images
Blaine Gabbert won his first NFL game this past week on Monday Night Football; his stat line was 9-for-20 for 93 yards.  The story of the game, more than anything, was the ineptitude of the Ravens offense—nothing to do with what Jacksonville did correctly, and rightfully so.
If that were Tim Tebow and the Denver Broncos, analysts would be saying that it was the gutsiest 93 yards they had ever seen.  That if it weren't for those God-fearing 93 yards the Broncos would have been run out of the stadium by a far superior team.  Perhaps it's because Blaine Gabbert has his hair cut like the jerk in the bar from "Good Will Hunting", but I think there's something far more sinister going on here.
Not since the inauguration of Gerald Ford has a regime change been met with such exhale, relief and anticipation.  And much like the exit of Richard Nixon on his Presidential helicopter, with the famous "double-V" stretched high above at the end of each arm, so has my faith in the sanity of the National Football League departed.
What has Tebow done since he entered the NFL to warrant the prodigal pedestal upon which he has been placed?  He won one game as a starter last season.  Who was it against?  The 6-10 Texans.  He won a game again in his first start this season.  Against who, you ask?   The winless Dolphins, whose quarterbacks would certainly throw six interceptions against LSU if given the chance.  Really?
Remember "Raging Bull"?  That movie, often considered the greatest sports film ever made, is a perfect example of what Tebow has become.  Somehow, Robert DeNiro was the only member of that film to take home Oscar gold that year.  Meanwhile, film legends Joe Pesci and Martin Scorsese, along with the film's Best Picture nomination, fell victim to injustice as they were overlooked for weaker productions. 
Tebow is DeNiro at the 1981 Oscars; he gets all the credit, while the equal, if not superior, talent surrounding him apparently goes unnoticed.  At Florida, that coaching staff assembled one of the great rosters of the decade with Greg Mattison and Urban Meyer at the helm.  By no means am I saying Tebow was a complete by-product of the talent around him, but when do you hear credit for those national championships go anywhere but to Tebow?
This guy gets more misplaced praise than Denzel Washington.   Ask anyone who the top five actors in Hollywood are and I'm sure you'll hear Coach Boone's name come up nearly every time.  Why?  The guy plays the same person in every movie. 
Seriously, man, take a risk for once.  Just one time.  But let's not pretend Tebow is something he is not.  Denzel is not a great actor, Tebow is not a good quarterback.  Face facts.
You wanna know what Tebow is?  He's Glen Davis.  He's Marcus Thames.  He'll come in, bang around with the big boys and get you a couple tough layups and offensive rebounds when your starters are playing flat.  He'll come in and knock a pinch-hit homerun out of the park when your team looks destined for defeat. 
But you're not going to put Davis in the middle for 40 minutes a game and expect to win.  You're not about to trot "country strong" Thames out to left field 162 days out of the year and expect to be taken seriously.   Tebow is a shot in the arm; a crowd-pleaser around whom the team can rally when the stars aren't bringing it.  He isn't someone you build your team around, and he certainly is not a franchise quarterback.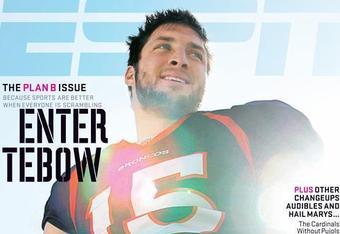 But, don't tell Jon Gruden that.  Don't tell Chris Berman that.  Don't tell ABC or ESPN or the Vatican that.  It's blasphemy.  Tebow is football's savior.  And that's not a joke.  Don't believe me?  Take a look at this month's cover of "ESPN: The Magazine" and tell me that isn't Jesus Christ in pads.
The NFL wants Tebow to succeed so badly that it's borderline criminal.  The NFL wants to show that a handsome, uncorrupted, religious, All-American boy with pure morals can succeed in the NFL in spite of all the crime and egotistical personalities it currently employs.
Don't believe me?  Take note where Denard Robinson gets drafted once he's eligible.  This is a promise:  If a team trades up into the first round to take Denard Robinson in the NFL draft I will go out and buy a Yankees T-shirt and flat-billed hat and wear it in public.  I'll even leave the 59Fifty sticker on if it's a team coached by an ex-Patriots staff member.
In his sophomore season, Denard passed for 2,570 yards and ran for an astounding 1,702 yards on the ground.  In his best season, Tebow Christ Superstar passed for 3,286 yards and ran for 895 more.  That's 91 yards inferior to Robinson's year. 
Does anyone think Robinson projects as a good NFL quarterback?  Or even an employed one, at that?  No.  Yet Tebow is a first-round pick and handed the keys to Denver proper.
Seriously, I want answers.  I think I'm entitled to them.  Yes, Colonel Jessup, I can handle the truth, so stop stalling and explain this madness.
But, while all of Colorado echoes the sentiment expressed by President Ford on his inauguration day—My fellow Americans, our long national nightmare is over—I sincerely ask: can someone please explain this madness to me?
Please?