UFC 137 Fight Card: Breaking Down the Entire Card
Photo: Zuffa, LLC
UFC 137 goes down this Saturday, Oct. 29 at 9PM on Pay-Per-View.
Originally scheduled as Georges St-Pierre's eighth title defense against Nick Diaz, a strange series of events have left us with BJ Penn vs. Diaz as the main event of the evening.
After missing two press conferences, Diaz was replaced in the main event against St-Pierre by Carlos Condit, who had been originally scheduled to fight Penn. St-Pierre then pulled out of the fight due to an injury in training, leaving Penn vs. Diaz as the main event of the evening.
The full card has a total of 11 fights—four on Facebook, two on Spike TV, and five on PPV:
Facebook
Dustin Jacoby vs. Clifford Starks
Chris Camozzi vs. Francis "Limitless" Carmont
Dan "Danny Boy" Downes vs. Ramsey Nijem
Brandon "The Truth" Vera vs. Eliot "The Fire" Marshall
Spike TV
Tyson Griffin vs. Bart "Bartimus" Palaszewski
Donald "Cowboy" Cerrone vs. Dennis Siver
Pay-Per-View
Hatsu Hioki vs. George Roop
Scott "Young Guns" Jorgensen vs. Jeff "Big Frog" Curran
Mirko "Cro Cop" Filipovic vs. Roy "Big Country" Nelson
Cheick Kongo vs. Matt Mitrione
BJ "The Prodigy" Penn vs. Nick Diaz
Without further ado...let's get on to the fights.
Begin Slideshow

»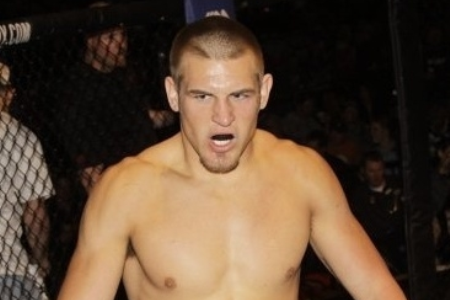 Photo: MMAMania.com
Dustin Jacoby (6-0 MMA, 0-0 UFC) vs. Clifford Starks (7-0 MMA, 0-0 UFC)
Dustin Jacoby was originally scheduled to face Brad Tavares at UFC 137, but Tavares was forced to pull out of the bout with an injury.
Jacoby now faces Clifford Starks in what is both men's UFC debut.
The middleweights are each undefeated in fights across various regional promotions. Jacoby has stopped five opponents via TKO, and his sixth via submission. Starks has stopped three opponents by TKO, one by submission, and three by decision.
Though Starks' victories in Rage in the Cage and Shark Fights are possibly of a higher caliber than that of his opponent, Jacoby is seven years younger and six inches taller than Starks. I like him to take this fight in a hard fought scrap.
Pick: Dustin Jacoby
Chris Camozzi (15-4 MMA, 2-1 UFC) vs. Francis "Limitless" Carmont (16-7 MMA, 0-0 UFC)
Frenchman, and training partner of Georges St-Pierre, Francis Carmont will make his UFC middleweight debut against Chris Camozzi, a TUF 11 competitor who was forced off of the show due to injury in his elimination bout.
Camozzi was released from the UFC earlier this year, despite his 2-1 UFC record, but was brought back after earning a split decision victory over Joey Villasenor at Shark Fights 15 (the fight was originally scored a draw, but it was determined later that one of the judges incorrectly added his score).
He will face what is sure to be a tough opponent in Carmont. Carmont has amassed a respectable 16-7 record in a variety of promotions, but most notably is a training partner of Georges St-Pierre at Firas Zihabi's TriStar Gym in Montreal.
I see Carmont being able to control Camozzi on the ground, and working ground and pound to either a stoppage or decision.
Pick: Francis Carmont
Photo: Riven Academy
Ramsey Nijem (5-2 MMA, 0-1 UFC) vs. Dan "Danny Boy" Downes (8-2 MMA, 0-1 UFC)
Following his loss in The Ultimate Fighter 13 Finale to Tony Ferguson, Ramsey Nijem is stepping down to the lightweight division against Team Roufusport up-and-comer, Dan Downes.
Downes is also coming off of a loss at The Ultimate Fighter 13 Finale, where he faced Jeremy Stephens as a replacement for an injured Jonathan Brookins.
This should be a fairly evenly matched fight, and is certainly a must win for both men. Downes is the better striker, with five of his eight wins coming by way of knockout/TKO, but I think this fight will ultimately be fought on the ground.
I don't see why Nijem would voluntarily stand and trade with Downes when he could put his NCAA Division I wrestling to work and grind on Downes. I believe this will be the difference maker in the fight, with Nijem able to control the position and, thus, the pace of the fight.
Pick: Ramsey Nijem
Photo: MMAWeekly.com
Brandon "The Truth" Vera (11-5, 1 NC MMA, 7-5, 1 NC UFC) vs. Eliot "The Fire" Marshall (11-4 MMA, 3-2 UFC)
Brandon Vera has been given a second lease on his UFC life. The result of his one-sided decision loss to Thiago Silva was overturned to a No Contest when Silva failed his post-fight drug test and confessed to using steroids. Now, Vera is looking to begin his resurgence against Eliot Marshall.
Marshall, a TUF Season 8 competitor, is also in a must-win situation following a loss to Luiz Cane at UFC 128, his first fight back after being cut from the UFC in 2010.
Vera should be able to win this fight however, and wherever, he likes. His striking is superior to Marshall's, as is his wrestling, but Vera may want to avoid going to the ground with the Brazilian Jiu-Jitsu black belt, who has half of his wins by way of submission.
I like Vera to have a strong return to the Octagon against Marshall, and think he will earn a stoppage in the second or third round.
Pick: Brandon Vera
Photo: Zuffa, LLC
Tyson Griffin (15-5 MMA, 8-5 UFC) vs. Bart "Bartimus" Palaszewski (34-14 MMA, 0-0 UFC)
Bart Palaszewski is making his long-awaited UFC debut following the October 2010 WEC merger. He was expected to face Cody McKenzie in May, but injuries ended up seeing both fighters replaced.
"Bartimus" faces a tough challenge in Tyson Griffin, who stepped down to featherweight in June of this year, defeating Manny Gamburyan, after going on a three-fight losing streak at lightweight.
Griffin is heavily favored in this fight, and with good reason. He's the superior striker and wrestler, and should be able to dictate this fight. I don't see him finishing the durable Palaszewski, but a unanimous decision should be well within his reach.
Palaszewski could certainly come in and rain on Griffin's parade, but he hasn't fared as well against tough talent through his long career, and I'm not sure what surprises he'll be able to bring into the cage on Saturday.
Pick: Tyson Griffin
Donald "Cowboy" Cerrone (16-3 1 NC MMA, 3-0 UFC) vs. Dennis Siver (19-7 MMA, 8-4 UFC)
Both Donald Cerrone and Dennis Siver are looking to keep their hot streaks alive.
Since losing to Ben Henderson at WEC 48 in 2010, Cerrone has gone 5-0, including three wins in the UFC. Fighting for the fourth time in 2011, Cerrone has shown he's game to take on any opponent, and a win over Siver will make a strong case to put him "in the title mix," so to speak.
Likewise, Siver has gone 4-0 since a 2010 loss to Ross Pearson, including a surprise upset of George Sotiropoulos. Adding Cerrone to his proverbial hit list will greatly solidify his case for title contention.
Needless to say, this fight is incredibly important for both men.
Interestingly enough, though Cerrone and Siver are both talented strikers, they each have earned a majority of their wins by way of submission. I don't see either of them being in a rush to get this fight to the ground, however, and we should be treated to a back-and-forth battle.
I give the edge to Cerrone, though I'm not sure I agree with oddsmakers that Cerrone is a near 3:1 favorite. Cerrone's height and reach advantage should help him keep Siver at bay, and I like his odds on the ground, should the fight go there. I'm looking for "Cowboy" to keep on rolling.
Pick: Donald Cerrone
Photo: SRC
Hatsu Hioki (24-4-2 MMA, 0-0 UFC) vs. George Roop (12-8-1 MMA, 2-2 UFC)
If you don't know who Hatsu Hioki is, you either aren't a Japanese MMA fan, or you haven't read my article about him yet. In short, he's the No. 2 or No. 3 (depending on which ranking you believe) featherweight in the world, and he's making his UFC debut.
Hioki is a Brazilian Jiu-Jitsu black belt, and has used his ground prowess to earn half of his victories by way of submission. He's also incredible durable, only having lost four times in his long career, all by decision.
George Roop is coming into this fight looking to play the role of spoiler. Hioki is heavily favored at as much as 5:1, but Roop is confident that his striking can throw a wrench in Hioki's plans. Surely, if he has a chance at winning, it's on the feet.
Though I think Hioki is overall the better fighter, his one glaring weakness is that he allows himself to get pulled into unfavorable situations. Challenging Roop, who is taller and longer, to a kickboxing match is not Hioki's best chance of winning this fight. He needs to work his way inside, bring Roop down into his world, and find a submission.
Given Hioki's considerable skill set, this fight should be his to lose. Let's hope that, in his UFC debut, he has enough sense to follow a smart game plan.
Pick: Hatsu Hioki
Scott "Young Guns" Jorgensen (12-4 MMA, 1-0 UFC) vs. Jeff "Big Frog" Curran (35-13-1 MMA, 0-1 UFC)
Jeff Curran is getting thrown right into the deep end. Making his long pursued return to the Zuffa banner, a goal he's had ever since going 1-4 in the WEC between 2007 and 2009, Curran is facing off against one of the top ranked bantamweights in Scott Jorgensen.
After failing to take the bantamweight title from Dominick Cruz at WEC 53, Jorgensen is on a trek back to a title shot. The decorated college wrestler is also a very active striker, and presents a legitimate threat anywhere in the cage.
It's hard to imagine any situation in which Jorgensen won't have the advantage over Curran, and as long as he can avoid getting stuck in a submission, Jorgensen should be able to impose his will. I think we'll see him test Curran on the feet and work his wrestling as needed.
Though it's likely this fight will go the distance, I expect Jorgensen to dominate from start to finish.
Pick: Scott Jorgensen
Roy "Big Country" Nelson (16-6 MMA, 2-2 UFC) vs. Mirko "Cro Cop" Filipovic (27-9-2 1 NC MMA, 4-5 UFC)
This is yet another must win fight for both men, both Roy Nelson and Mirko Filipovic are coming into this fight off of two-fight losing streaks.
Nelson quickly launched himself into title contention with wins over Brendan Schaub and Stefan Struve, only to lose a title eliminator against Junior Dos Santos, who delivered a one-sided beat down. Nelson then fought with walking pneumonia against Frank Mir, and lost in a unanimous decision.
Cro Cop, on the other hand, has lost both of his last two fights by KO. Questions have been raised about his remaining time in the sport, and it seems likely that he will retire should he lose to Nelson. He's coming into this fight looking to prove that the Cro Cop of lore still exists, that his left leg is still "graveyard."
Historically, Cro Cop is one of the most feared strikers in MMA, but it's not 2006 anymore. Age appears to have caught up to Cro Cop, and his chin isn't what it used to be. Nelson, however, still has an iron jaw and an inhuman ability to absorb damage.
In my opinion, though he may be able to out-point Cro Cop on the feet, he's best off avoiding the risk of getting his head lopped off. If he takes Cro Cop to the ground or can push him against the cage, Nelson should definitely be able to take this fight.
Pick: Roy Nelson
Photo: Sherdog
Matt "Meathead" Mitrione (5-0 MMA, 5-0 UFC) vs. Cheick Kongo (26-6-2 MMA, 9-4-1 UFC)
Up-and-coming heavyweight Matt Mitrione is looking for his sixth straight career, and UFC, win in what will easily be the biggest test of his career. Though his last three fights haven't been against chumps, Cheick Kongo is a huge step up in competition.
An imposing physical presence and MMA veteran, Cheick Kongo is an incredibly resilient knockout artist, having won 10 of his 16 victories by way of knockout or TKO. After an amazing comeback KO against Pat Barry in June, Kongo is looking to reestablish himself as a top heavyweight.
I'm frankly a bit surprised by the odds coming into this fight. Mitrione is coming in as a slight favorite, but I see this as more of a "pick 'em" fight.
Mitrione has fast hands and good power (he has four knockouts in his five wins), as well as great athleticism, but Kongo is far more experienced. He's also dangerous on his feet and is the better wrestler.
Though I think we'll eventually see Mitrione rise further towards the top in the heavyweight division, I think Kongo currently has more tools, and will successfully play his current gatekeeper role.
Pick: Cheick Kongo
Photo: Zuffa, LLC
BJ "The Prodigy" Penn (16-7-2 MMA, 12-6-2 UFC) vs. Nick Diaz (25-7 1 NC MMA, 6-4 UFC)
BJ Penn and Nick Diaz face each other in the main event after initially being scheduled to fight Carlos Condit and Georges St-Pierre, respectively.
As I discussed previously, Diaz was pulled from the title shot and replaced by Condit. Diaz was moved down to the co-main event to fight Penn, but after St-Pierre and Condit were removed from the card (due to an injury to St-Pierre), their fight was moved up to the main event.
This should be a fight to remember.
Both men come out looking to finish the fight, and Diaz has a unique in-your-face, trash talking, volume punching style that has him on a 10-fight win streak.
Penn has more recently had mixed results, but is looking to get reestablished in the welterweight division following a lackluster showing against Jon Fitch in February.
I give the edge in this fight to Penn essentially everywhere, except for conditioning. Diaz competes in triathlons for fun, and can fight for 25 minutes without slowing down. However, there's no one place in the cage that he bests Penn, and conditioning shouldn't be a huge issue for Penn over the course of three rounds.
It will be interesting to see how Penn handles Diaz's volume punching, but Penn can definitely choose where this fight will take place, as his offensive and defensive wrestling is vastly superior to Diaz's. Assuming that "good" BJ shows up, he should be able to outlast Diaz.
Pick: BJ Penn
For this and more, follow Matt on Twitter