NASCAR Sprint Cup: Predicting the Winners of Each Remaining Chase Race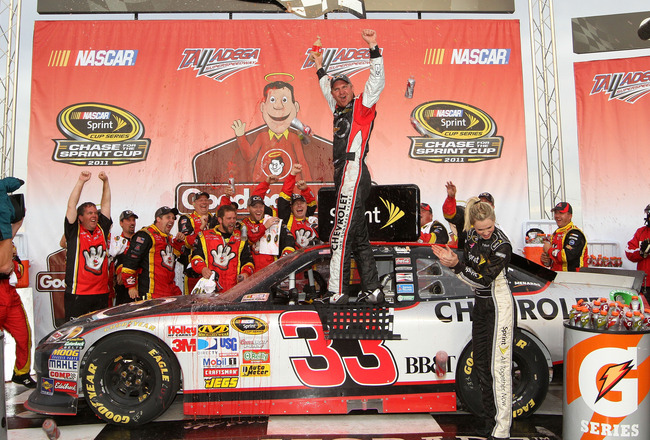 Jerry Markland/Getty Images
The 2011 Chase has been full of surprises. We've seen the points lead change hands multiple times, the five-time defending champion drop out of the title picture, and multiple drivers score their first victories of the season.
Predicting the rest of the Chase is a tough assignment, especially given the tight points picture and unknowns such as what the quality of racing on the newly repaved surface of Phoenix International Raceway will be.
But after gazing into my crystal ball and looking into the upcoming Chase races, here are my picks for each remaining race, as well as how the championship battle will shape up.
One thing I can guarantee: it will be an exciting finish to the season!
October 30, Martinsville Speedway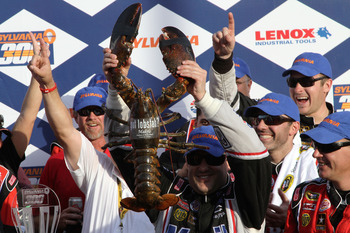 Jerry Markland/Getty Images
Tony Stewart's prize for winning at Martinsville won't be a live animal (as it was at Loudon last month), but it'll be every bit as cool with a grandfather clock sitting in his living room.
The win will also improve his title chances greatly, as Carl Edwards will struggle a bit and Smoke will close to within five points of the championship leader. Brad Keselowski will also take advantage and move up in the standings, while Matt Kenseth will be a bit off and remain about 15 points behind his Roush Fenway teammate.
November 6, Texas Motor Speedway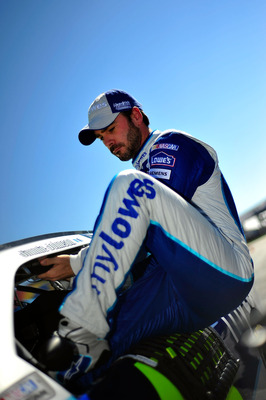 Jason Smith/Getty Images
Jimmie Johnson absolutely dominated the field at Kansas Speedway a few races ago, and it says here he'll do the same at TMS for (just) his third win of 2011.
Combined with a top-five run at Martinsville the week before, Double J will move past Kyle Busch and Kevin Harvick into the top five in the points, but it will be too little, too late to move into title contention.
Carl Edwards will run top-10, as will Stewart and Keselowski. They'll remain about 10 points behind in the title chase, while Kenseth will get a runner-up, gaining a little ground on Edwards and making it a pack of three chasing the leader.
November 13, Phoenix International Raceway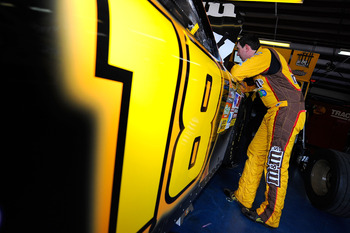 Jason Smith/Getty Images
Kyle Busch has had an up-and-down Chase, but he'll finally win a race in November at the newly reconfigured Phoenix track. Rowdy is one of the best at adjusting to new environments, and he'll be the first to celebrate a Cup win at the newly paved mile-long track in the desert.
The uncertainty of the race will be fully borne out in the results. Brad Keselowski will take advantage of poor days by the Roush Fenway cars and Tony Stewart, moving into a virtual tie with Carl Edwards for the lead heading into the final race of the season. Kenseth and Stewart will remain about 10-15 points behind the leaders.
November 20, Homestead-Miami Speedway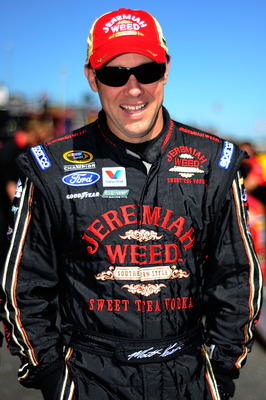 Jason Smith/Getty Images
This race will be the most exciting season finale since 2004, when Kurt Busch dodged a bullet with a loose wheel to hang on and beat Jimmie Johnson for the title by eight points.
Matt Kenseth will outrace the field in the season finale at Homestead-Miami Speedway for his fourth win of 2011. However, he'll come up just short in his bid for a second career Cup title.
Brad Keselowski will also make a valiant effort for the title with a top-five run, but also come up short to Carl Edwards, who will finish second in the race and pick up his first Sprint Cup trophy three years after his close call in 2008.
Finals standings:
Champion: Carl Edwards
Runner-up: Brad Keselowski
Third: Matt Kenseth
Fourth: Jimmie Johnson
Fifth: Tony Stewart
Sixth: Kyle Busch
Seventh: Kevin Harvick
Eighth: Kurt Busch
Ninth: Jeff Gordon
10th: Denny Hamlin
11th: Dale Earnhardt Jr.
12th: Ryan Newman
Keep Reading