Theo Epstein Needs to Turn the Chicago Cubs Around in One Season, but How?
October 22, 2011
Greg Fiume/Getty Images
Theo Epstein was just appointed President of Baseball Operations for the Chicago Cubs, and he has a laundry list of problems to fix. His priorities range from blockbuster contracts for lackluster players, a dismal farm system and a front office that just hasn't looked like they're on the same page since the whole Bartman thing.
Epstein had immense success in his early years in Boston, but he was given a team with immense talent. The Red Sox let the Cubs interview Epstein about a possible position in their front office after a 2011 season in which the Red Sox went 7-20 in September, losing the Wild Card to the Tampa Bay Rays on the final day of the season.
Epstein took blame for the collapse alongside Red Sox manager Terry Francona, and then Francona's contract for 2012 was not picked up and he was trashed in the newspapers before he could even leave Boston.
Epstein didn't take long to follow Francona and jump ship in Boston. He interviewed with Chicago and agreed to a deal that was finalized on October 21st after long negotiations between the Red Sox and Cubs on compensation for Epstein's departure.
All that is now resolved and Epstein has been given a team with which he can clean his slate. He needs to get rid of contracts like Aramis Ramirez, Carlos Zambrano and Alfonso Soriano, but he has a more important task at the top of his list.
The Cubs need a new manager before the 2012 season, preferably as soon as possible.
Mike Quade, who managed the Cubs for his first full season as a Major League manager in 2011, led the team to a 71-91 record. The record is not as bad as the mismanagement of the bullpen in the second half of the season and the lack of development in the farm system.
The Cubs were eliminated from the playoffs just after the All-Star break and Quade should have saved his pitchers and position players from throwing out their arms or stealing bases in the grueling July, August and September of the baseball season. With so many managers on the sidelines, there is no reason for Epstein to keep Mike Quade as his manager.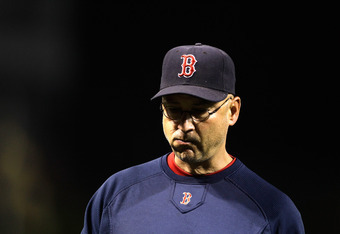 Rob Carr/Getty Images
Terry Francona is not a candidate to be the Cubs' manager. His career ended harshly in Boston, and he is likely to stay out of the baseball limelight for at least a year. His broadcasting debut with FOX in October went well, and he would rather pursue that than rejuvenate a grown clubhouse again.
Epstein has some managers to choose from, but it will take convincing to move them out of retirement.
Ryne Sandberg is the Cubs' first choice for their next manager. He had been a manager for the Cubs in the minor leagues until last year when they pushed him aside and gave Mike Quade the managerial position after Lou Piniella's departure. Sandberg is respected in the Cubs' organization and also by the players, so Epstein should consider him first. 
Epstein would also be wise to consider Bobby Valentine for the job. Valentine was most recently the manager of the New York Mets and took the Mets to the World Series in 2000. Valentine also had a very successful career managing in Japan, and his big city managing style would mesh well with Chicago. 
Epstein and Francona were on the same page from 2004 to 2008 and they won two Championships over that time period. Epstein will hire a manager that he identifies with both systematically and personally.
Epstein was a personable general manager in Boston; he would walk about the clubhouse and talk with his players, always staying on top of his team's well-being. He would read every word of the reports he got from his scouts and was meticulous in his decisions on an everyday basis.
Valentine would complement his style well. Valentine managed with his ear to the ground, he knew the heart beat of his team every single day of the season and he would make the right decisions in every game—something Quade did not do in 2011.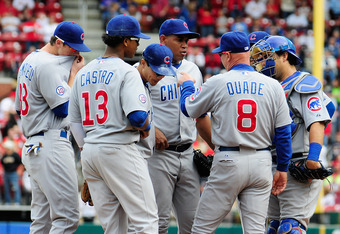 Jeff Curry/Getty Images
There are managers in retirement that would fit the Cubs' style but they are long shots. Joe Torre would be perfect, but to call him even a long shot is generous; he's someone who no one talks about anymore and led a team with high-paid players that performed regularly.
Willie Randolph coached the Mets from 2005 to 2008 and had a winning record each year. The Mets have traditionally had a short leash with managers, and Randolph got a bad rap in the city upon his departure. Randolph coaches on Buck Showalter's staff in Baltimore and is certainly more weathered in the Major Leagues that Mike Quade. He would fit well in Chicago and is someone who could adapt to Epstein's plans for the farm system and the organization as a whole.
Epstein is going to turn Chicago upside-down. He will not be afraid of telling Cub fans like it is, and ridding them of the Bartman/Billy goat curse will be his goal. He took the job with the Cubs because he wants a new challenge.
He broke Boston's curse, and now that he's 37, he wants to break the other curse in baseball. Chicago has potential for a championship-caliber team, but their turnaround will start when Epstein finds a replacement for Mike Quade.