Carson Palmer, the NFL's Newest Franchise Quarterback?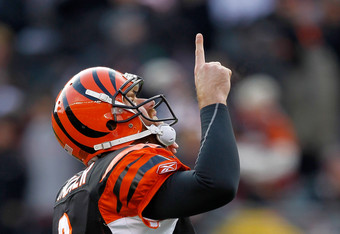 Matthew Stockman/Getty Images
Can a quarterback who turns 32 in December and, by his own choice, was not even in a training camp this season, really be anointed as a new franchise quarterback in the National Football League? That quarterback is Carson Palmer, and in the eyes of the Oakland Raiders, he can.
In recent years, I have been among the many who have blamed the Raiders' ridiculous personnel decisions on the senility of their aging owner, Al Davis. This may have been unfair. Davis passed away on Oct 8 and ten days later,Oakland traded their 2012 first-round draft selection and a conditional second-round selection in the 2013 draft to the Cincinnati Bengals in exchange for Carson Palmer.
The Raiders have outdone themselves this time. Over the past decade they have made many ill-fated personnel decisions, especially at the quarterback position. In 2007, the Raiders selected arguably the all-time biggest draft bust, JaMarcus Russell, with the first overall pick. The Raiders also made a very questionable move in this year's supplemental draft, giving up their third-round pick in 2012 to select highly controversial Ohio State quarterback/athlete Terrelle Pryor, who has huge upside, but lacks maturity and may have no true NFL position.
Oakland's move in April to trade a 2012 fourth-round selection in exchange for Jason Campbell was a good one. Campbell had been performing well in the first six weeks of the season, leading the Raiders on an impressive 4-2 start. However, when Al compared Jason Campbell to championship-winning quarterback Jim Plunkett, he clearly inferred that Campbell was expected to be the long-term franchise quarterback.
What is Carson Palmer really worth?
Of course, the Raiders were thrown into a tough quandary following Sunday's game. They defeated the Browns but suffered a greater loss: quarterback Jason Campbell suffered a broken collarbone which led to season-ending surgery. That left Oakland as a team in the middle of the playoff hunt, but without a starting quarterback.
With the trade deadline on Tuesday, the Raiders had to take action quickly, and the best quarterback on the market was Carson Palmer. But in my opinion, Carson Palmer had the market value of a fourth-round draft selection. Given the Raiders' desperate need at the position, I would have understood trading a third-round draft selection, or even a conditional second-round pick. However, I cannot warrant Palmer being worth one first-round pick alone, let alone paired with another pick that will at least be in the second round.
Whether Al Davis felt that Campbell was living up to being that franchise quarterback, we will never know. All we know is that by making the first major move of the post-Al era, the current Raiders regime felt that he was not. Campbell's contract runs out at the end of the season, and if the Raiders had any intentions of bringing him back as their quarterback, then they would have looked for a cheaper, more temporary replacement, such as the Denver Broncos' Kyle Orton.

Now, the Raiders must be committed to Carson Palmer. They have invested both a first-round and second-round pick over the next two years, and will owe Palmer $40.5 million over the next three seasons. While the Raiders are a team with a chance to make the playoffs, that does not make this trade sensible. The Raiders have already won as many games this season as he won with the Bengals over 16 games last season (4). Since suffering an elbow injury that ended his 2008 season prematurely, Palmer has been a below-average caliber starting quarterback the past two seasons, and he did not even attend training camp prior to this year. It is tough to know what the Raiders will be able to get out of Carson Palmer, and I certainly do not see him as an upgrade over Campbell.
Ezra Shaw/Getty Images
I understand the Raiders' position of needing to get a quarterback immediately, and one who can keep his team in playoff contention. However, I am really not convinced that Carson Palmer is that quarterback. Add to that the Raiders completely overpaid for Palmer, making a rash decision that could severely impact their chances of contending over the next few seasons. The Raiders now have a large sum of money invested into Palmer over the next three years and are left without a single pick in the first four rounds of the 2012 NFL Draft.
As for the other side of the trade, Cincinnati Bengals owner and president Mike Brown goes from being extremely stubborn to looking like a genius. Had the Bengals honored Palmer's trade demands in the offseason, they may have commanded a second-round selection, but I cannot imagine they would have been able to acquire a first-round draft pick. By holding strong,the Raiders to make an offer that Mike Brown could not refuse.
But in all honesty, the Cincinnati Bengals got extremely lucky. There was probably just one team that would have given so much for Carson Palmer, and that was the Oakland Raiders. It just so happened that on the week of the trade deadline, the Raiders would lose their starting quarterback for the entire season, and be in playoff contention, enticing them to pursue Palmer so aggressively. Had that not happened, Carson Palmer would still be sitting at home. Instead, he is set to be the starting quarterback for the Oakland Raiders.
On the Bengals' side of the equation, they have two high draft picks in exchange for a player that was of absolutely no value to them. As a rookie, Andy Dalton has become the Bengals' new franchise quarterback—so even if Palmer were to eventually go back on his demands and return to the Bengals, it would have been in a backup role.
Now, the Bengals' future has the potential to be very bright. Like the Raiders, the Bengals are off to a 4-2 start and a playoff contender. They have already tied their win total from all of last season, so clearly they are already a team on the rise. Unlike the Raiders, who have now thrown all their chips into making a run this season, the Bengals will be looking good for the future even if they come up short of the playoffs this season.
Cincy has a promising young quarterback in Dalton. Their most recent first-round pick, wide receiver A.J. Green, is having a tremendous start to his career. And now, the Bengals have two first-round picks for the 2012 NFL Draft, and potentially two first-round picks in the 2013 NFL Draft, or at least three picks in the first two rounds. Upon very early review, the Bengals appear to have struck gold with their first two picks in the 2011 Draft, and if they continue to do that the next two years, they could rise to the top as the AFC North landscape shifts.
Both the Oakland Raiders and Cincinnati Bengals have exceeded all expectations through the first six weeks of this NFL season. However, this trade is one of the most lopsided deals in National Football League history. The Raiders may have doomed their future over the next four or five years while making this trade, while the Bengals have a tremendous opportunity to take real advantage of this deal and establish a core of young talent to become major contenders.
This article is
What is the duplicate article?
Why is this article offensive?
Where is this article plagiarized from?
Why is this article poorly edited?

Oakland Raiders: Like this team?