2012 MLB Offseason: Chicago Cubs Fielding Breakdown
October 20, 2011
Kent Horner/Getty Images
We continue with our fifth team in the team fielding series. Like I've said before, it is very important to read the original "Team Fielding Series" before looking at the individual team reports. In the case of the Orioles, I already had a few comments that showed that previous reading had not been done. If you read the original piece, you will definitely know where everything is coming from.
The comments so far have centered on players fans think are Gold Glove performers, but really aren't. You cannot judge fielding based on web gems, highlights or anything else that might be visually pleasing. Also, the notion that I don't watch the team and therefore can't know is thrown out. I've used experts in the field that watch more baseball than all of us combined. So, you can think Starlin Castro is a Gold Glove shortstop all you want. The numbers say it just isn't so.
DER: .678 (29th)
RA: 756 (23rd)
FLD%: .978 (30th)
Baseball Reference: +6 runs (15th)
Fangraphs: -9.5 runs (17th)
Fielding Bible: -37 runs (29th)
Baseball Prospectus: -7.1 runs (24th)
Composite Runs: -12.0 runs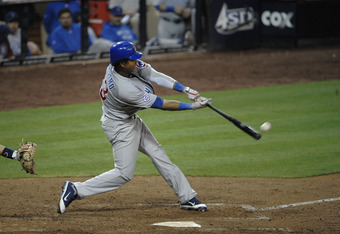 Denis Poroy/Getty Images
It's high time we understood that fielding and pitching go hand in hand like peanut butter and jelly. It's difficult to look at a pitching staff and determine how good or bad it is without looking at the fielding as well. In the case of the Cubs, their pitching staff looks bad, but when you look at their defensive efficiency, you can't help but think they would be closer to average with even an average defense behind them.
Jim Hendry is gone, and now, Theo Epstein must fill in the gaps. Rest assured, he is one of the new age general managers that understands these things. He has a couple of things working for him now, but he must suppress the urge to go for the big flashy free agent. Sometimes you improve your team with an axe and sometimes you improve it with a scalpel. These times call for a scalpel.
Best Defender: As it turns out, there are pretty slim pickings here. Carlos Pena had positive ratings under most of the metrics, so we will go with him for the time being. Of course, he is a free agent, and the Cubs are rumored to be going after Prince Fielder or Albert Pujols. So much for that advantage.
Worst Defender: Starlin Castro had a breakout season with the bat, but he could be considered the worst fielding shortstop in the National League. Epstein will have to decide whether he wants a good young hitter or someone a little more balanced at shortstop. It might seem like an easy decision, but Castro surrendered almost as many runs defensively as he created over the average shortstop.
Possible Changes: You're kidding, right? Let's start with the free agents. Aramis Ramirez and Carlos Pena are as good as gone. If we combine those two defensively, we see that the Cubs will net an improvement even if they get mediocre fielders at both spots. Right field is also a problem area, since it was occupied by Kosuke Fukodome for the past two and a half seasons. Tyler Colvin played down the stretch, but he hit under the Mendoza line down the stretch.
2012 Overview: Theo Epstein gets it, but he can only do so much with the bad contracts this team has. If he is able to get good fielding at third base, first base and right field, this team will be mediocre defensively. If he replaces Castro at short with even a mediocre defender, they will be even better than average defensively.