NFL Predictions Week 7: Seahawks Win in Cleveland, Make Up Ground on 49ers
October 20, 2011
Rich Schultz/Getty Images
The Seattle Seahawks look to have turned a corner with the win over the New York football Giants. Can we expect that to continue?
Going into the game in Cleveland, there are a number of questions. Questions about who will play, and how much of a difference they will make.
Let's start with the cornerback position.
Was Marcus Trufant affected by his back problems before it blew up on him? Many have said that Tru had lost a step in the past two years. It is possible he has been protecting himself. Understandable—and if he was, it is a testament to his talent that he played as well as he did.
He will be missed, and I expect we will see a few examples of that in the next few weeks, as teams test Walter Thurmond on a regular basis. However, from what we have seen so far, Thurmond is an improvement in speed and quickness, but not experience.
This young man will be fun to watch as he learns how to translate talent into effective performance. Improvement in the DB position is one of the reasons the defense is better. Of course, having a bigger, more aggressive D-line helps.
It is obvious how much better Seattle is with Red Bryant at end on running plays. Anthony Hargrove is a definite improvement in the rotation in the middle, and Alan Branch has shown his ability to stuff the middle alongside Brandon Mebane.
Chris Clemons could surpass his sack totals from last year—he is looking faster each week.
Roy Lewis will return to be a force on special teams. This is a position of need, so I am expecting him to start and take over where he left off last year as the leading tackler on special teams.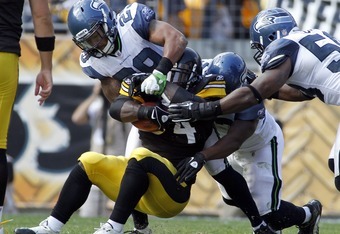 Justin K. Aller/Getty Images
A defense that started the year as stout against the run and needing to learn how to get off the field on third down has started to get more three-and-outs than sustained drives.
Playing together, trust has developed nicely, giving rise to ball-hawking and forced fumbles. With their size and speed, this defense could develop into something very special.
Deon Butler. He will get one more week (maybe two) to show he can spread the field and take some pressure off Sidney Rice and Mike Williams. Butler won't be active this week, though, so his impact will have to wait.
Cameron Morrah is in a different situation. The Seahawks will need Morrah to suit up and play well.
Indications are Zack Miller will miss this week with a stinger he got against New York. The coaching staff and trainers have shown a tendency to be very cautious with players effected by this type of injury.
Morrah was effective last year, so I expect him to step in and be a factor in this week's game.
I was discouraged to hear that Max Unger was watching practice again, wearing a boot over his injured foot. Just when the O-line might get together as a unit, there is a possibility that Max will have to sit this one out. 
Lemuel Jeanpierre would start for Unger. Talk about an unknown. My only hope is that the other linemen that have filled in for injured starters have done a good job. That certainly needs to happen here. Outside of left tackle, the center position is pivotal in the offense's execution.
I am seriously worried about this development this week. Look how long it has taken Seattle to find an effective line.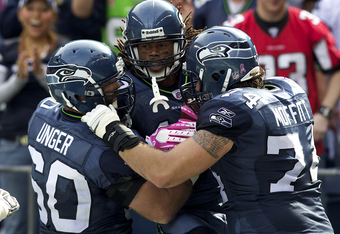 Stephen Brashear/Getty Images
With Unger in the lineup, I would expect our O-line to play well enough to keep Whitehurst or T-Jack upright long enough to win Sunday. Without him? I'll keep my fingers crossed.
Tom Cable is the O-line coach Seattle has needed for years. His ability to teach the zone-blocking schemes and his talent for picking players who can do what he teaches is starting to show. The line has been a very bright spot so far, and they have steadily improved every week.
We might have to wait a week to get to see what our "starting" lineup can do. I am really hoping this line gets some time together before we have to face Dallas in three weeks.
Last but certainly not least, we wonder who will start at quarterback. I expect Charlie Whitehurst to start and finish this week's game. Instead of risking T-Jack, it makes sense to let Whitehurst have a chance to show if he has improved over the last year and whether or not he needs to be re-signed in the offseason. 
To me, Charlie is hard to read. He is so laid back in his attitude, it seems at times that he doesn't have the nature to be an elite QB in this league. Although that is not the picture drawn by his teammates and coaches.
Dedicated and willing to do whatever it takes to win. That is what those close to him are saying. 
He has what I would call "football smarts." When comfortable, he makes quick reads and gets rid of the ball before getting sacked. I would like to see him air it out a bit more. I know he has the arm to be accurate deep.
Maybe this week we will get to see that more often, especially in the no-huddle offense if the line can give him just enough time.
Overall, what we have here is an enigma—an unproven team on a steep learning curve, able to take youth and talent, combine it with drive and desire to achieve something unexpected—wins. After the game with the Giants, fans around the northwest have been patiently waiting to see if this team is the real deal.
Yes, they are.
The changes in personnel will make little difference at this point. Unlike other years, the Seahawks are building a team that has depth at almost every position. I am looking forward to this week's contest. Coming off the bye week and traveling to Ohio will give Seattle the confidence to start the process of catching San Francisco.
As usual, there is a lot of conjecture here. With a team as unknown and untried as this year's Seahawks, we don't really know what to expect. The next three games will go a long way in answering that question. I am a believer already. 
Week 7 Prediction
Seattle 31, Cleveland 14