NASCAR Power Rankings: Charlotte
October 19, 2011
Streeter Lecka/Getty Images
Note: The quotes in this article are fictional.
1. Carl Edwards: Edwards scored his third-straight top-5 finish, finishing third in the Bank Of America 500. He increased his lead in the point standings, and now holds a five-point advantage over Kevin Harvick.
"A third place when Jimmie Johnson finishes 34th," Edwards said, "sure feels a lot better than a third place when he finishes first. But if there's one place to make a huge comeback in the points, it's Talladega. I just hope I'm still 'running' when the race ends. That is, I hope my car is still running at the end."
2. Kevin Harvick: Harvick finished sixth at Charlotte, matching his result at Kansas last week, and stayed right on the tail of Carl Edwards, who finished third. Harvick now trails Edwards by five.
"It's interesting," Harvick said, "that the top 2 drivers in the point standings don't have a single win in the Chase. Dare I say, "Consistency wins championships." NASCAR doesn't want to hear that, especially after a Matt Kenseth win."
3. Matt Kenseth: Kenseth passed Kyle Busch on a restart with 25 laps to go and cruised to the win in the Bank Of America 500. It was Kenseth's fourth consecutive top-6 finish, and powered him forward two places in the standings, where he trails Carl Edwards by seven.
"Please understand if I'm characteristically silent," Kenseth said. "It's because I'm thanking my sponsors."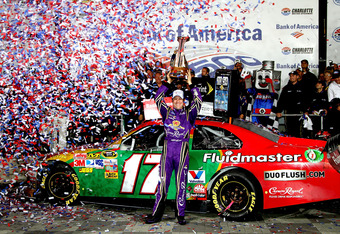 Jerry Markland/Getty Images
4. Kyle Busch: Busch led a race-high 111 laps at Charlotte, but lost the lead 25 laps from the finish when Matt Kenseth nosed by on a restart. Busch held off Carl Edwards down the stretch for second, and improved four places in the point standings to fourth, 18 out of first.
"I'm certainly pleased," Busch said. ""I started last after an engine change and still managed a runner-up finish. Obviously, I have better success when I start last than when I start first.
"Carl and I really battled in the closing laps. As you probably saw, he stuck his head into my car and had a few words for me. I was shocked---that, judging by Carl's high opinion of himself, that his head would even fit in the car."
5. Tony Stewart: Stewart bounced back from two Chase-killing finishes in Dover and Kansas with a ninth at Charlotte, his 14th top-10 result of the year. Stewart is 25 points out of the lead in the point standings with five races remaining.
"I've been declared 'dead' and then 'alive' more than any Chaser," Stewart said. "Luckily, I have sponsors for next year, so there's no danger of anyone pulling the 'plug' on me."
6. Jimmie Johnson: Johnson's wave of momentum after winning at Kansas came to a stunning halt when he slammed the Charlotte Motor Speedway wall 17 laps from the end in the Bank Of America 500. He finished 34th, and fell from third to eighth in the Sprint Cup point standings, 35 points out of first.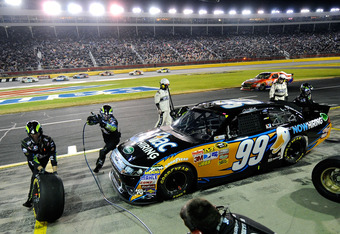 Jared C. Tilton/Getty Images
"That was one heck of an 'impact,'" Johnson said. "And I hit the wall pretty hard, too.
"My detractors often say I'm too 'vanilla.' Not any more, because I just made the Chase a lot more interesting."
7. Kurt Busch: Busch finished 13th in the race and dropped one spot in the Sprint Cup point standings to seventh, 27 out of first.
"I won't shed a tear for the plight of Jimmie Johnson," Busch said. "But I know what he must be feeling. I've taken 'hard rights' like that before myself. It hurt the next day, mostly in my jaw. But I believe Jimmie will be feeling this for about five weeks."
8. Brad Keselowski: Keselowski struggled at Charlotte, finishing one lap down in 16th. He fell two places in the point standings to sixth, 25 points out of first.
"I'm 25 off the lead," Keselowski said, "but only two ahead of my Penske teammate Kurt Busch. We may be too far back to be considered legitimate contenders for the Sprint Cup. That's okay, because we're used to being no one's favorites."
9. Ryan Newman: Newman led six laps at Charlotte and finished tenth, his first top-10 in the last four races. He improved one place to tenth in the point standings and is 61 points out of first.
"I may be out of contention for the Sprint Cup," Newman said, "but I've got a great seat to watch the second half of the Chase develop. There are possibly seven drivers with a chance to win the Cup. It will be interesting to see things unfold, and which drivers fold."
10. Jeff Gordon: Gordon was working on a potential top-10 finish when contact with Kasey Kahne sent him for a spin on a lap 43 restart. He finished 21st, and is now 11th in the standings, 66 points out of first.
"Jimmie Johnson may be down," Gordon said, "but he's not out. I guarantee you he's still visualizing winning the Chase. Jimmie's still intent on winning an historic sixth-straight Sprint Cup title. He's thinking 'margin of victory,' while most of his detractors are thinking a non-historic 'marginal victory' by some first-time Cup winner."