Carson Palmer Trade: Hue Jackson Coins Deal "Greatest Trade in Football"
October 19, 2011
Thomas B. Shea/Getty Images
Carson Palmer thought he was retired.
At least, that is what he said yesterday at his introductory press conference with the Oakland Raiders.
USA Today quoted the new Raiders quarterback as saying:
For the past six weeks I thought I was retired ... Week 1 hit and I thought, I've got to look elsewhere and find what the next phase of my life might be. Then I got the text from Hue ... I'm ready to go. I'm excited... I'm excited to be a part of this organization.
He's not the only one excited about his return to football.
Raiders head coach Hue Jackson has become an even bigger part of the organization since Al Davis' passing and had this to say about the trade:
As far as the draft picks, what we have to give up, I never hesitated because I know exactly what I'm getting. I don't think you're ever mortgaging the future when you put a big-time franchise quarterback on your team. 
He went on to call it the "greatest trade in football."
That obviously cannot be determined for some time, but the Raiders took a stop in the right direction.
They've been searching for a quarterback to replace Rich Gannon for the better part of the last decade.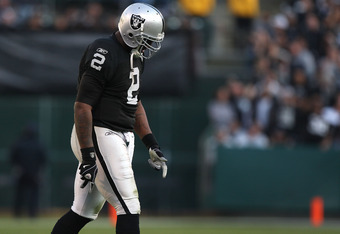 Jed Jacobsohn/Getty Images
They whiffed on their own No. 1 overall selection in JaMarcus Russell and they've started 10 different quarterbacks since 2002.
Palmer brings something completely new to this team and has the potential to make them legitimate postseason contenders if he can regain form.
But a trade is not a one-way street, and right now the Bengals are the ones with the leg up.
They, like the Raiders, are 4-2 and in the thick of the playoff race.
Cincinnati (apparently) has their franchise quarterback in Andy "Red Rifle" Dalton, and they feature one of the best young receivers in all of football in A.J. Green.
Now they have two first round picks next year, possibly two first round picks in 2013, and if they can continue to draft like they did in 2011, they'll have the opportunity to truly develop a team with staying power.
Cincinnati has made it to back-to-back postseasons only once in their history (1981-1982). They've only made the postseason twice since 1991.
Hue Jackson could very well be right; this might be the greatest trade in football. But it could very easily be because the Bengals become a winning organization rather than the Raiders.
Be careful Hue, you might've made the "greatest trade in football," but it could be for all the wrong reasons.