Miami Dolphins: Honoring Jim Mandich and Howard Schnellenberger Great Ideas
October 19, 2011
We've seen and heard the outrage since the announcement was made in August that on October 23rd, the Miami Dolphins would honor the 2008 Florida Gators National Championship Team. 
It is considered part of the on-going comedy of errors that has plagued this team all season. 
But finally some good news, as the Dolphins have announced that in two games later this season they will honor two important names in South Florida's football history. 
Of course, no one will really comment on it because these are outright no-brainers, but my question is, why not announce these earlier?
Let's start with their December 4th matchup against the Oakland Raiders. 
On that afternoon, the Miami Dolphins will honor their former tight end and long time radio color analyst Jim Mandich and add him to their Miami Dolphins Honor Roll. 
Mandich passed away earlier this year from Bile Duct Cancer, but is considered one of the most beloved figures in Miami Dolphins history. 
To older Dolphins fans, Mandich is famous for winning two Super Bowl rings as a tight end for Miami from 1970-77. 
Mandich's second part of his 40 year relationship with the Miami Dolphins though was what shot him to becoming one of the most beloved figures with the Miami Dolphins. In 1992 Mandich was a color commentator on Miami Dolphins radio broadcasts until last season (with the exception being from 2005-2006). During that time he also served as a radio host for local South Florida sports-talk station 560 WQAM. 
Known for his honesty and exuberance, Mandich's famous call of "Alright Miami" after every touchdown is perhaps the most famous local call in Miami sports. 
I wonder what he'd think of the Dolphins performance this season. No scratch that, I know exactly how he'd feel (Click on the video provided and you'll know what I'm talking about). 
Expected to be in attendance for that game will be Hall of Famer and former Miami Dolphins head coach Don Shula, Hall of Fame center Dwight Stephenson and two of Mandich's former teammates, Hall of Fame guard Larry Little and Hall of Fame linebacker Nick Buoniconti. 
The next week when the Dolphins take on the Eagles, they will honor another famous South Florida sports figure. 
Howard Schnellenberger means as much to football in the South Florida area as Don Shula. In his five years as coach of the University of Miami Hurricanes (1979-1983) he orchestrated a turn around which took a program that was nearly dropped by the university and turned them into National Champions.
He not only won the 1983 National Championship with the Hurricanes, but also laid the groundwork in recruiting that would allow the 'Canes to win National Titles in 1987, 1989, 1991 and 2001. 
Schnellenberger would come back to South Florida in 1998, when Florida Atlantic University named him their director of football operations. 
He would then raise funds for FAU's football program, then when the program was ready to field a team, became their head coach. While he was FAU's head coach, he continued on his fund raising drive (leading to a new stadium that they opened earlier this season) while at the same time transitioning the program from a Division I FCS program to Division I FBS.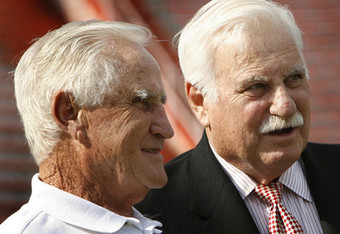 While coaching FAU he also lead the Owls to the New Orleans Bowl in 2007, then in 2008 he would lead them to the Motor City Bowl. FAU would win both games, and Schnellenberger for his career would go 6-0 in bowl games, the only college football coach to win that many bowl games without a loss. 
But Schnellenberger is also connected to the Miami Dolphins, as he served as their offensive coordinator under Don Shula from 1970-72, then again from 1975-1979. He would go to two Super Bowls as Dolphins offensive coordinator, winning one in 1972 as part of their perfect season.
Schnellenberger, who is retiring from coaching FAU after this season, will be presented with the Miami Dolphins "Lifetime Achievement Award."  
Honoring these two men shouldn't cause any controversy, and in fact should be celebrated. The Miami Dolphins have done little right this season, but honoring Schnellenberger and Mandich are two steps in the right direction public relations wise. 
Of course the wisest step would still be firing Jeff Ireland and Tony Sparano, and I'm still surprised that that hasn't occurred yet. But it will, at least I hope, as do other Dolphins' fans.