UFC 137: Carlos Condit Will Unleash the Finisher in GSP
October 18, 2011
Jeff Zelevansky/Getty Images
George St.Pierre is one of the best fighters in MMA today. He has defended his welterweight title six times since taking it back from Matt Serra, and has outclassed all of his opponents to date.
However, one thing he has been either unable or unwilling to do is finish his opponents.
Some people argue that Matt Serra destroyed GSP's psyche when he finished him with strikes in their first outing, but I don't think that's true. GSP followed that loss by defeating Koscheck, submitting Hughes and dominating Serra en route to a TKO victory.
His first few title defenses also showed his finishing power. While he couldn't finish Fitch, he rocked him multiple times and left his face a bloody mess. He put a similar beating on Penn, whose corner ended the bout going into the fifth round.
However, as his championship has worn on he has started fighting much more safely. That much is undeniable.  
With each title fight he appears to put less effort into finishing his opponents. Alves has a poor ground game, but GSP didn't fish for submissions, he just methodically pounded on him.
GSP passed Hardy a few times and went for submissions, but he was largely content with doing average ground-and-pound from Hardy's guard.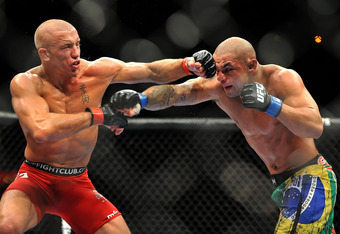 Jon Kopaloff/Getty Images
Against Koscheck and Shields he made incredibly little effort to finish. He threw almost exclusively jabs against Koscheck, and wouldn't pursue Shields on the ground after rocking him.
But he'll reverse his current trend when he fights Carlos Condit at UFC 137 for a few reasons.
For starters, Condit never stops attacking.
In his losing battle to Jake Shields, he continuously landed blows from the bottom while simultaneously looking for submissions. Shields ultimately got the better of him, but Condit didn't make it easy.
GSP hasn't fought someone as active as Condit on the ground. GSP is the higher-ranked and overall better Brazilian Jiu-Jitsu practitioner, but it still wouldn't be wise to flirt with Condit's guard for five rounds.
Once down, it would be advisable for him to pass with the explosiveness and frequency, and try to land powerful bombs from the top position while fishing for submissions of his own.
On his feet, Condit is extremely aggressive and dynamic. The jab alone won't be enough to deal with Condit. GSP will have to use his kicks, knees and combinations to punish Condit for leaving himself exposed in his aggressive attack.
GSP always says he'll go for finishes, and going into his fights I think he means it. But once he gets in the cage he finds it too easy to win without taking risks.
However, Condit isn't weak anywhere. He won't put up the lackluster fight Koscheck and Shields put up on their feet or the weak fight that Hardy and Alves had on the ground.  
He'll push GSP, and GSP will push back, and leave the octagon with his first finish since his second title defense.