Detroit Lions Week 6 Report Card: Grading Every Unit
October 17, 2011
Leon Halip/Getty Images
OK, so the Lions are 5-1. This probably still exceeds the expectations that most of the rational Lions fans had going into the season. The Lions were beaten by a great San Francisco team in all three phases of the game, 25-19. 
This was a sloppily played game by both teams, actually. Give San Francisco credit for coming into a hostile environment and getting a big win. At least the Niners were motivated. The Lions? Not so much.
While the Niners were deserving of the win, it was literally achieved by the slimmest of margins when TE Delanie Walker, on fourth and goal, stretched the ball over the goal line milliseconds before his knee touched the turf. Otherwise, the Lions would be a 6-0 team blushing with tongue-in-cheek at such a narrow escape. Instead, the Lions luck had simply run out.
My assignment is to grade each Lions unit in the aftermath of this loss.  Here we go…
Quarterback
This was hardly a vintage Matt Stafford performance. Did you see the get-up that he was wearing when he arrived at Ford Field? A maroon button down vest, white shirt and canary yellow tie. Did Stafford lose some twisted bet?
Anyway, Stafford was sacked five times, committed a safety, threw it 50 times and seemed to hope that someone would be in the vicinity. Over throws, under throws and sidearm throws to Lions receivers were Stafford staples on this Sunday.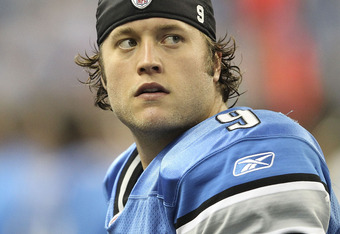 Leon Halip/Getty Images
Stafford didn't exactly shine as a leader, especially in a moribund two minute drill.
Grade: D
Running Backs
Jahvid Best and Maurice Morris combined for a total of 57 yards on the ground. This kind of performance wouldn't keep an Appalachia State defense honest.
Grade: D
Tight Ends
Brandon Pettigrew made eight catches on the day, but every catch was hotly contested. Will Heller chipped in with one catch. The Niners seemed to pay a lot of attention to this aspect of the Lions offense.
The blocking was a concern. 49ers OLBs Patrick Willis and Aldon Smith treated Detroit tight ends like turnstiles on the way to the QB.
Maximum protection? Not on this day.
Grade: D
Wide Receivers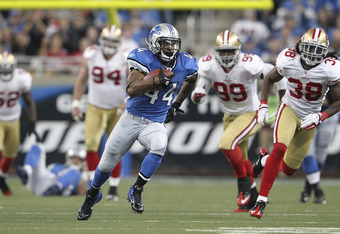 Leon Halip/Getty Images
Calvin Johnson made seven of Detroit's 28 total receptions for 113 yards. Nate Burleson caught a controversial "process of the catch" TD. Titus Young had only one catch on the day.
This Lions loss can't be pinned on the receivers.
Grade: C+
Offensive Line
In spite of anything that the Lions coaching staff might say, this group is really bad. Chronically bad. Institutionally bad.
Allowing five QB sacks to one of the NFL's best front sevens is one thing. But the failure to open holes in the running game is becoming a droning litany of failure.
Sure, the Lions were penalized on a bogus chop-block call, but the repeated red zone scoring failures can be traced back to the O-line. Period.
Grade: F
Defensive Line
Kyle Vanden Bosch's strip-sack, forced fumble and subsequent recovery on Niners QB Alex Smith's first play from scrimmage was the lone highlight.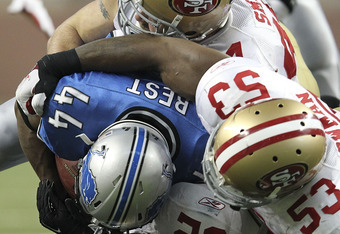 Leon Halip/Getty Images
The group made 14 total tackles between them. OLB DeAndre Levy alone made 12 total tackles.
If this D-line is so good, then they have to be held accountable in run defense at some point. Allowing Frank Gore 141 yards on only 15 carries can't be put on the linebackers.
Rushing the QB in a well run West Coast Offense will consistently yield poor results unless the running game is taken away. The D-line failed to force Alex Smith throw the ball.
While I think that the 49ers offensive line and tight ends had a terrific day blocking, the Lions D-line came out flat.
Grade: D
Linebackers
As previously mentioned, Levy made 12 total tackles. MLB Stephen Tulloch had six total tackles and a QB sack. OLB Bobby Carpenter made two tackles.
This unit was in multi-task mode all day. Filling gaps left by the D-line and covering the best TE tandem in the NFL. That's right, Vernon Davis and Delanie Walker are better than the Lions tight ends. Deal with it.
Frank Gore gashed the Lions defense for 141 yards, but most of those yards came on two of his 15 carries. One carry went for 55 yards after some sloppy tackling. That was the longest gain from scrimmage for either team.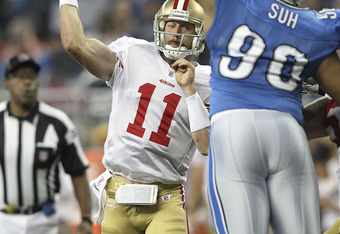 Leon Halip/Getty Images
The linebackers did a credible job in coverage on the Niners tight ends, who only had four catches for 19 yards and a TD on the day.
Grade: C+
Secondary
The corners and safeties had a pretty decent day, all things considered. They were generally good in coverage and did some effective work in run support.
Amari Spievey injected some life into a flat Lions team with his second interception of the season.
Whatever else that might have transpired in the game, the Lions secondary was their most effective unit.
Grade: B+
Special Teams
The Lions were clinging to a 19-15 fourth quarter lead when the wheels came off.
Rookie punter Ryan Donahue punted 39 yards to Ted Ginn the younger, who returned it 40 yards to the Lions 35-yard line. The 49ers nursed the ball down field and finished the Lions off with Walker's TD catch at the goal line.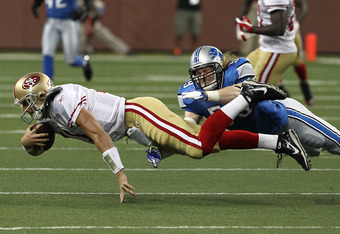 Dave Reginek/Getty Images
The Lions managed a paltry 13 yards on three punt returns. Stefan Logan, who was expected to give the Lions some decent field position, failed to get untracked behind tepid blocking.
Grade: F
Coaching
Hey Schwartz, why didn't you have Donahue punt the ball out of bounds? That piece of arrogant coaching cost the Lions dearly.
Then, there's the second half comeback that has been a trademark of Detroit recently. It never really happened against the 49ers. This could lead one to the reasonable suspicion that those comebacks had little to do with coaching.
I won't even dwell upon the WWE moment that Schwartz and Harbaugh indulged themselves in after the game.
If the head coach can't ignite a better performance after halftime or make adjustments on either side of the ball, then he should be called to the principal's office.
Grade: F