NFL Trade Deadline: Oakland Raiders and the Case Against Carson Palmer
October 17, 2011
Jed Jacobsohn/Getty Images
And David Garrard, Josh McCown, Kyle Orton, Joe Montana and that guy from The Replacements.
Raiders starting quarterback Jason Campbell broke his collarbone late in the first half of a 24-17 win over the Cleveland Browns on Sunday, scrambling his way into 563 pounds of linebacker. He had to be helped to the locker room and tests confirmed the bad news: Campbell is done for the season.
Reader discretion advised: This is where things go from bad to downright asinine. 
With the NFL trade deadline right around the corner, Oakland has been reaching out to potential roster replacements.
Reaching out is an understatement. They're freaking out.
"Hey, remember, uh, what's his face?"
"Who? Is it an actor? David Duchovny?"
"No, not an actor. We need a veteran football player."
"Uh, uh, uh, David Garrard?"
"YES, BRILLIANT. Get him on the phone."
Someone needs to go down to the Raiders' front office and cut the phone lines. Burn the Rolodex, hack the computers, whatever you have to do. If this isn't stopped now, by the end of the afternoon calls will have been placed to Brett Favre, Kurt Warner and Chad Pennington.
Oakland's most wanted quarterback list is quickly becoming a who's who of has-been's and oh-no's.
Raider Nation cannot seriously think bringing Carson Palmer out of quasi-retirement is a good idea. Palmer has been eating Cap'n Crunch and watching Planet Earth for the last three months. He studies game film from a king size bed with a remote in one hand and a Pabst Blue Ribbon in the other.
He knows Al Saunders' offense about as well as your bicycle does.
But Sean, "Hue Jackson was the Bengals wide receivers coach from 2004-2006, so he knows Palmer personally and can incorporate him into the Raiders system. Besides, he may still have some gas left in the tank." 
The only gas left in Carson Palmer is from all those cheesy double beef burritos. Palmer's last productive season as a starting quarterback was in 2009, when he led the Bengals to a 24-14 loss to the New York Jets in the first round of the playoffs. He finished that season with 3,094 passing yards, 21 touchdowns and 13 interceptions.
In 2010, Palmer started all 16 games for Cincinnati and finished the season with 3,970 passing yards, 26 touchdowns and 20 interceptions. This could be seen as improvement, except the Bengals suffered a 10-game losing streak and finished 4-12.
That's what science calls a reality check, so Palmer put down his fork and said, "Check, please."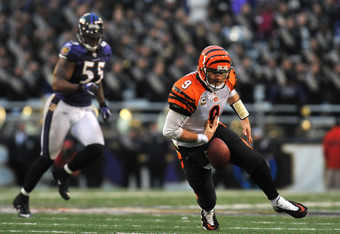 Larry French/Getty Images
Lord Brown of Cincinnati did not take too kindly to Palmer wanting out of a bad situation in Cincinnati, so he locked Carson in the dungeon and does not seem intent on letting him flee the kingdom any time soon.
This could have been the end of the story. Please let it be the end of the story.
As For the Rest of Them
Josh McCown already blew his chance to play for the Raiders back in 2007, when he lost five of seven games as a starter when he wasn't busy being injured. He threw nine touchdowns and 10 interceptions. 
If McCown was a restaurant, we'd spend the whole ride home talking about how we were never going back there again.
They say one man's trash is another man's treasure. Let Denver Broncos newly demoted back-up Kyle Orton be someone else's treasure.
Jacksonville outcast David Garrard wins the Jason Campbell look-alike contest, so that must mean he's capable of leading the Raiders to playoffs. They have similar stats and styles of play and so on and so forth.
For Oakland to consider Garrard, it must want all of its games blacked out. Truthfully, this is all part of Garrard's master plan to move an NFL franchise back to Los Angeles. He couldn't do it with the Jaguars, but given a few starts in Oakland he literally might be the end of the Raider Nation.
Is that something you want on your conscience?
The smart play is to keep grooming Kyle Boller to take over the offense, at least for the rest of the season. If the Raiders want to be flashy and popular, they can give Terrelle Pryor a few snaps, but he is not ready for Oakland's upcoming AFC West gauntlet run.
Pryor may be the way of the future, but this is the present. Besides, he is way too distracted by all the tattoos he is going to get when he pawns off his first Super Bowl ring.
Boller has the arm strength to utilize the Raiders' speedy wide receivers, the smarts to not overdo it—especially considering Oakland's formidable rushing attack—and months of practice with the team. Also, he stepped in for the injured Campbell on Sunday against the Browns and completed 8 of 14 passes for 100 yards. No touchdowns, but no interceptions either.
This warrants the man at least one more start.
Bringing in a veteran back-up is a good idea for Oakland, but the team should know that its best chance for success against the Kansas City Chiefs this weekend—and probably for the rest of the season—is already wearing silver and black.