The Absolutely Worst of the NFL, Week 6 Edition
October 17, 2011
Win McNamee/Getty Images
In this sixth week of post-lockout NFL football, fans saw a lot of big wins, primo performances, and entertaining games. I'm not here to talk about any of those things, though. I'm here to name this week's Absolutely Worst of the NFL.
The Absolutely Worst Quarterback: Rex Grossman, Washington Redskins
I'm a member in good standing of the Rex Grossman F*** It I'm Goin' Deep Fan Club, but yesterday's debacle against the Philadelphia Eagles was inexcusable. Sexy Rexy and the Redskins entered this game 3-1, looking to open up a big lead in the NFC East—and maybe clip the Eagles' wings for good. Instead, Grossman unleashed the dragon to the wrong team two times in the third quarter, handing the game to the Eagles.
The defense put the Redskins in a position to win, time and again, but Rex Grossman just couldn't capitalize. Mike Shanahan and the Redskins are in the unusual position of having a winning record, but no quarterback.
The Absolutely Worst Timing: Minnesota Vikings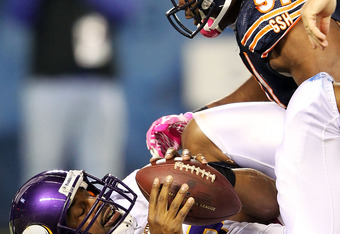 Jamie Squire/Getty Images
This week, Minnesota Governor Mark Dayton is meeting with Vikings owner Zygi Wilf, and key members of the Minnesota legislature. If he's impressed with the team's Arden Hills stadium proposal, he could push for a special session to approve the project—and public funds to help finance it.
With time running out on the Vikings lease, this might be the last viable proposal to keep the Vikings in Minnesota. So what do the Vikings do? Go and lay an egg on national television.
With the whole NFL world watching on Sunday Night Football, the Vikings proved to their fanbase—the taxpayers who'll be helping fund the venture—they won't see a return on their potential investment any time soon.
The Absolutely Worst Injury: Jason Campbell, Oakland Raiders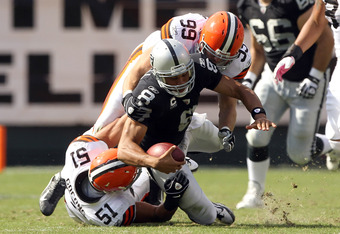 Ezra Shaw/Getty Images
In the midst of leading the Oakland Raiders to their fourth win in six games, Jason Campbell broke his collarbone. The game was dedicated to Al Davis, the late Raiders owner and former AFL commissioner, and the win—like last week's impressive defeat of Houston—was profoundly emotional for every member of Raider Nation.
However, the Raiders' promising 4-2 season now rests in the wobbly hands of Kyle Boller. Campbell's toughness and efficiency were allowing the Raiders skill players to make plays and win games. Boller's never been known for his toughness or efficiency, but he can throw the ball through the goalpost on one knee from the 50-yard line. The only other guy I've heard of who could do that? Jamarcus Russell.
The Absolutely Worst Pending Letter to Miss Manners: "Mad in the Motor City," by Jim Schwartz and Jim Harbaugh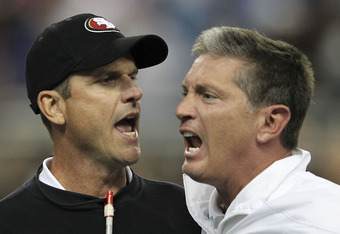 Leon Halip/Getty Images
You've doubtlessly read an awful lot about the post-game skirmish between Schwartz and Harbaugh, two NFL head coaches who are paid like, and have responsibilities similar to, Fortune 500 executives. They're expected to maintain composure and decorum. Harbaugh's schoolyard celebration, and Schwartz's machismo posturing, have no place in the game of football, right?
Wrong.
The four hours that preceded the post-game unpleasantness were a slugfest featuring plenty of big hits, trash talk, jumping around and muscle-flexing. As NFL.com's Albert Breer wrote, you can bet each team is even prouder to play for those coaches after their allegedly shameful display.
I wouldn't want each post-game handshake to become a pro wrestling-style standoff, but seeing those two No Fun League men boil over with real emotion was a treat.
The Absolutely Worst Twitter Beef: Anthony Davis, San Francisco 49ers
Of course, in today's hyper-connected world, somebody involved in the OMG COACHFIGHT had to go on Twitter and make noise about it. 49ers offensive tackle Anthony Davis Tweeted that they'd "teabaggggggged" the Lions in their own house, and that he'd "saved shwartz life" [sic] by intervening. He swore a blue streak, then noted that football players should "save classy for Morton's," referring to the upscale steakhouse chain.
Of course, Lions defensive ends Cliff Avril and Lawrence Jackson took exception to Smith's Tweets. Jackson called Davis a "fake Twitter gangster," and Davis responded by deleting most of the Tweets in question.
As silly as this all is, it sets the stage for a possibly enormous rematch in the playoffs. Nothing's more entertaining than watching two teams who genuinely dislike each other meet with their seasons on the line. This Twitter beef was some of the Absolutely Worst of Week 6 in the NFL, but it might fuel some of the best of the NFL come January.