Browns vs. Raiders: 6 Things We Learned from Cleveland's 24-17 Loss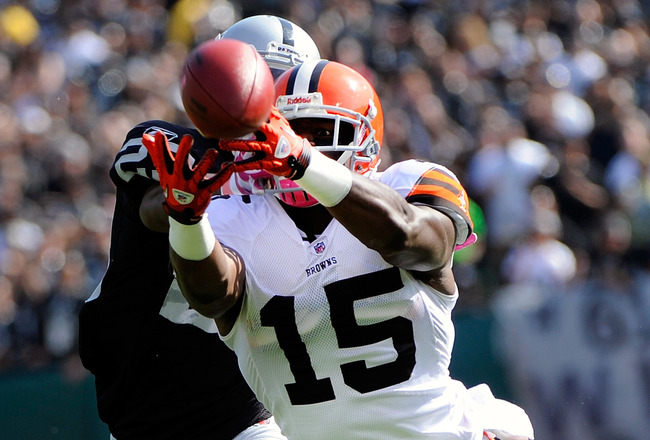 Thearon W. Henderson/Getty Images
Anyone from Cleveland can tell you that it's tough to be a Browns fan in general, but today was a particularly rough day for Believeland, as the Browns struggled mightily in a 24-17 loss to the Oakland Raiders.
The defense couldn't stop Darren McFadden, Coach Shurmur didn't do much to allay concerns about his play-calling ability, Colt McCoy had a rough outing and incessant rumor-mongering about why RB Peyton Hillis was on the sidelines for the better part of the game persisted.
It was a tough test of faith for Browns fans, who had little to go on until the very end of the contest, when the Browns almost made a game of it.
There were a few positives that emerged for the Browns in this one, but they were mostly overshadowed by the ongoing problems for the team that have existed all season long, and aren't showing any sign of being resolved any time soon.
The fact that the Browns refused to give up and nearly came back at the end with under two minutes to go was encouraging, but the first 58 minutes of the game were pretty ugly.
Following are six things we learned on a frustrating day in Oakland for the Browns.
1. The Browns' Run Defense: Unfortunately Still as Bad as We Feared It Would Be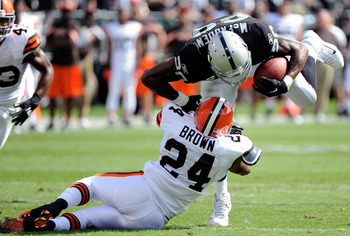 Thearon W. Henderson/Getty Images
Many times throughout the season, we've discussed how the Browns defense is further along in its development than expected, but still a long way from where it needs to be. This has been particularly true of the run defense, which has struggled mightily throughout the entire season.
The big concern this Sunday was of course RB Darren McFadden, who is currently among the league's best rushers.
That the Browns were not able to really contain McFadden is neither surprising nor the real problem here. Teams with far better records and more experienced defenses than the Browns haven't been able to do that.
The problem is that they really didn't slow McFadden down at all, ceding 91 yards and a touchdown to DMC and giving up 151 total rushing yards. Regardless of whether a back like McFadden was involved, that's' far too many total yards to allow.
The Browns' front seven did little to stifle the Raiders on short-gain plays near the line of scrimmage, and the secondary once again lacked aggressive pursuit of ball carriers and ceded extra yardage and missed tackles as a result.
Obviously the defense as a whole is still a work in progress and no one should be expecting them to actualize after just five games, but the run defense doesn't seem to be improving at all, and that is a concern the Browns absolutely have to address as soon as possible.
2. Speed Kills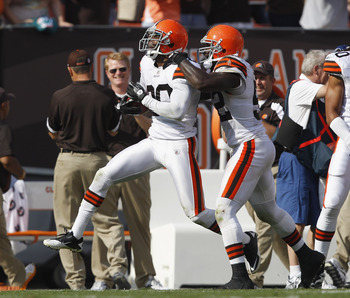 Matt Sullivan/Getty Images
One of the biggest things the Oakland offense has going for it is its amazing speed, and it was a huge difference maker against the Browns this afternoon.
While most defenses can't keep up with McFadden, who is stunningly fast for his size; or the speedy Oakland receivers, whose quickness would vex nearly any secondary, the degree to which the Browns were repeatedly outpaced by the Oakland offense was alarming.
The Browns never claimed to have a bunch of burners on their defense, particularly with CB Joe Haden out with an injury and speedy rookie Buster Skrine still too raw to start, but when they find themselves outmatched in speed as they did today, they have to be more aggressive about proactively pursuing ball carriers the second they get their hands on the pigskin.
Several times this afternoon, the Browns defense failed to anticipate where the ball was going, and didn't get to the ball carrier as fast as they should have. Given the speed the Oakland offensive players have, this meant that by the time the Browns defenders got it together and pursued the ball carrier, he was already blowing by them.
It was an issue on special teams as well, obviously most apparent when Jacoby Ford blew by Browns defenders as he returned a kickoff 101 yards for a touchdown.
Obviously the Browns defense can't magically get faster, but they can do a better job anticipating plays to neutralize the speed issue a bit more against the quicker offensive teams they face.
3. The Browns Offense NEEDS Peyton Hillis to Survive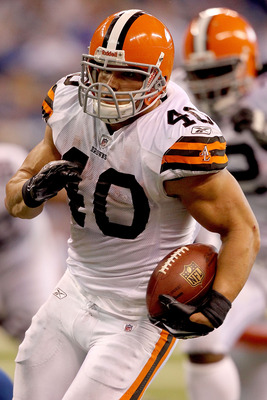 Matthew Stockman/Getty Images
It seems painfully obvious to make a statement like "the Browns offense is a mess without Peyton Hillis," but after seeing what happened to them in this game with Hillis spending the majority of the afternoon nursing an injured hamstring, it seems worth mentioning it again to hammer the point home.
All the rumor mongering going on with respect to Hillis and the upcoming NFL trade deadline isn't worth rehashing, but what does need to be mentioned is the fact that the Browns need to find a way to to get the offense to function without him.
This is not an important issue (contrary to what some media outlets would have you believe) because he's about to be traded. It's a problem because when Hillis gets hurt, the Browns offense looks lost, desperate and can't seem to mesh and maintain an identity for itself.
Nobody thought that Montario Hardesty would ever keep anyone from missing Hillis at all when he was filling in for him, but the difference between the two has been stark, to say the least.
Hardesty produced just 35 yards on 11 carries. With Hillis limited to just six carries, the Browns rushers turned out just 65 yards on 21 carries total.
And equally problematic is the fact that Hardesty cannot catch. He dropped two passes and was targeted just four times, likely because McCoy knew better than to throw his way given the difficulty he's had pulling down passes all season. It's a huge contrast from Hillis, who was the team's leading receiver in 2010 and has notably great hands for a running back.
Obviously you can never assume a certain level of production from any player, but with the Browns losing by just one touchdown today, you have to wonder whether the outcome would have been different if Hillis had been healthy and played a full game.
4. The Raiders Gave the Browns a Lot of Help in Keeping This One Close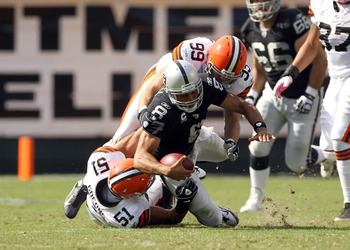 Ezra Shaw/Getty Images
First, I would like to commend the Browns for refusing to give up on this one and fighting it out to the bitter end. They showed heart today, and that was encouraging.
That being said though, unfortunately much of the reason the score was as close as it was at the end was that Oakland made a lot of costly mistakes.
The Raiders committed some costly penalties in this one, one of which led to a touchdown for the Browns. They also lost Jason Campbell to injury and were forced to use Kyle Boller, which (while not really their fault), also probably cost them potential scoring drives. And most significantly, they assumed a win far too early with the score far too close and nearly allowed the Browns to come back on them.
Mostly, it's a shame that the Browns waited until the last two minutes of the game to really hunker down and give their all in this one. Had they done so earlier, they would have had a good chance to capitalize on Oakland's mistakes and bad luck and maybe come away with a win.
It's yet another testament to the fact that the Browns have to get better out of the gate and banish the slow starts they're prone to. They again failed to score a touchdown in the first quarter (they have yet to get one in the first 15 minutes all season), and looked either lethargic and unmotivated or frantic and foolish for most of the first half.
Yes, they did a nice job fighting back at the end, but it should come as no surprise that you can't make up for 58 minutes of ineffectiveness in the final two minutes of the game. The Browns must learn to play consistently and be more aggressive the second the clock starts ticking in the first quarter. Had they done that today, they might have been able to capitalize on the mistakes Oakland made and given themselves a shot at an upset.
5. Lack of Depth in the Secondary Is Killing the Browns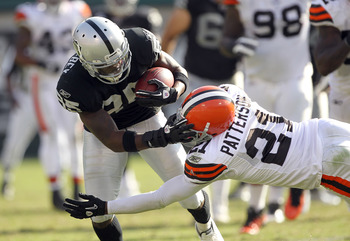 Ezra Shaw/Getty Images
I hate to keep slapping the defense around in a game where the offense was really the bigger problem, but it's tough to ignore just how much the lack of depth in the secondary is hurting the Browns.
Never has the problem been more apparent than today when Joe Haden was out with an injury. The Raiders repeatedly threw in the direction of CB Dimitri Patterson (Haden's replacement). Patterson isn't capable of handling the starting job, and the Raiders knew it.
But of course, as a replacement, the bulk of the blame doesn't go to Patterson. It goes to the other regular starters who were just as ineffective and to the management for leaving the roster so thin at this position group .
S T.J. Ward, who has been underachieving all season, was beaten by Darrius Heyward-Bey and McFadden in this one, and just seemed generally under-involved, though he did make a few nice tackles. Still, it's quite a contrast from last season when he seemed to be around the ball all the time.
CB Sheldon Brown struggled as usual, which was especially problematic this week with Haden inactive. I didn't see too much that bothered me from safeties Usama Young and Mike Adams, but on the whole nobody on the secondary stood out as particularly impressive, and they made a number of costly mistakes.
Obviously the front seven has to take some of the blame for the defensive failings this afternoon, particularly in light of the number of times they pressured Campbell and Boller but failed to take them down and complete the play for a loss. But on the whole, the secondary appeared to be the bigger problem.
6. No One Man Is To Blame for the Browns' Offensive Failings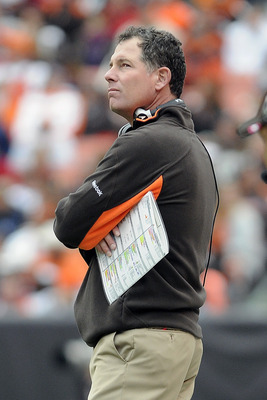 Jason Miller/Getty Images
It's no secret to anyone who regularly reads my columns that I'm not a big fan of Coach Pat Shurmur's offensive play-calling. It's also no secret that his poor play-calling was a big part of the problem for the Browns offense this afternoon.
However, this one cannot be blamed on Shurmur and the coaching staff alone. With very few exceptions, we saw disappointing performances out of the majority of the Browns' offensive players this afternoon.
Let's start with QB Colt McCoy, who had a rough outing for the second game in a row. I personally still have complete faith in McCoy for the future, but these last two games did expose some serious problems in his game that he needs to improve on. McCoy obviously can't be blamed for play-calling issues that affected his numbers this afternoon, but he does need to work on keeping a level head when he's being pressured.
I blame the line more than McCoy for this, because they're the ones allowing him to be pressured excessively, but he does need to learn to help himself if his line can't do their job. Richard Seymour menaced McCoy all afternoon, and he panicked on a number of occasions and made desperate, inaccurate throws. Many fell incomplete, and he was actually very lucky he wasn't intercepted, as the defense had the opportunity to pick him off on at least four separate occasions.
We discussed the running backs earlier, but the receivers have to be mentioned here too. They actually looked a little better this week than they have in the past in some ways, but the number of dropped passes this week was just atrocious. Greg Little did a decent job for this being his first NFL start, but he caught just six of 12 targets. TE Ben Watson caught only three of eight, and Mohamed Massaquoi pulled in three of seven targets.
The blame for some of those incompletions lies with McCoy for poor throws in some instances, but just as many were dropped by the targeted receiver.
And of course, the offensive line remains the biggest liability of all, rivaling only the offensive play-calling as the most costly problem that the Browns just can't seem to kick.
Finally, as much as the Browns offense disappointed this week, you have to tip your helmet to the Oakland defense, which played an excellent game and is clearly an infinitely more talented squad than it appears to be on paper.
Keep Reading

Cleveland Browns: Like this team?