Bernard Hopkins' 5 Greatest Fights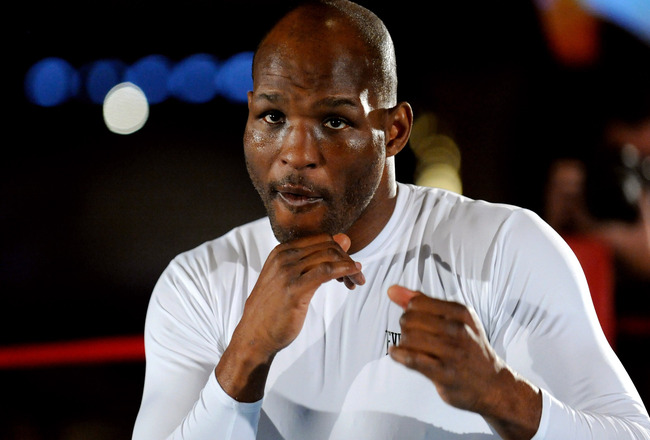 Ethan Miller/Getty Images
Bernard Hopkins will again attempt to defeat two opponents Saturday night at the Staples Center in Los Angeles: "Bad" Chad Dawson and Father Time. A true marvel, Hopkins is like a fine wine, in that he gets better with time.
Craftier than ever and still with speed and power that must be respected, Hopkins will attempt to take down yet another fighter nearly two decades his junior.
If Chad Dawson goes down, he will certainly not be the first to lose to the old man, and will likely not be the last.
Here are five of the most important fights in Hopkins' 23-year career.
Roy Jones, JR.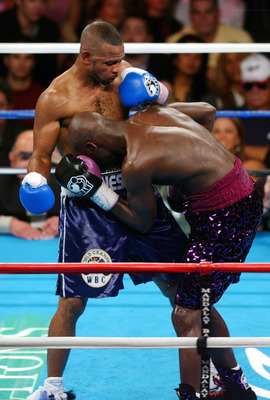 Steve Grayson/Getty Images
Bernard Hopkins lost this fight but it still was an instrumental part of his career. In Roy Jones, Jr. Hopkins went to toe-to-toe with one of the most talented fighters of all time for 12 rounds.
The ultimate tactician against the phenomenal athlete, these men fought on the undercard of a Riddick Bowe heavyweight bout. Fans did not yet realize they were watching two of the greatest of all time go at it in their primes.
As great as the fight was it was also a bit of a travesty. This fight should have sparked an immediate rematch, but instead the two did not square up again for 17 years.
Jones' incredible hand speed makes it unlikely Hopkins would have won a decision as young men, but Hopkins' chin, heart and power made him a serious threat to knock Jones out if they stepped in the ring again.
Jones probably recognized the dangers and did not want to risk his title as the undefeated pound-for-pound king. B-Hop was competitive throughout the fight and landed some hard punches but went down 116-112 on all three cards.
Hopkins avenged the loss in 2001 but Jones is excused as being past his prime, even though Hopkins is four years his elder.
Felix Trinidad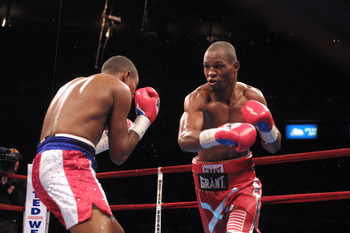 Al Bello/Getty Images
This win would prove to be something of a trend for Bernard Hopkins.
Just over 10 years ago, Felix Trinidad was the first of several younger champions with barely a blemish on their resume that B-Hop would eliminate on his path to greatness.
Trinidad was 40-0 and a two-to-one favorite against Hopkins. "The Executioner" led big on all scorecards before scoring a technical knockout.
Showing the heart of a true champion, Trinidad absorbed a series of vicious punches in a 10th round that would be named The Ring magazine's "Round of the Year." Trinidad was finally put down in the 12th round and his corner threw in the towel to prevent further damage.
Oscar De La Hoya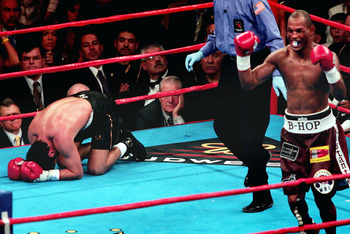 Doug Benc/Getty Images
Bernard Hopkins was actually the favorite in this fight, and he did not disappoint. B-Hop was up big on two of three cards before putting De La Hoya down with a devestating body punch in the ninth round.
Due to his marketability and "Golden Boy" persona, De La Hoya was a bit overrated and really no match for Hopkins.
Still, a dominating victory over a huge, mainstream name helped build Hopkins' career as we know it.
Kelly Pavlik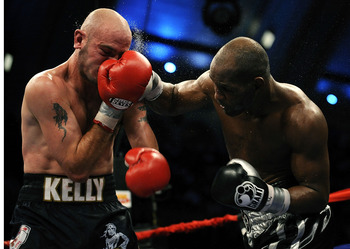 Jeff Zelevansky/Getty Images
Believe it or not, Kelly Pavlik was getting serious consideration as the pound-for-pound best in the business before facing Bernard Hopkins. It was indeed Hopkins' dominating win that threw Pavlik's career into a downward spiral.
Fighting an incredible 17 years Pavlik's elder, B-Hop turned back the clock and won virtually every round against Pavlik, as Hopkins proved to be the busier and more energetic fighter.
Hopkins landed nearly three times the power punches and had Pavlik bleeding and stumbling around the ring for the majority of the fight.
Jean Pascal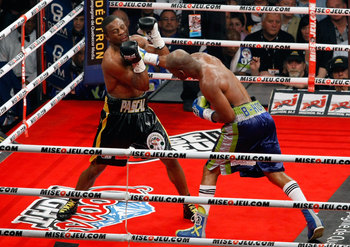 Richard Wolowicz/Getty Images
With the close win via decision over the powerful Jean Pascal, Hopkins replaced George Foreman as the oldest champion in boxing history at a ripe 46 years old.
True to his new title, Hopkins pulled out all the dirty old man tricks in the book.
After a hotly-contested draw five months prior, Hopkins made it a point to tick Pascal off, made the younger man a little too aggressive and counter-punched his way to an upset victory.
Hopkins taunted and stuck his tongue in the middle of rounds on a couple of occasions, did push-ups in between rounds, and basically channeled his inner Muhammad Ali in getting into his opponent's head.
Most boxers age like an open beer but to borrow on an old phrase, Hopkins keeps finding a way to age like a fine wine. He will need another vintage performance to defeat the technical and talented Chad Dawson on Saturday night.
Thanks for reading. You can follow Alexander on twitter @thesportsdude7 or become a fan on his bleacher report profile.
Keep Reading