Georges St-Pierre Is the No. 2 Pound-for-Pound Fighter, Not Frankie Edgar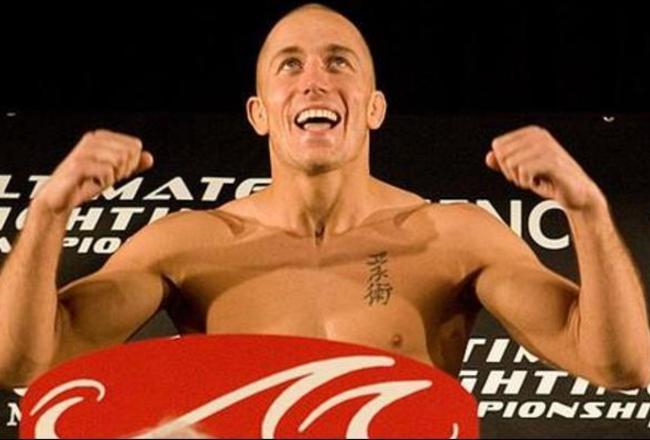 Frankie Edgar made big waves in the world of MMA last weekend, successfully defending his UFC Lightweight Championship against dangerous top contender Gray Maynard at UFC 136.
The victory was impressive not only because Maynard is an incredibly tough opponent, but also because of the manner in which Edgar ended the fight—Edgar, who is not known for his power or finishing ability, TKO'd the previously unbeaten Maynard in the fourth round.
After the fight, UFC President Dana White was so impressed with the champion's performance that he claimed Edgar as the No. 2 pound-for-pound fighter on the planet.
This was and is a bold statement, given the No. 1 and No. 2 spots on that list have long been dedicated to Anderson Siva and Georges St-Pierre, but White stuck by his statement.
However, White has somewhat of a reputation for speaking before he really thinks about what he's saying and I think this is a case of precisely that.
As good as Edgar is and as impressive as he was at UFC 136, Georges St-Pierre is indisputably the second best fighter in the world today and Edgar has A LOT of work to do still if he wants to usurp St-Pierre's position.
Need proof? Read on...
Number of Title Defenses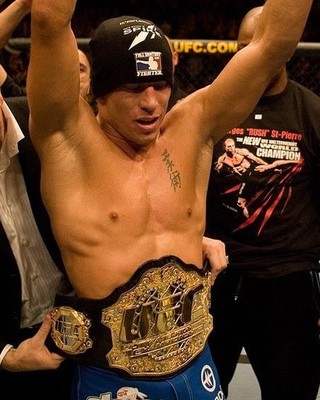 A huge factor in determining where a fighter sits on the pound-for-pound list—assuming the fighter is a champion—is looking at how many times that competitor has defended his championship.
GSP is a two-time UFC welterweight champion and began his second title run in 2008.
Since then, he has kept the title and defended it a total of six times—a new record for consecutive defenses of the UFC welterweight belt.
Edgar has defended his title just three times since winning it in 2010 and it's debatable whether or not one of those defenses should count because the fight went to a draw.
Retaining the title three times is impressive and it's clear the Edgar is coming into his own as champion, but he's no where near as dominant a champion as St-Pierre—not yet.
Quality of Opposition Faced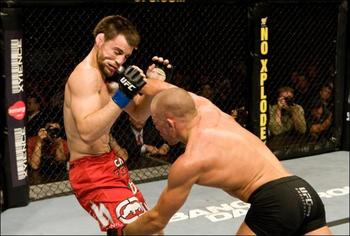 In Edgar's past four fights he has fought just two fighters, Gray Maynard and BJ Penn.
Both of these men are elite fighters and Edgar deserves much credit for managing to best them.
That said, if you wind the clock back even further, the quality of opposition that Edgar has faced drops considerably.
Outside of Maynard and Penn, the most dangerous opponent Edgar has faced is a past-prime Sean Sherk.
St-Pierre's hit list is much more star-studded than Edgar's.
GSP has defeated BJ Penn (twice), Matt Hughes (twice), Josh Koscheck (twice), Matt Serra, Jon Fitch, Thiago Alves and Jake Shields.
All of these men were considered elite opponents at the time that St-Pierre fought them and many were inside or just outside the P4P top 10.
Performances Inside the Cage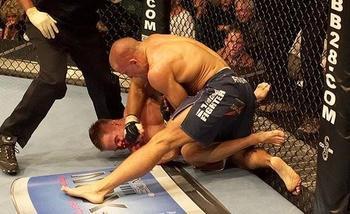 Winning is important, but when it comes to P4P rankings, how a fighter wins is almost just as important.
In Edgar's last four outings he has won a controversial decision over Penn, comeback from that decision and defeated Penn decisively, gone to a draw with Maynard in a fight where he was almost knocked out in the first round, and then defeated Maynard in another fight where he was almost knocked out in the first round.
These were all excellent performances from the 155lbs. champ, but the trend shows that it is not uncommon for Edgar to lose rounds while in the cage and that he is not always able to dominate his opposition.
St-Pierre is often criticized for his inability to finish fights, but there is no denying that he dominates his opposition.
Since winning the belt in 2008, St-Pierre has lost just two rounds, both of them to Jake Shields, and most believed that it was due to terrible judging and that St-Pierre should have been given all five rounds.
Apart the Shields fight, St-Pierre has completely shut down every opponent he has faced during his second title run.
The difference between GSP and Edgar's performances inside the Octagon is St-Pierre makes his opponents look like they don't even belong in the same cage as him and that's something we have not yet seen from Edgar.
Andrew Barr is a Featured Columnist for BleacherReport.com. For updates on what's happening in the world of MMA, follow him on Twitter http://twitter.com/#!/AndrewBarr8
Keep Reading