LSU Football 2011 and Beyond: How the Nation's Best Team Will Only Improve
October 13, 2011
Chris Graythen/Getty Images
Heading into this Saturday's upcoming clash with Tennessee, the LSU Tigers football team has given no one a reason to doubt their place atop the polls.
The Tigers have already displayed their dominance against ranked opponents in the form of Oregon, Mississippi State, West Virginia and most recently, Florida, defeating each team by a minimum of 13 points.
Week after week, skilled teams have walked out on the field to oppose LSU, only to leave defeated without having posed any real threat to the Tigers.
The most impressive part about this LSU team is the entire defensive unit, which is relentless and overwhelming in every way possible, forcing turnovers and having no problem assisting the LSU offense by scoring touchdowns themselves.
While most teams around the country are watching in awe as LSU dismantles each opponent that is put in front of them, the scariest thing for them is that this is just the top of the iceberg for this team.
As we have all seen thus far this season, the Tigers are a very poised and efficient team overall, something that may make most people forget about how young this team is.
Led by the Honey Badger himself, sophomore Tyrann Mathieu, the Tigers are absolutely loaded with young talent.
The Tigers possess what is arguably the best secondary in the nation, composed of young stars, Mathieu, Morris Claiborne (Jr.), Eric Reid (So.).
The talented young secondary will be joined for years to come by dominant forces on the D-line, Sam Montgomery (So.) and Barkevious Mingo (So.) as well as many other underclassmen.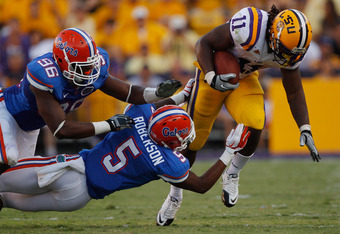 Chris Graythen/Getty Images
Seeing this type of success by young players on defense may already be frightening for teams around the country, but the fear must only intensify when the youth appears on the offense as well.
LSU is unbelievably deep at running back with the likes of Spencer Ware, Michael Ford, and Alfred Blue, all sophomores, getting significant carries.
The most important position with the least youth is at quarterback where Jarrett Lee and Jordan Jefferson will be leaving at the end of the season leaving sophomore Zach Mettenberger at the helm.
While Mettenberger is largely untested in game situations, he is yet another young player with tremendous tools and talent that will be a major part of the team in the future.
Last but not least, can't leave out freshman punter Brad Wing who has done a tremendous job with his kicking duties and after last week can officially be considered another young offensive weapon. Don't look into that one too much though.
If you think the LSU Tigers are a great football team now, you haven't seen anything yet.