Tennessee Titans: 7 Adjustments Titans Must Make in Bye Week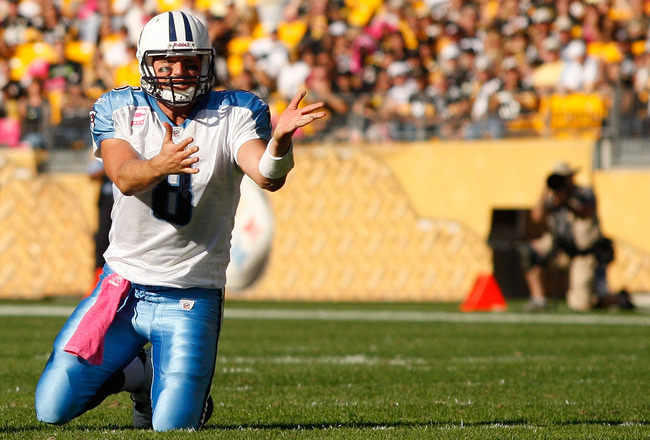 Jared Wickerham/Getty Images
The Tennessee Titans are flying above expectations as they enter their bye week 3-2 and tied for first place atop the AFC South with the Houston Texans.
Their last game before the break, a 38-17 pounding from the Pittsburgh Steelers, showed flaws in what was a seemingly flawless team.
Looking ahead, Titans have seven adjustments to make during their bye week if they hope to continue their early-season success.
Problems Along the Offensive Line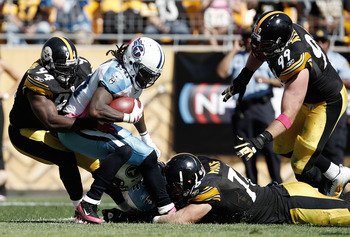 Jared Wickerham/Getty Images
Playing against a defense plagued with injuries, the Tennessee Titans were expected to dominate the short-handed Pittsburgh Steelers.
The Steelers defense responded by sacking Titans quarterback Matt Hasselbeck three times, picking him off once, and forcing one fumble.
Tennessee was missing their best blocking tight end, Craig Stevens, and struggled to find any rhythm throughout the game. Regardless of Stevens' presence, the undermanned Steelers utterly dominated the Titans offensive line in all facets of the game.
The bye week should allow the Tennessee offensive line to get healthy and back on track.
Get Damian Williams Acclimated to Starting Role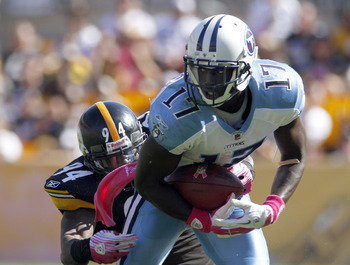 Justin K. Aller/Getty Images
Because of Kenny Britt's season-ending injury, Nate Washington has been expected to pick up the No. 1 receiver duties.
Due to Washington's presence as the top receiver for the Titans, there is a noticeable gap between him and the rest of the receiving corps.
Damian Williams, the second-year receiver out of USC, has been expected to step in opposite of Washington as a suitable replacement. Williams had the most catches (six) and yards (66) in his young career Sunday, but was criticized by offensive coordinator Chris Palmer due to his lacking effort on specific plays during Sunday's tilt with the Steelers.
The Titans will need the the 2010 third-round pick playing up to his potential if they hope to stay atop the AFC South.
Make a Decision: Hope or Big Play Babs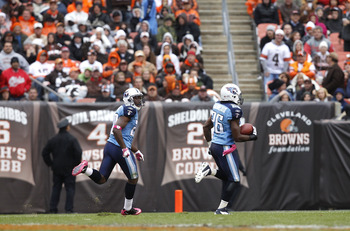 Matt Sullivan/Getty Images
Defensive coordinator Jerry Gray has stuck with Chris Hope throughout the Titans regular season, but only when the safety has been healthy.
When he hasn't, Tennessee has been fine relying on Jordan Babineaux, better known to Seattle Seahawks fans as "Big Play Babs."
Babineaux has filled in nicely, recording 25 tackles, one fumble recovery, and one interception returned for a touchdown over the three games he's started. Hope, in comparison, only recorded 10 tackles over the two games he started.
As Hope recovers from surgery on his fractured forearm, Gray needs to make a decision on a consistent starter at strong safety.
Make Sure Ahmard Hall Studies Game Tape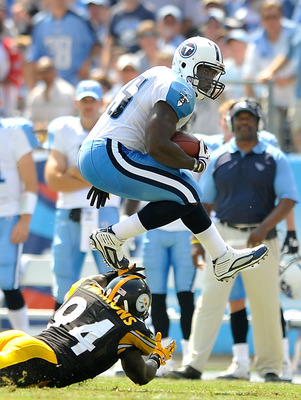 Grant Halverson/Getty Images
Ahmard Hall was playing in his first game of the season in the Week 5 matchup versus Pittsburgh.
Hall, who was expected to make an instant impact on the run game, led Chris Johnson to yet another lackluster showing. Johnson carried the ball 14 times for 51 yards, averaging just over three yards per carry.
The bye week should allow Hall ample time to look back at missed assignments and blocks from the Steelers game and prepare for the Houston Texans' blistering defensive attack.
Figure out What to Do with Chris Johnson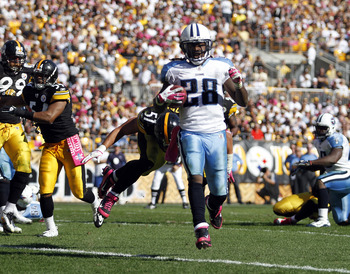 Justin K. Aller/Getty Images
Chris Johnson has been a complete mess this season. The offensive line looks out of sync, CJ2K hasn't been able to make it to the second level, and the few times he has broken through, Johnson hasn't shown the breakaway speed he once boasted.
As Tennessee prepares for Houston, and a defense that has only allowed 105 yards per game, the Titans should contemplate going back to their "Smash and Dash" roots.
In two of the last four games, backup running back Javon Ringer has averaged four yards per carry.
Tennessee should get back to alternating between the smash-mouth style of football Ringer brings to the table, and the finesse style Johnson runs with.
Prepare Defense for Houston's Revamped Offense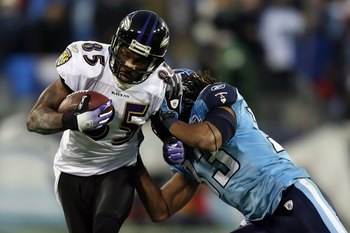 Andy Lyons/Getty Images
The Houston Texans made a huge upgrade to their young receiving corps by adding veteran Derrick Mason Tuesday.
It is unclear if star wideout Andre Johnson will be available in the Texans' Week 7 tilt against the Titans, but Mason's presence combined with Arian Foster's seemingly healthy legs will present the biggest defensive matchup to Tennessee's defense thus far.
The bye week will allow the Titans to have extra time to prepare for Houston's new-look offense, while also getting a first glance at them in action, as the Texans take on the Baltimore Ravens in Week 6 action.
Come Back Down to Earth, Get Focused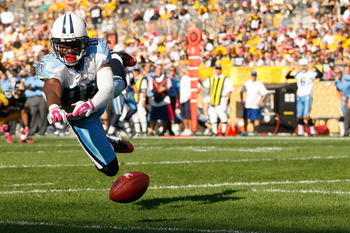 Jared Wickerham/Getty Images
Tennessee dropped the ball, literally and figuratively, in what was a very winnable game Sunday against the Steelers.
The bye week will allow this veteran unit to relax, recover, and realize the opportunities they have in their views.
Utterly unprepared in their visit to Heinz Field, the Titans now have ample time to reflect on the loss and should be more than ready to get back on the field with an opportunity to take sole possession of the AFC South lead.
Thanks for reading and Follow @RajPrashad on Twitter.
Keep Reading

Tennessee Titans: Like this team?